Bouquets can come in a wide variety of colours and flowers but did you know there is an almost endless supply of accents for them? Today we are looking at the world of wedding accents for bouquets and accessories for your floral pleasure. Have a read, turns out there are a lot more than you realised there ever were and that's great!
Accents For Bouquets
Swarovski Crystals
These are single Swarovski Crystals on a stem (or pin) and are generally pushed into the centre of a flower. The most common is to put a clear crystal into the middle of a rose (a red rose really pops with this) which give the bouquet a touch of class and pizzazz. You can not go long with a timeless yet simple look.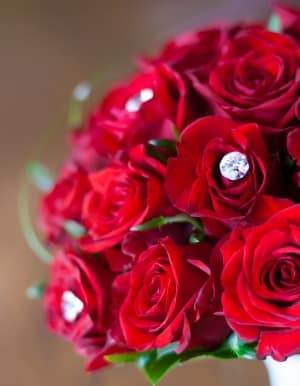 Bouquet Wrap
This is where the stems are wrapped, most notably with a ribbon, lace or fabric. This keeps the flowers together as opposed to holding a bunch of stems. They come in a wide variety of materials and colours. While simple in design you can do a lot with ribbons. They come in a variety of materials as mentioned but also finishes, colours and thicknesses. The flowers can be completely wrapped the match your wedding colours.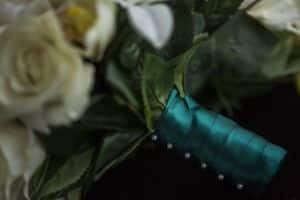 Broach Buckle
The broach buckle is used as a visual ornament that also holds the bouquet together along the stem shaft. They generally look like a belt buckle and work very nicely with a bouquet wrap to keep everything in place. The belt buckle can be used on its own but work well in addition to other bouquet accepts and options. For example with the 2 options mentioned above, they pair well with a simple ribbon wrap or in conjunction of Swarovski crystals in the flowers.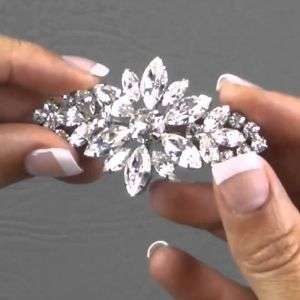 Acrylic Beads
Similar in design to the Swarovski Crystal Stem, these are made from acrylic and also come in a vast array of colours and designs. One noticeable difference is that they are not crystals and can come in a cluster to look like a little branch fully of beads.
This creates a beautiful effect that can turn an area on the bouquet and give it a beautiful clustered effect.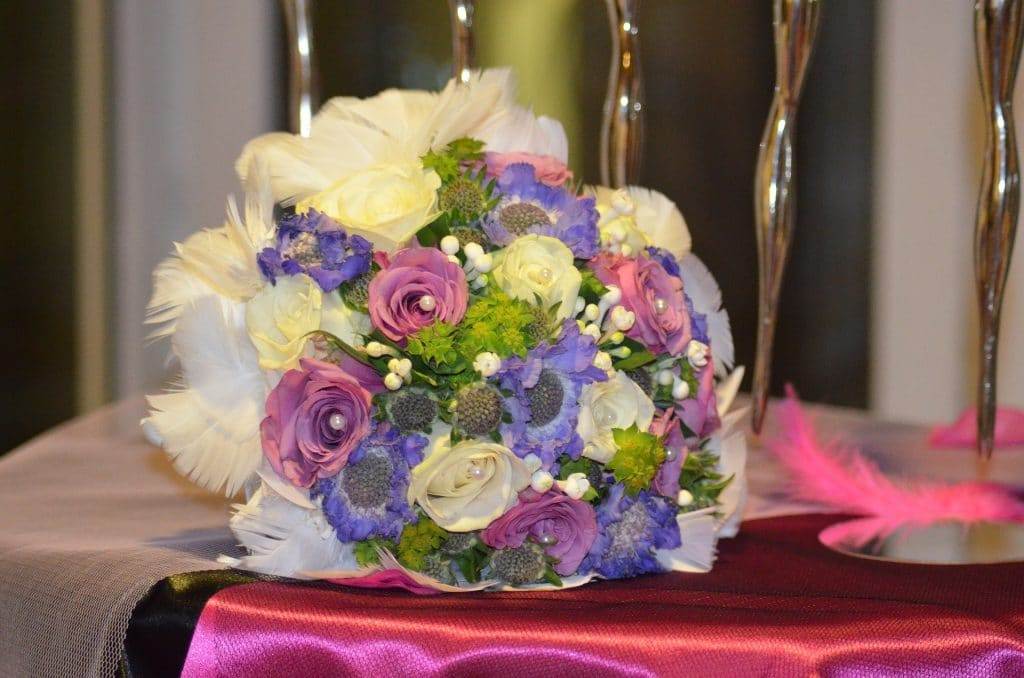 Pearls
Natures underwater beauty also known as pearls. One would generally use pearls either due to taste and / or a family heirloom. Normally strategically strewn through and over the bouquet. These add a touch of elegance to any bouquet and enhance the bouquet and sometimes a bit of history.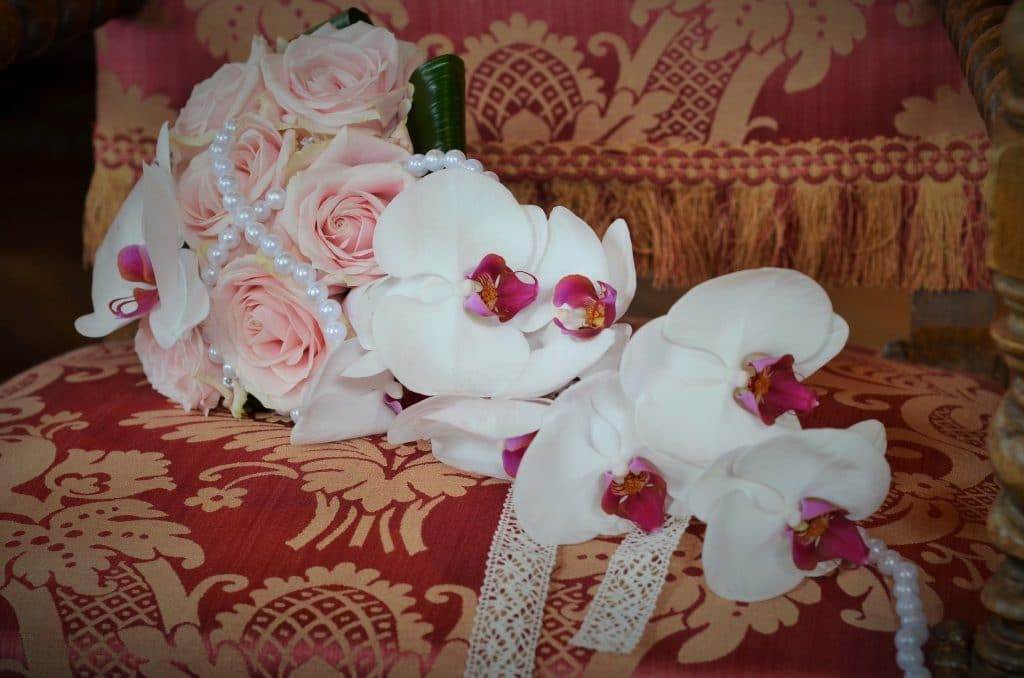 Feathers
Feathers come in all shapes and sizes and can add that natural touch to your bouquet.
Weather it's a small flower or a giant peacock feather, they can add that beautiful finishing touch on any rustic wedding.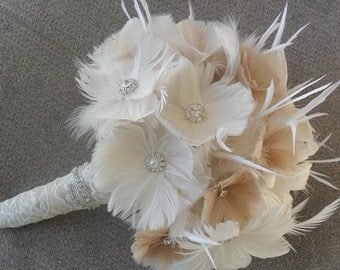 LED Light String
When people think of accents for bouquets they generally do not think of an LED Light String. This idea is relatively newer where you entangle LED lights (think Christmas lights but a lot more sophisticated and subtle).
They add that illuminate effect that is amazing especially at night time. While this will seem obvious, the LED light string is only really usable during night events. There are a couple of ways to do this.
Firstly you can have your wedding and reception in the evening onward. This way it you will get the full effect through the whole event. Just make sure you have enough battery power to last the duration of your wedding
The other option is to have your wedding at the time you normally would BUT have the bouquet light up when you do your entrance / first dance you can switch it on for that extra wow factor. The advantage with only having it during the reception is that you will conserve battery power in the first have of your day.
Butterfly
These gorgeous little fake butterfly's add that fairy-tale charm to your bouquet. You can either place a single butterfly or a few (strategically) to give the immersion of a more unique look.
Just like the buckle option they work extremely well with other bouquet accents. The butterfly could itself be a buckle if so desired. You could even place tiny butterfly's on the flowers and alternate with crystals for that natural beauty but also sparkle.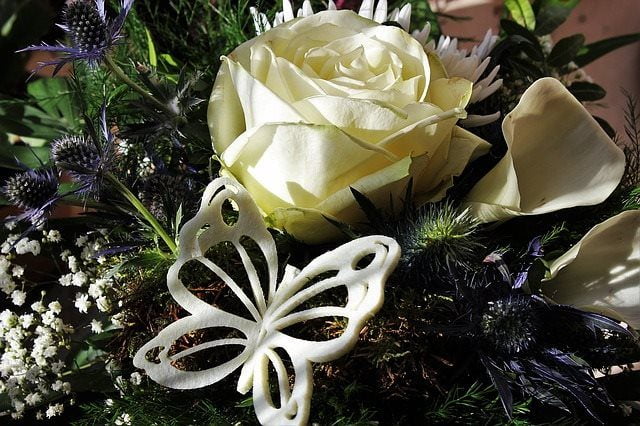 Tussy Mussy (Posy Holder)
When it comes to accents for bouquets the Tussy Mussy has the deepest heritage. They originated in medieval times and were generally given as a gift by men to give to their lady to show his feelings. Generally speaking a tussy mussy is either referred to as the holder itself or as the style of bouquet. Traditionally they were crafted from silver but can be made from other types of metals. There have been even cases of glass crafted ones. You can typically buy them brand new or vintage one from days gone past.
One hidden feature is that they generally come with what is called a "finger ring" which allowed a woman to keep a hold of her bouquet while she is on the dance floor. Tussy Mussies can also come with a stand so the bouquet can be on display at the wedding.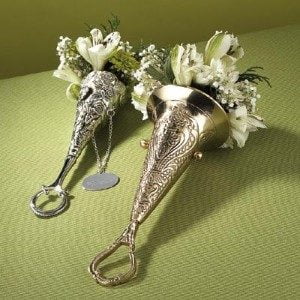 Accents For Bouquets: Your Choice
No matter what you are looking for your wedding there are many accents for bouquets that come in a wide variety of shapes, sizes and colours. They are almost limitless possibilities available for you to pick and choose from.
Check out some of our other bouquet related articles such as Different Types of Wedding Bouquets or Alternatives To Wedding Bouquets.
Do you have a question for Ask Emilie then email her here? Alternatively, fill out the form below and have your question answered in our wedding blog. Also, check out the other Ask Emilie Blogs here, they may also contain what you are looking for or give you ideas and inspirations for other wedding related questions.
Are you considering any accents for your bouquet or what did you have at your wedding? What is your favourite accent for bouquets? Join the discussion and comment down below 🙂