If you are getting married, then you are more than likely going to walk down the aisle with a bouquet. Did you know that there are many alternatives to bouquets? This is not to be confused with our article on the different styles of bouquets. Below we have made a list of the most creative and cutest ideas for alternatives to bouquets.
Alternatives To Bouquets – Bouquets To Suit Your Style
Balloons
Briefly touched on this article here balloon bouquets are an interesting alternative to a traditional bouquet. These are done in 2 ways: the first is to recreate a bouquet from balloons. The second way is to have them in a bunch tied to your hand. The great thing about this idea is that you do not have to be weighed down with a bouquet as it lifts your hand and brings out your inner child 🙂
Book / Bible
Perhaps you have a book that has had a significant impact/meaning for you or perhaps you would like to show dedication by carrying a bible instead of a bouquet. A popular option is to tie a ribbon (themed with the wedding colours) around the book. One bride of ours had elements of the Twilight wedding scene incorporated into her wedding. To her, the book series was quite meaningful, and he carried the book that she read countless times down the aisle.
Bridesmaid Bags
A great idea for practical brides who wish to keep her accessories on-hand with her during the day instead of a floral bouquet. These are no ordinary handbags but richly decorated with colours and elements of the theme including flowers and in some cases fake moss to give it that forest look.
Broach Bouquets
Do you have a family air loom such a broach? Great for showing off your mementoes of your family and as it's a broach you do not have to carry. This is because it is pinned on you. It can also double as a "something old" and potentially "something borrowed";-)
Corsages
Although generally worn by a girl going to their high school formals, it is also worn traditionally by mothers and grandmothers of either side of the bride and groom at a wedding. This is a great way to incorporate your family and style with your mother/grandmother on your wedding day.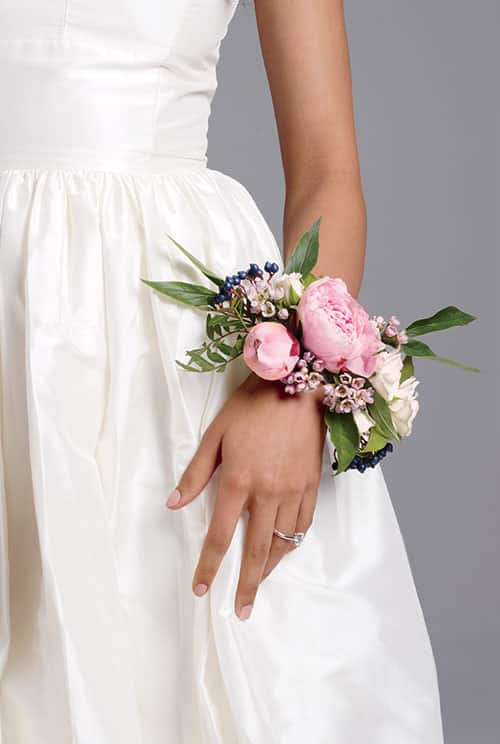 Fans
Not your ordinary day at the beach fan. These are beautiful fans such as a cherry blossom fan, vintage/silk lace or even richly decorated paddle fans with an amazing oak handle. This is also a great gift idea to give to your guests, especially on a hot summers day.
Flower Crowns
If vintage theming is more your thing, then this idea also works amazingly well even if you decide to keep a flower bouquet. A crown made of flowers made from a wide range of beautiful flowers can be a fantastic alternative to handheld flowers (on a side note they are also available in latex if you wish to have a keepsake for years to come).
Fresh Flower Necklaces
Just like flower crowns, you can also create amazing floral necklaces with the flowers and colours of your choosing. They can range from small and subtle right through to bright and colourful for the extrovert. The only tip I will give is to not wear a flower crown, flower necklace and a bouquet at the same time as you will look like a garden.
Lanterns
Is your wedding being held during the evening? Would you like to add a little warmth, light, flair and mystery into your wedding? Then perhaps a bouquet alternative for you is a lantern. They range in all sorts of colours and styles from rustic, Victorian era and even the super-powered Green Lantern. Apologies to our reads – our co-founder Dimitri has been wanting to use this gag for ages and REALLY wanted to work it in).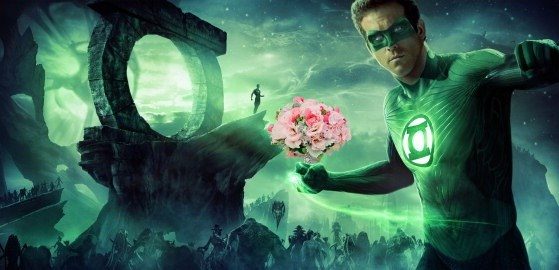 Musical Instrument
Is music one of your passions, perhaps a clarinet, violin, flute, tambourine or even my speciality the triangle? Carry your passion down the aisle and if you are up for it, play a little tune to showcase your talents. May not be suited for people who play the piano or a massive pedal harp.
Stuffed Toy
Do you have a cherished childhood memory such a stuffed toy that you have kept even as an adult? The one toy who has always been there, the one you tell your secrets to and never tells anybody? Some brides have taken their childhood friend down the aisle with them. This is also a great idea if you get cold and want to hold something warm and fluffy.
Your Style, Your Bouquet!
As you can see, there is a lot to consider when choosing a bouquet. While many will choose the standard bouquet type, there are many to choose from. What's great about these alternative wedding bouquets is that if you have a particular wedding theme, it can match your style and decor. Contact our team today and let us help you find alternatives to bouquets.
Are you looking to have a traditional or alternative wedding bouquet? What are your thoughts on the types of alternative bouquets? Join the discussion down below and let us know 🙂