Welcome to Ask Emilie, here you can ask any question to our wedding planner Emilie. Emilie will answer your question no matter the topic. It can be about anything from styling, general wedding questions, cultural customs, planning, wedding budget and more. This week we are talking about pets at weddings.
Today's question is from Maria F who asks:
"Hi Emilie, I have a little boston terrier called Zorro and he has been with my family for many years. My family and I are a dog people and consider him part of the family. I spoke to my fiancé and want him to be a part of our wedding. We have already picked out his little bow tie and he looks really cute 😀 . Do you have have any practical advice or suggestions about having him as part of my wedding? Thanks M 🙂 PS I attached a pic of him with the bow tie:)"

Hi Maria,
Firstly he looks really cute especially in his bow tie and I can see why you want him involved as part of your big day 🙂 . Many people consider having pets at weddings a monumental task and generally decide against it. That said, its all about pre-planning so it should not be a problem.
Pets At Weddings
Check If Your Pet Is Allowed at the Ceremony & Venue Space
First things first, unless your ceremony and / or venue space allow pets then all this is for nothing. Many times have we seen couples want to include their pets. They bought a cute little suit and even trained them to walk down the aisle. Only to be told their pets are not allowed in the locations.
Most of the time if the wedding is in a place like a park then it should be fine as long as he is on a leash. Many venue spaces in the city will not allow any pets due to health and safety regulations. That being said some locations may a separate space so it is possible to have him around but check with your venue first. Do not assume that all public locations are pet friendly and you will need to check with the local council first. Also it is worth noting that some wedding car companies do not allow pets so it is best to check with them ahead of time. Otherwise he will have to go in a separate car.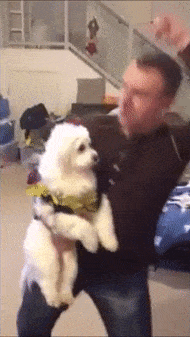 Choose A Doggy Sitter For The Day
You will need to have a designated person to look after your pet during the wedding. This is so you can relax, enjoy your day and know he is in good hand. I would choose someone who is not part of the bridal party, your or your partner's parents plus anyone NOT allergic to dogs. Ideally someone who likes animals. If you don't have anyone who can do this there are many services that can help look after your pet on your wedding day. These professionals look after pets at weddings all the time and are happy to help.
This person will look after your pet while you are getting ready, performing the ceremony, taking photos so in other words the entire day. Make sure this person is aware of any specific medical needs in case they have to give your dog tablets or creams for example. The dog sitter will need keys to your place to drop him off after the ceremony (or bridal party photos).
In Australia you will more than likely have to have him returned home after the ceremony as venues would not allow pet on their premises. Lastly make sure that your pet is comfortable with their animal sitter (it works both ways).
Food & Water
Make sure all food and water is packed the night before. It can be easy to forget especially when getting ready for your wedding. The last thing you would like is to make sure that your little guy doesn't go hungry or thirsty. Especially if your wedding ceremony in the hot sun. I recommend dry food because the last thing you want is a big sloppy meaty wet kiss from your pet (especially on your dress).
Is Your Pet Used To People?
At home your pet might be perfect and fun to be around but what about large groups of people? Just like people some animals do not like being in crowds and can make them feel nervous. This can cause them to run or or freeze on the spot (doggy cold feet).
If you know your pet is fine in large crowds then it should be fine but you should always double check. Regardless you can go to public places and check it out. You can build up your pets confidence by immersing them around people.
Try with places such as a parks and beaches during busy times. You can also host a BBQ with all your family and friends to see your pets reaction. By the time your wedding happens your pet will be a popular socialite!
Doggy Dress Sense
While you may have picked out a bow tie, are you getting him a little doggy black tie suit? Firstly make sure that it fits him properly and that he is comfortable wearing a suit. Some pets hate wearing costumes and will roll and try to remove their costume.
As pets love to run around, roll on the grass and so on try not to have them wearing white. This is a very easy colour to stain and you want to avoid a green grass stained doggy suit. Choose dark colours and it is generally easy if you wear a black tie doggy suit.
If you are not opting for black tie then you can choose a colour that suits your wedding. It will also be easier to be clean than pure white. Besides no one besides the bride should be wearing white at the wedding ;).
Poopy Time Schedule
I didn't want to make this a point but it had to be touched on in this pets at weddings guide. Try to make your dog go at practical times EG before walking down the aisle. The last thing you want is to have them pooping in the car, on someones lap or while walking down the aisle. If not then it can be embarrassing and will make for some interesting wedding photos.
Final Notes
In general if you prepare then everything will work out fine to have pets at weddings. If there is one thing you need to do before anything else is to check with your ceremony and reception space. Otherwise all this planning will be for nothing. That being said we are sure little Zorro will look smashing in his back tie suit. 🙂
Are you thinking of having a pet or pets at your wedding? Have you been to a wedding when they were allowed? Let us know and join the discussion below in the comments section 🙂
Do you have a question for Ask Emilie then email her here? Alternatively, fill out the form below and have your question answered in our wedding blog. Also, check out the other Ask Emilie Blogs here, they may also contain what you are looking for or give you ideas and inspirations for other wedding-related questions.