28 Jul

Bouquets Real VS Synthetic

Last Updated on

Most brides think that a bouquet is a gathering of flowers in the style of their choosing. While this is correct many brides to be are very surprised to find out that there are synthetic ones. The bouquets not only look real but also feel real. Today we delve into the world of synthetic bouquets, the pros and cons versus a real bouquet. Today we are talking about 'Bouquets Real VS Synthetic'.
Bouquets Real VS Synthetic
Real
Let's start with a real bouquet, the great thing about a real bouquet is that you are literally limited to any flower in the world. Take any flower put it together in the style you want and you have your ideal bouquet. The advantages of this is that you have real fresh flowers on your wedding, smell nice and look great. The downside of this however is that some flowers in certain climates can die very easily.
As I mentioned in a previous blog for Pink Caviar that we had a client who ordered flowers (for table decorations) and spent $9,000 for a specific flower to be grown out of season in a hydroponics bay in Queensland. The florist advised that the moment the flowers are out of the hydroponics-bay and in the special truck they would be dead on arrival. The client decided to go ahead thinking that they were exaggerating and they did arrive wilted. Be careful which flowers you choose and its always listen to your florist for any seasonal flowers prior to committing.
Synthetic
The great and obvious thing about synthetic bouquets is that they last a lifetime. When you look back years from your wedding day you will still have a memento as fresh as they day you walked down the aisle. They are also more cost-effective as they are not physically grown but made. Another advantage is that if you suffer from hay fever then the last thing you want to do is hold a bunch of real flowers near you while you walk down the isle. This gives people the ability to hold their favourite flowers without fear of congestion or an allergic reaction.
One surprising feature of synthetic latex flowers is that they not only look real but also feel real. These flowers are more durable because if you drop them, the petals do not get crushed or bent. Latex flowers can be prepared months in advance and 1 less thing to think about on your big day.
The downside however as mentioned above is that they are not real which is a key point for some people. As you can imagine they do not produce a fresh fragrance like real flowers as well. While there is a vast array of flower to choose from, if there is a specific flower in a specific colour then it may not be made for the general populace and a custom order may have to be done in order to have it to your wishes. This can end up costing a decent amount of money.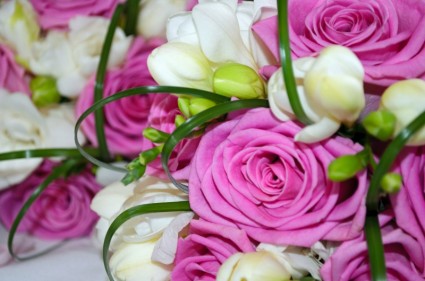 Its All About What You Like
At the end of it all it all comes down to personal preference, whether you go with real or synthetic is totally your call. There is not good or bad option and it is entirely up to you and your personal tastes. If you are still deciding between bouquets real vs synthetic we are sure it will be great. Contact us today if you need a hand.
Do you have a question for Ask Emilie then email her here? Alternatively, fill out the form below and have your question answered in our wedding blog. Also, check out the other Ask Emilie Blogs here, they may also contain what you are looking for or give you ideas and inspirations for other wedding related questions.
Are you looking at having a real or synthetic bouquet? Let us know in the comment section down below 🙂