Can you imagine your wedding day in your mind? Most brides, when asked to picture what their wedding day will be like, will say something like "I will be surrounded by my family and friends, married to the person I love". What they forget to add is "I will also be exhausted and hungry throughout the day". Have you ever thought of having breakfast on your wedding day?
Breakfast Delivered On Your Wedding Day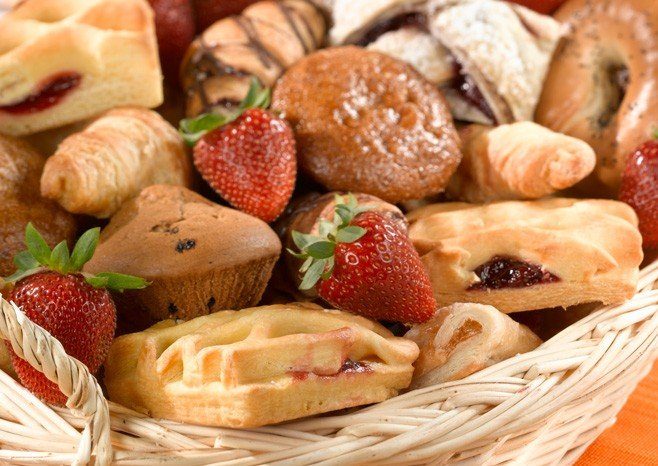 Did You Know
When a bride first wakes up on her wedding day, two things will generally happen (no, I do not mean getting married 😉 ). The first is that it will be very early in the morning. After speaking and working with may brides over the years, the average wake-up time for our brides is around 4 am to 6 am. This is because you wake up super early, make sure your hair and make-up are done, your bridal party are taken care of, and the thousands of things going on simultaneously on your wedding day. You get up super early so that nothing will go wrong. We had one bride wake up at 2 am because she lived very far away from her venue. She was exhausted by the time she was at her Reception.
The second statistic is that the average bride will not get to eat something substantial until they sit down at the reception. If you think about it, the bride is soo focused on getting everything ready for HER DAY; she forgets to look after herself. Some will even forgo food because they took a long time to get into their wedding dress. The idea of getting a single drop of coffee to ruin it will keep many brides at bay from food.
What Can Happen
All this can lead to a very serious issue of brides falling asleep (or fainting) during the ceremony. They also have a habit of being cranky during their photo sessions. This is because they are hungry and sleepy. As a result, they are not enjoying their day as they should. By the time they walk into their reception, they could eat a horse!
If you are staying in a hotel and wanted to order room service, it is generally very expensive to cater for the whole team. Most brides are so focused on their wedding day that they forget to order/eat anything. If they do eat or drink something, it will not be sufficient. If they do eat or drink it generally be cans of energy drinks or alcohol to give them pep to keep them awake. As you can imagine these beverages on an empty stomach equals a very bad combination. This is why you need breakfast on your wedding day.
The Solution – Breakfast On Your Wedding Day
As a result, Pink Caviar Events has been saving brides from hunger and tiredness by introducing them to our "Bridal Party Catering". Originally part of our coordinator packages, it is now available on its own for Sydney Brides. This is for brides who would like to have breakfast taken care of and conveniently delivered to your location in the early hours of the morning.
Wake up knowing that this is one less thing you need to worry about. It is also at a fraction of the price of hotel room service. If you are getting ready at home, don't have to worry about your bridesmaids picking up food. You do not have to send someone out on a drive-thru mission. Nor your parents making food when they should be spending time with you on your wedding day. Our hampers include sparkling wine, ham & cheese croissants, yoghurt, selection of muffins and pastries, fruit, juices and more. We also include all disposable plates, cups, napkins and cutlery for added ease.
Feel free to check out our bridal party catering options. They are available as either a standalone option or packaged together with one of our additional services. At the end of it all, don't go hungry on your wedding day. Have peace of mind and enjoy the early morning wake up by having breakfast on your wedding day!
Have you made a plan to take time out to eat during your wedding day before the reception? What plan do you have in place to make sure this happens? Let us know down below and leave a comment 🙂