This year the members of the Lakes Golf Club held their annual Christmas party in style in the Banksia room. Pink Caviar Events are called in to source the elements and decorate this cocktail style Christmas party for 120 guests. Working with the clubs staff and the elements on hand we helped put together something with a stylish classic Christmas vibe for the members to enjoy. Have a read and take a look at this function space which is normally reserved for only club members.
Christmas Party At Lakes Golf Club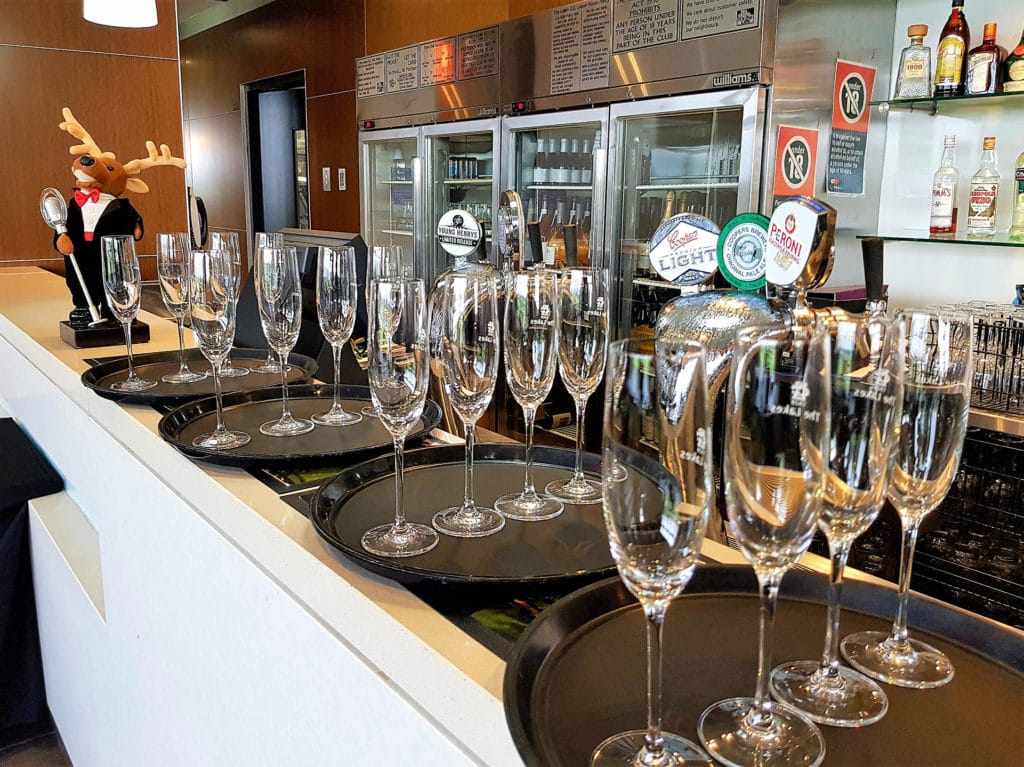 A Bit About The Club
Located in the Eastern Suburbs of Sydney, the Lakes Golf Club was first founded in 1928. It is also one of Australia's most prestigious private golf clubs. The golf club is located next to Sydney's old water supply and designed to complement it thought its design. The names came from the fact that is surrounded by the nearby lakes. The club has hosted the Australian Open 7 times with the latest being November 2018.
The Lakes Golf Club has hosted many national and international golf tournaments. These include the Australian PGA, ANZ Championship,  Chrysler Classic,  Johnnie Walker Classic, Wills Masters, Ampol Tournament and the Greg Norman Holden International. Many famous golfing stars have also played here such as Greg Norman, Tiger Woods, Jack Nicklaus, Bubba Watson, Peter Thomson, John Senden,  Adam Scott, John Daly, Dustin Johnson, Gary Player and Geoff Ogilvy.
Requirements For The Christmas Party
Pink Caviar Events were to create and style an elegant Christmas party for their members in the Banksia Room. The Banksia room was set up for a cocktail style event and catered for 120 of their members. The desired colour scheme was white, silver and black. Part of the brief was to recreate a white and snowy Christmas with a starry night sky feel to it. While we wanted to make it feel 'Christmasy' we did not want to overdo it.
Our team were creative with tinsel, Christmas baubles and glittered reindeers and tealights. This was all designed to create a fun party atmosphere while keeping it stylish and elegant. Armed with over 220 metres of twinkling fairy lights, our team created a canopy to give the look and feel of a starry night sky. This allowed members to dance the night away with the piano entertainment. The room also had a balcony that looks over the manicured gardens, one of the pristine lakes and the championship golf course.
Experience The Christmas Party First Hand
We teamed up with Simply 360 to create an amazing 360 Virtual Tour of the Christmas party for you to enjoy as though you were there firsthand. Check it out below and as it is a fully immersive 360 experience you can look up, down and all the way around. Check out the hotspots for more information about the design elements of the Christmas Party.
Simply 360 are one of Sydneys premiere Google Street View Photographers, high end 36 Virtual Tour creators and create 360/VR content. Check them out today!
Check out the 360 Virtual Tour Above and experience the event firsthand.
End of year celebrations made easy
Are you looking to plan your Corporate Christmas Party? Pink Caviar Events are on hand to design, style and create corporate Christmas Parties to suit you. Our team can help you source the ideal venue and style it to suit your theme and budget. Our in-house ticketing team will help with designing the perfect email invites and follow up on the RSVPs as well as generate tickets for all guests to enter. As a full-service event management company, we work with you to create, design and run the perfect corporate Christmas party.
Are you planning a Christmas party this year for your business/company? Join the discussion down below and let us know 🙂