Everyone knows what a candy buffet is but do you know what a dessert bar is? It is a open table full of desserts for you and your guests. Unlike a candy buffet which has sweets such as M & M's milk duds and so on, this is much more sophisticated.
What is a Dessert Bar?
Traditionally a wedding has dessert and normally a couple of different things will happen. Most evening weddings will have a alternating dessert and serve their wedding cake with tea and coffee.
Other couples will serve larger portions of the wedding cake on is own right. What if you could offer your guests whatever they wished in a easy, fun and convenient way.
This is where a dessert bar comes in. You can have a wide range treats such as mini cupcakes, cake pops, meringues, mini chocolate mousse, fruit tarts, tiramisu cups, macaroons, mini cheesecakes and much more. No longer will you and your guests be subject to just one or two desserts but a whole smorgasbord of options.
Imagine having your favourite dessert but also that of your parents, bridal party and so on. It adds an extra layer of sophistication. This is done by adding treats that are specifically catered to your own guests taste buds.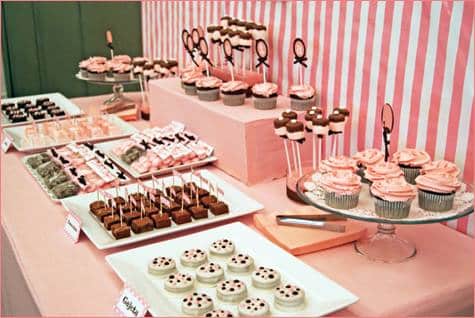 Dessert Bar & Candy Buffet Themed To Your Wedding
The dessert bar can be designed to blend in with your current wedding theme. It does not matter on your colour scheme. This is because we can have the treats decorated to match the colours for you.
Have a pink and gold to colour theme? Perhaps blue and silver? We also match the decor to blend in with your styling. Gone are the days of simply putting dessert or candy on a table but we take it to the next level and match all elements of your wedding.
Culturally & Dietary Requirements Taken In Consideration
We also offer various option for dietary requirements for the dessert bar. If you require the desserts to be gluten free, vegan, kosher, no nuts and so on we can accommodate. We can also offer and accommodate multiple requests such a no nut gluten free for example.
We even have a wide array of desserts that are culturally specific to suit your heritage background. Popular desserts like Greek / Turkish Baklava, Indian Gulab Jamun, Chinese Red Bean Bun amongst other tasty treats.
Our dessert bars are not limited to weddings, they are also perfect for any type of event. We offer it for christenings, bridal showers, corporate events, birthday parties, Bar and Bat Mitzvahs and more. We also have dairy free dessert bar options for people who are lactose intolerant. Any special diet desserts will be clearly labelled for your guests.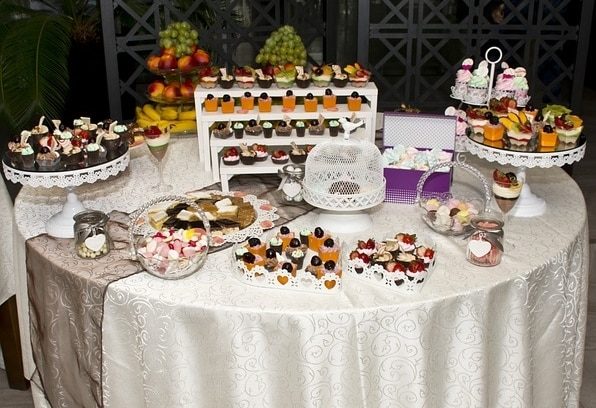 If you are in the mood for a tasty treat for any event you might be putting together then feel free to contact Pink Caviar Events. We will happily go through our various options to out together one of our dessert bars that suit your needs and budget.
Have you ever been to a wedding with a dessert bar? Are tossing up between a candy bar and dessert bar? What are your thoughts this? Comment down below 🙂