Planning a destination wedding in the blue mountains sounds like a great idea. Its close to Sydney, it has that country feel to it and iconic locations such as the 3 Sisters. This will surprise some people but did you know that the Lower Blue Mountains is actually considered part of Metropolitan Sydney. This means that it is LITERALLY next door and even part of Sydney itself.
There are many places in the Blue Mountains to get married with so much to choose from. So let's take a look at the Blue Mountains for your Destination Wedding and what it takes to plan it if you live in Sydney.
Destination Wedding Blue Mountains
Close To The City Of Sydney
Some people say that the Blue Mountains are close to the city. It can be from 2 and a half hours to a few minutes (because Sydney is right next door). Unlike other destination wedding locations, you do not need to catch a plane (excluding Hunter Valley). This means all your family and friends can attend as it is not too far away. You could technically drive back the same night and not have to stay in a hotel. If you and your guests want to stay overnight there are plenty of options.
What's also great is that its close enough where you do not need to make a day of it because of the location. Depending on the time of the wedding you can leave after lunch or after work if it is an evening wedding.
The only downside to this is that, in the beginning, its fun to drive up to talk with the ceremony and/or venue space. After a while, the drive up and down can be a bit of a burden. This is because you will be checking stuff with your venue, photographer, florist and so on to make sure everything is perfect.
Amazing Natural Beauty
There are many amazing places to get married in the Blue Mountains area. Places such as:
The Three Sisters: This is considered the landmark of the Blue Mountains. It is (in simple terms) a unique rock formation that represents 3 sisters who according to Aboriginal legend, turned to stone.
Wentworth Falls: is a beautiful town in the region boasting some amazing views.
Leura: is famous for its beautifully kept gardens and garden festivals
Jenolan Caves: considered to be Australia's most famous caves and beautiful.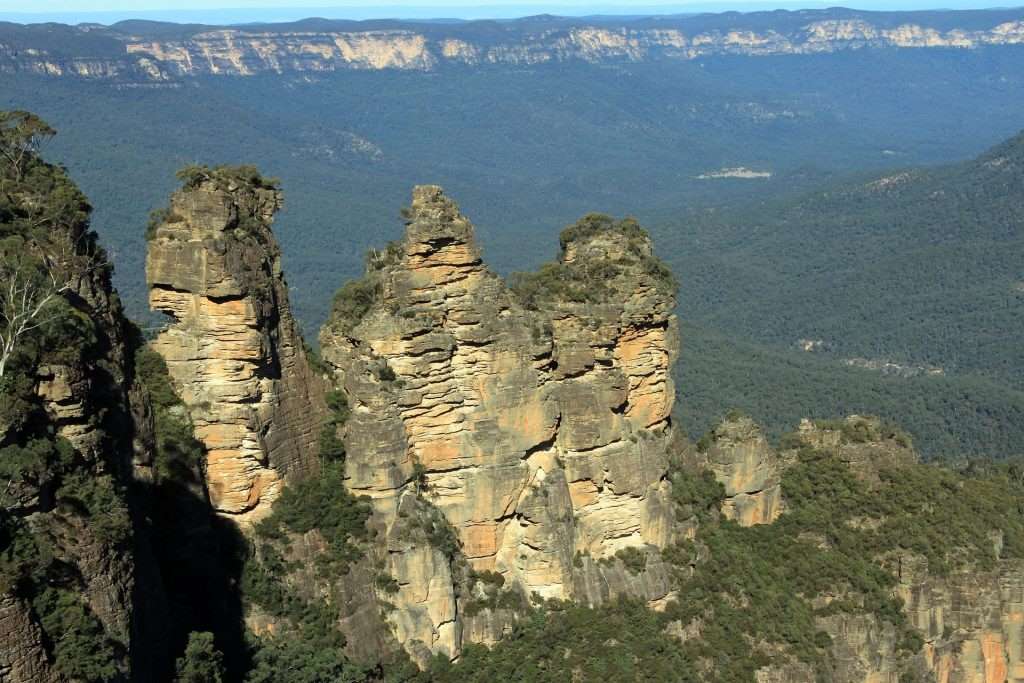 Which Suppliers To Use
When planning your destination wedding for the Blue Mountains it is important to organise the right suppliers. While mentioned above that it is partly considered part of Sydney, the fact is not all suppliers will travel that far. If they do (unless they are locals) they will more than likely charge a travel fee.
The issue you may face is that it will be easier to meet people local to you who will more than likely charge a travel fee. The alternative is to find a supplier who lives in the Blue Mountains area. Yet you need to speak with them and potentially constantly drive up to meet with them. It comes down to the time versus money argument and which is more important to you.
If you are willing to spend a bit of time and go with local suppliers they will have the local knowledge advantage. For example, a local photographer will know the best angles and how to get everywhere. They may even know places that not many others know about to take amazing photos. The same goes with florists as they will work with your vision but also know which flowers look amazing for the area.
Need A Hand?
If you are considering having a destination wedding in the Blue Mountains but are having trouble balancing wanting amazing suppliers and also time factors, we can help. At Pink Caviar Events we have coordinated and planned many weddings in the Blue Mountains area for many years. We see ourselves as your local planner/contact to help arrange everything locally. While at the same time having the knowledge of a local and local suppliers. This is like having the best of both worlds. Contact us today to see how we can help. We also have our own photo booth which can be used in the Blue Mountains.
If you are also looking at having a destination wedding elsewhere feel to contact us. We can help plan your wedding anywhere in the world.
Have you been or had your wedding in the Blue Mountains? Are you thinking of having you wedding in the Blue Mountains area? Join the discussion below 🙂