11 Aug

Different Types Of Wedding Bouquets

Last Updated on

When a person thinks of a bridal bouquet they often thinks of a bunch of fresh flowers that are fragrant and look amazing. But did you know that there are alternatives to the traditional flower bouquets? In fact there are different types of wedding bouquets. Many people think that when they see a bride walk down the isle that it is is fresh real flowers. But in reality it may not even be.
Different Types Of Wedding Bouquets
Today lets take a look at the different types of wedding bouquets that are not made from real flowers but ranging to plain synthetic to one you can eat and also pop amongst others.
Synthetic Latex Flowers
Most people would be surprised by this but synthetic latex flowers look and feel real. They are genuinely surprised the first time they gaze their eyes upon them (even I was fooled). Do not think $2 cheap fake flowers, the proper latex flowers are a in a different league of their own.
The advantages of the synthetic latex bouquet are that they come in a vast arrange of colours and flowers. As they are fake they can be used all year round. They can also be used at your wedding when that flower would be out of season. Synthetic latex flowers are pretty tough and do not damage as easy as regular flower (they do not easily crease) and obviously do not wilt throughout the night. They are also cheaper than regular flowers.
The only downside would be that they do not make it for ever single flower in every combination. If you are looking for something that is not popular then they may not make that flower or if they do, it may not be in the colour you desire and you may have to resort to a custom mould which can cost quite a bit. All that aside they cater to virtually everyone so you chances are more than great at finding something to suit our specific taste.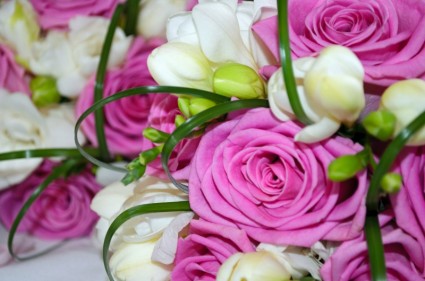 Swarovski Crystal Bouquet
These crystals look amazing and did you know that you can have an entire bouquet made of them. It is quite a site to see someone holding an entire bouquet with these crystals glistening in the sun, reflecting and refracting off everything. These crystals come in all shapes, sizes and colours. There are however 2 downsides. Firstly they are VERY HEAVY and can easily weighing in over 1.5kg. These bouquets are generally smaller in size due to this and while initially they are not heavy, after a while they can take a toll on our stamina. The other issue is the price point as there are quite a lot of crystals used to make an entire bouquet.
One popular option is to accent your bouquet with these crystals to make your real or synthetic flowers pop.
Balloon Bouquet
Do you have an inner child that wants to come and say hello on your wedding day? Are you looking for something to show off your fun side? Then how about a balloon Bouquet that is entirely comprised of balloons that are in the shape of a bouquet. You are probably thinking that they will pop easily as they are balloons. These balloons are made for extra special occasions are made from stronger material so they are not easy to pop. Another option is to have bunch of balloons tied to your hand and instead of having to carry around a bouquet, they gently float and do not weigh you down.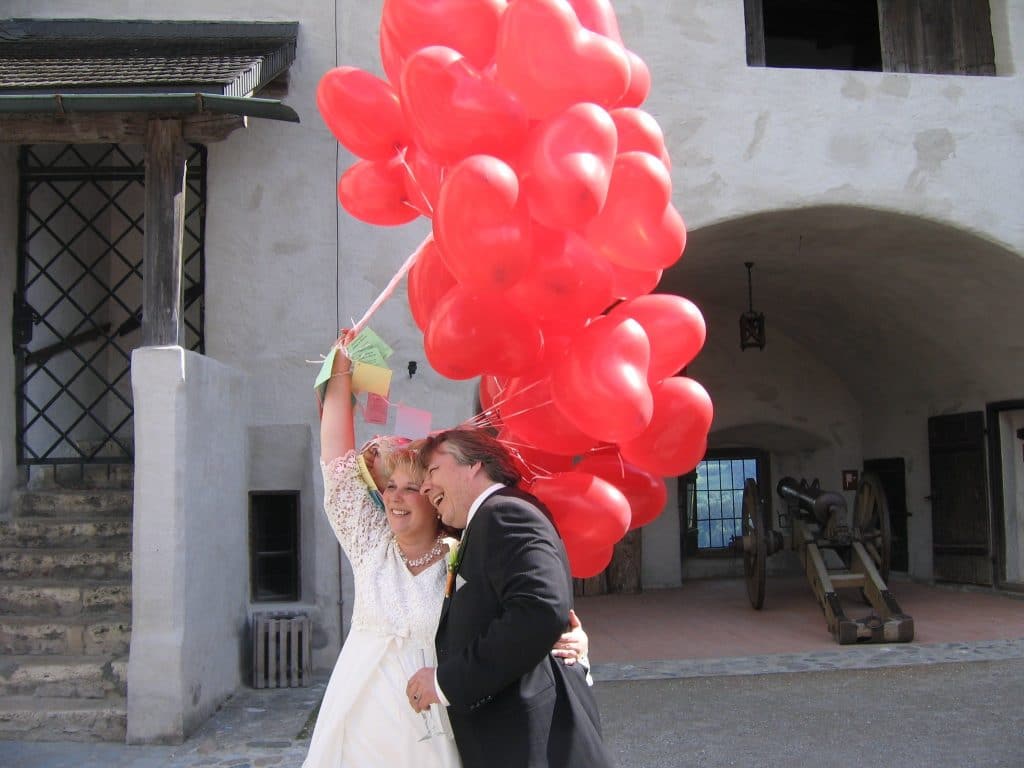 Candy & Cookie Bouquets
Did you know that most brides never eat till their reception which is generally around 7pm. If a brides does have something, its generally only a coffee. What if you could carry on with your wedding duties and eat at the same time… how you ask? By having an edible bouquet. These are the most tasty of the different types of wedding bouquets discussed today.
Candy Bouquet
These tasty bouquets are made from the tastiest of treats…. candy. Generally speaking they are an arrangement of various candies and chocolates. These are wrapped up in cellophane which comes together to create an edible floral arrangement. The entire bouquet can be made form candy or used in conjunction with real flowers. The only downside is that if it is a hot day then the candies will melt (which can be good if they are still wrapped).
Cookie Bouquet
Almost identical to the candy bouquet except for one obvious difference which is the bouquet is made from cookies not candy. The one advantage of this bouquet is that unlike its candy counterpart, the cookies do not melt (unless you have something like chocolate chip… and the chips melt). There are 2 drawbacks, firstly because cookies are generally brittle they can break if you drop the bouquet. Secondly as they are cookies (unless is some packaging) you can get cookie crumbs all over you and in your dress… if you are wearing a big dress then the last thing you want is tiny cookie bits in places you can no reach until you take your dress off later.
Material Bouquet
Do you love lace? Flaunt Flannel? Prefer Paper? Perhaps you would rather choose cotton? While that was puntastic the fact remains that you can create amazing DIY bouquets. You can also hire a pro for that extra tricky or special touch. Brides have created the most beautiful bouquets from other materials such a leather, cotton and even broken vinyl records constructed into the shape of bouquets.
Are you looking for a wedding bouquet and having trouble deciding? Contact Pink Caviar Events today to see how we can help you with your wedding. We can show you many different types of wedding bouquets to suit your style. Check out our Facebook or Pinterest page for more inspiration.
Do you have a question for Ask Emilie then email her here? Alternatively, fill out the form below and have your question answered in our wedding blog. Also, check out the other Ask Emilie Blogs here, they may also contain what you are looking for or give you ideas and inspirations for other wedding related questions.
What type of wedding bouquet are you looking at having? Are you looking at having something traditional or different? Join the discussion below and let us know 🙂