08 Feb

Greg & Sabrina's Wedding: Beach Wedding

Last Updated on

Back in February 2015 Greg & Sabrina tied the knot, a couple who originally met while Greg was travelling through Europe. They decided to have an outdoor beach wedding ceremony coupled located at the beautiful Palm Beach. In this case it was a beach wedding to die for.

Sabrina had some very specific concepts and ideas in mind prior to meeting with us but with the help of Pink Caviar Events, we were able to take ideas and help shape it into their dream wedding.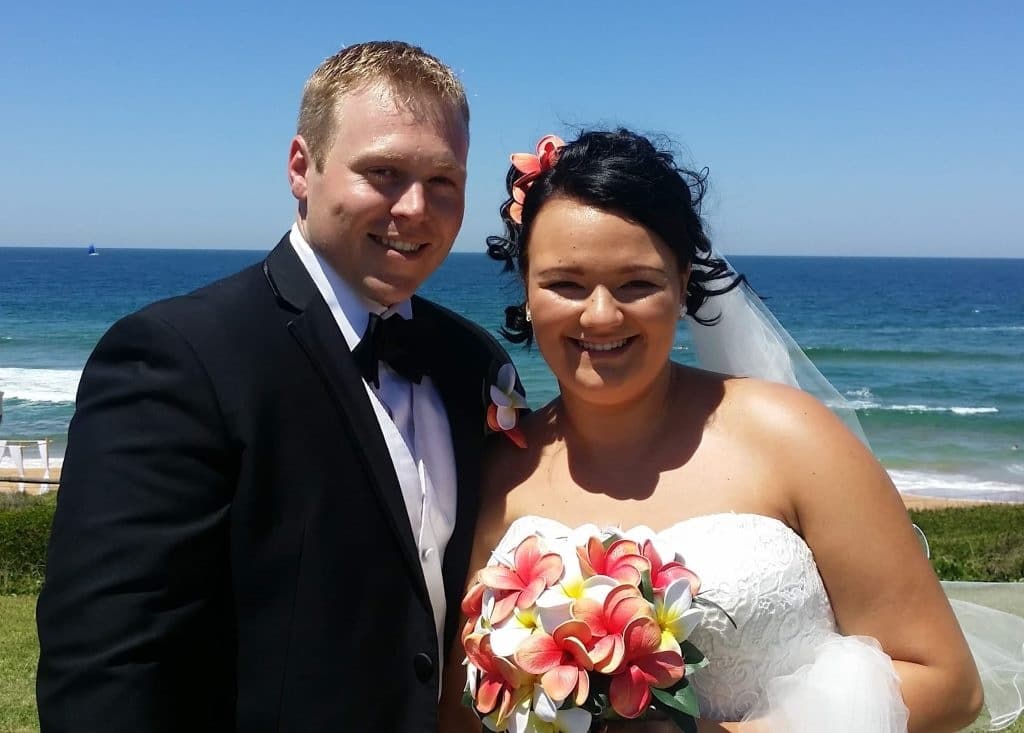 Origins Of The Beach Wedding & Theme
Firstly to explain a few things, Sabrina was originally from Austria and love's the fact we have great weather and is now living here away from the cold climate. Also, her favourite colour is orange which is not the most common colour to work with but with Sabrina's vision and our styling it worked perfectly on the day.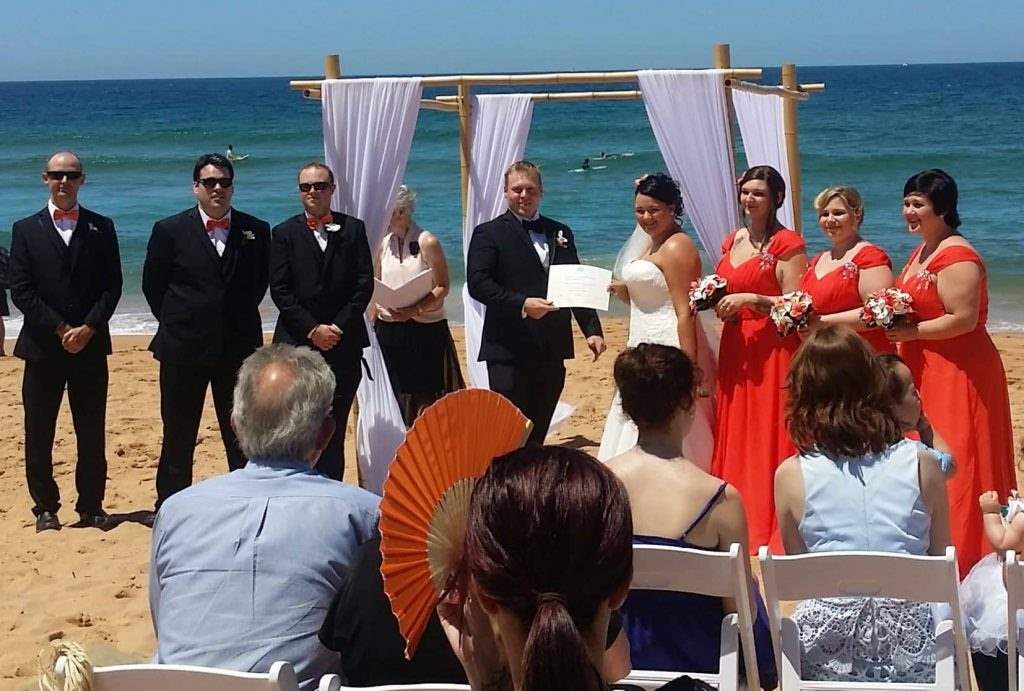 The reception was held at the nearby Oxford Falls Hotel, which was very convenient because the guests were able to park at the venue and the couple had arranged group transport to pick up the guests, take them to Avalon Beach then afterwards take them back to Oxford Falls Hotel.
Upon arrival, each chair was laden with an orange fan so the guests could cool themselves on this hot summer's day with little sayings weaved right through the fan itself.
The set-up was an open air white draped bamboo archway that added that extra little touch to make everything complete. After the ceremony, guests were treated to a glass of champagne while enjoying the view of Palm Beach.
As the wedding planners, mini buses were arranged for the guests. This was a fantastic idea because no one had to worry about driving. All guests could enjoy a drink – a toast to the newlyweds!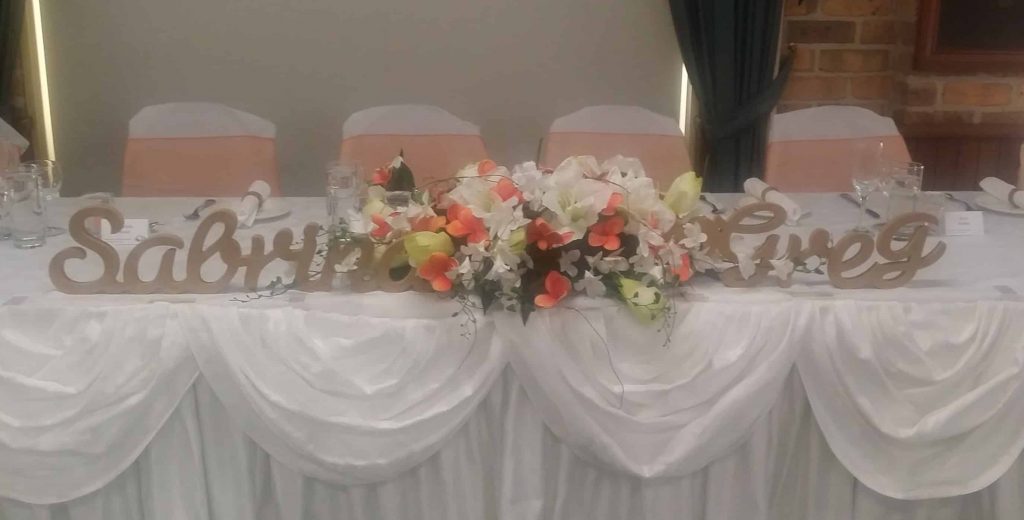 The bouquets and bridal table had orange and white frangipani.
While the guests tables were decorated with a hurricane vase. Keeping to the beach theme, our coordinators filled them with sand, orange hibiscus flowers and some seashells. This was all coordinating with our styling team.
Guests were also treated to custom engraved shot glasses commemorating the special day and to take home as a keepsake.
Beach Wedding Themed Cake
The cake was a beautifully beach wedding themed cake with orange accents, a pair of deck chairs and Mr & Mr's Star Fish topper's which also included edible sand  in the form of brown sugar crystals.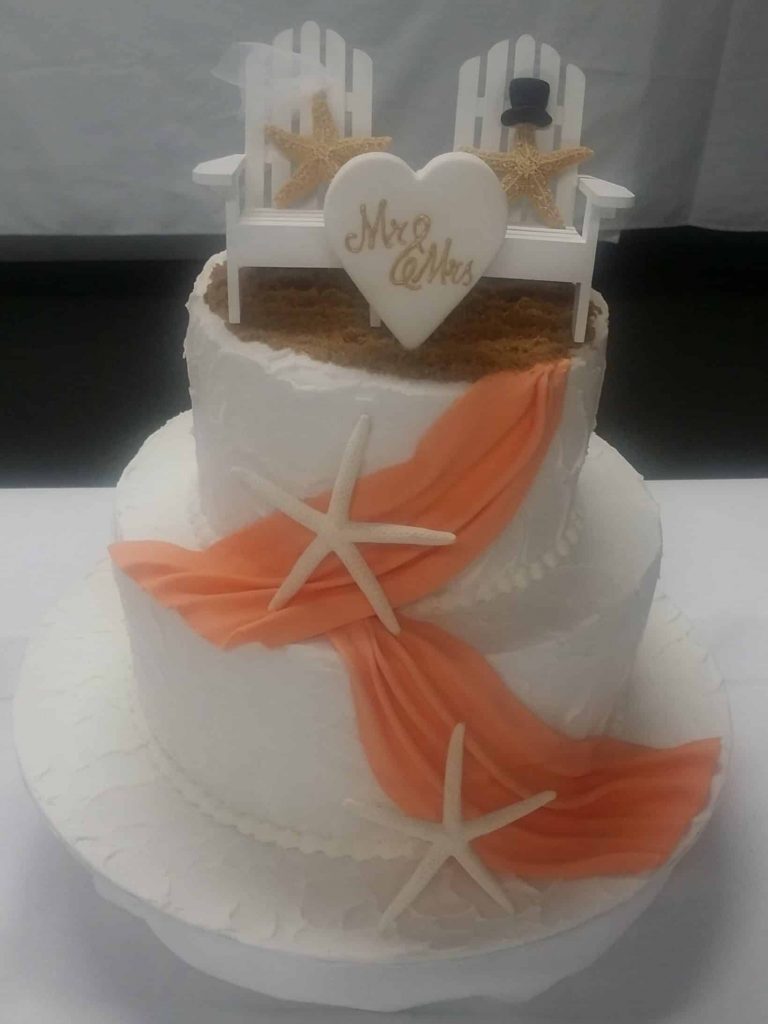 To top it all off Greg & Sabrina had a surprise for their guests. They got out of their wedding attire and into traditional Austrian attire. This is so they could surprise everyone and dance to traditional Austrian music. Greg had told me afterwards and that they practised quite a bit in order to make it went perfectly.
A year from the day the team at Pink Caviar Events wish Greg & Sabrina all the best and many more years to come, Happy Anniversary 🙂
Would you have /or had a beach wedding? Join the discussion and comment down below 🙂