When most people think of wedding transport they often think of limos, Cadillac, Rolls Royce's and so on. This is generally just for the bridal party with no consideration for the guests. Have you ever thought of using a group wedding transport to transport your wedding guests?
What Is Group Wedding Transport?
This is an idea that often goes un-thought of until the final stage of the wedding planning process. What we mean by group wedding transport is the hiring of a bus and / or coach to transport large groups of wedding guests from point A to point B. There are many advantages to this and not just for the guests. This is to also ensure the wedding runs smoothly which we will discuss below.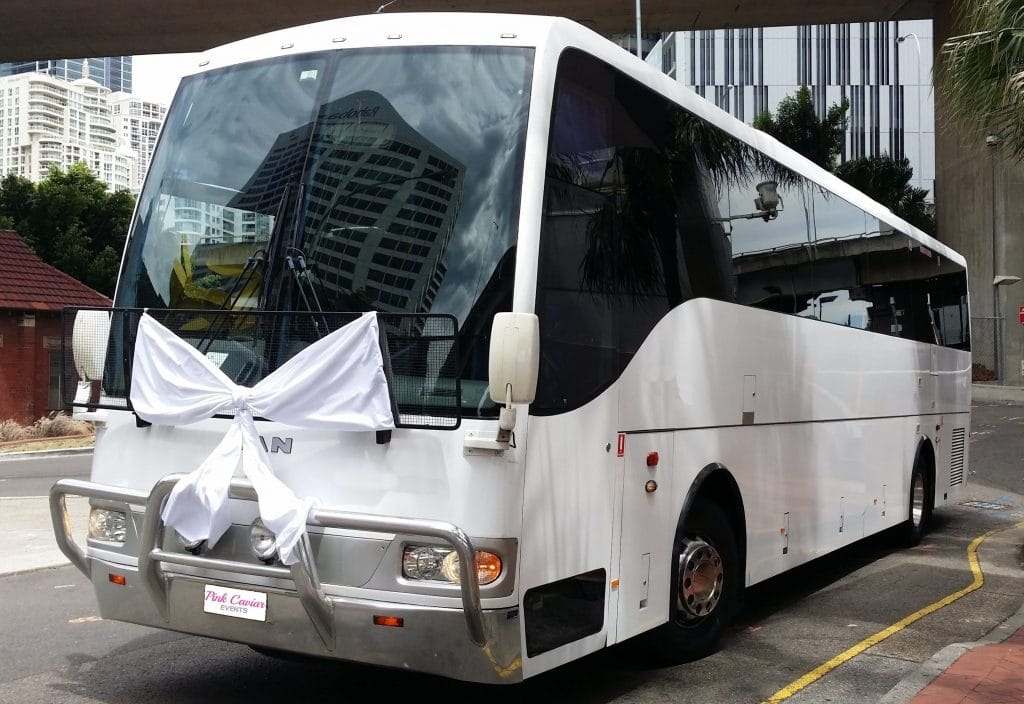 Lack Of Parking
Depending on where you have your wedding ceremony and reception, lack of parking can cause dramas. Especially if there is a lack of parking at one of these sites. For example lets say that the wedding reception has lots of parking available but the ceremony location does not. You could hire a bus / coach to pick up the guests at the reception parking area, take them to the ceremony location and then return them the reception venue. This will ensure that all your guests will be on time. No one will get lost or be late to the ceremony location.
Lets Wedding Guests Have A Drink
Most couples are happy for their guests to have a drink. The last thing they want to happen is that they are pulled over for drinking between the ceremony and reception. As the gap can often go for several hours, guests will often take this time to relax and unwind. They may have a drink or two to celebrate the couples wedding. The unfortunate issue is if they pulled over for drink driving and if they are by themselves, they will have trouble getting to the wedding. By having group wedding transport they can have a drink and go from location A to B with no problem.
Ensure All Wedding Guests Are At The Right Place At The Right Time
Sometimes while a wedding guest has the best intention to get to the ceremony or reception on time, unforeseen traffic can cause them to be late. Perhaps you have a special surprise for your guests and want them to arrive without knowing the secret. This gives the option to keep something a surprise yet let them go to where you need them to.
In fact Stephanie (our head wedding planner in the photo below) organised a cruise for her wedding guests. With group wedding transport she was able to keep it a secret. She had a couple of coaches pick up all the guests at a parking station (that she arrived parking at). She then had the guests driven to the ceremony location.
After the wedding they were picked up and dropped off at the wharf to board the private cruise charter. This is so they could get to the boat easily and on time while still having the surprise kept a secret. It also allowed her guests to enjoy some afternoon tea while the bridal party took photos. After the cruise, the boat docked at the wedding reception. This was a tiny 20 m stroll to the wedding reception venue This was also within walking distance to the car park. By having group wedding transport it allowed the entire wedding to flow smoothly. It kept everything on time and keep the cruise element a surprise.
International Guests
On the global stage, there are far less countries driving on the left hand side of the road compare to the right. Therefore if you have many international guests it may be easier to hire group wedding transport. This is so they can go to your wedding without any dramas. Even with best intention from friends and family to drive them, it can be a hassle or cause unnecessary stress. Even if they come from a country that drives on the left hand side of the road they may want to enjoy themselves stress-free and not rent a car. The added bonus is that they will not have to worry about navigating maps.
As you can see, there are many reasons for group wedding transport on your wedding day. If you need any help putting it together as a part of your wedding do not hesitate to contact us today.
Check out our other blogs on wedding transport. There are a lot more options and possibilities that you can image:
Group Wedding Transport – You Are Here
Get Away Car Options (Transport Options) (Coming Soon)
Do you think you will need group wedding transport on your wedding day or just for the bridal party? Have you been to a wedding where they have had it? Let us know, join the discussion below 🙂