18 May

How To Ask For An Adults Only Wedding Politely

(Last Updated On: 05/05/2018)

Having an adults only wedding is a great idea for some. The ability to have a wedding with no children so you guests can relax without having to worry about them. The question you then ask yourself is "how do I tell everyone it is an adult only wedding without sounding rude or upsetting people".

No matter with your best efforts there are some who are just opposed to the idea. In their mind their children should be invited especially if you are close friends or family. Maybe you used to babysit Little Jimmy or they are your nephews and nieces. Whatever the reason it is understandable why some people would like children at their wedding.
Adults Only Wedding – Asking Guests The Right Way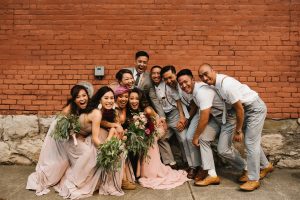 How To Ask
With all that being said there are ways to ask for an adults only wedding. One person had actually written in all caps "NO CHILDREN" and said that "it's my wedding and its about me". While this person is correct the person ruffled quite a few feathers as many of their guests finding it quite rude . In our professional opinion there are much better ways of asking for "no children".
While we may disagree with this person for being blunt at least they advised the guests that it was an adult only wedding. On more than one occasion people do not like stating its an adult only wedding and try to advise it discreetly. The mistake most people make are that they just say something like "keep the kids home so you can have a fun night". This SUGGESTS to keep the kids home but makes it sound optional.
Another way people can cause confusion is that they ask their close friends and family to pass it onto other guests that its a adults only wedding. It can cause quite a few problems because not everyone is notified. Secondly some people are a little offended they were not told directly and instead told through second hand information. We often give clients a couple of ways they can go about this. Firstly they can put a positive spin on it in the invitation. Some good examples are:
We have chosen for everyone to have a fun and relaxing night. Therefore we have decided to have an adult only wedding. Let your hair down, relax and have a great night.
Children are more than welcome at the ceremony but the evening is for the adults.
Blaming The Venue For The Adult Only Wedding
Sometimes the venue is the reason for no children. This way it is easier to tell guests they can not bring children as its not your decision.
Due to restrictions at our venue, children are unable to attend.
Due to venue policy, management have advised that no children are able to attend.
Lastly as mentioned earlier there will be backlash. You will need to stand your ground and your guests need to respect your decision. If need-be call or see them in person to sort through things. While you can not please everyone, the vast majority of people are very understanding.
Adults Only Wedding, How To Ask – In Conclusion
However you decide to tackle this just be open, honest, upfront and clear in your message. In the end it is going to be worth it as you enjoy your adults only wedding.
If you are interested in more information about adult only weddings check out this article here. Alternatively you can contact one of our event wedding planners to see how we can help.
Are you considering an adults only wedding and having trouble how to ask? Join the discussion and comment down below 🙂