With the upcoming wedding of Prince Harry to Meghan Markle we thought it would be interesting to take a look at royal wedding traditions. While many think it is a fairytale wedding, behind the scenes is a strict protocol of do's and don't's all the way from pre proposal right though to after the wedding. We cover everything from where to sit, what to wear, proper protocol, traditions you may have never heard of and many others.
Royal Wedding Traditions
Above Image: CC2.0 & Created By Mark Jones
You Must Have The Queens Permission
While most grooms to this day seek the blessing from his future brides parents, it is compulsory for any royal marriage. In fact the Royal Marriages Act of 1772 dictates that any royal wedding must have written permission of the reigning monarch (in this case Queen Elizabeth II). However this was updated in 2015 with the 2011 Perth Agreement. The new agreement stated that the Royal Marriages act only applied to people within 6 lines of succession to which this still applies to Prince Harry. It appears that Prince Harry did that as Clarence House had announced that in November 2017 "His Royal Highness The Prince of Wales is delighted to announce the engagement of Prince Harry to Ms. Meghan Markle". On a side note Prince Harry had also sought and received blessings from Meghan Markle's parents, Thomas Markle and Doria Ragland.
The Monarch Must Be a Member of The Church of England
There are no direct laws expressly stating that a Royal can not marry a different faith to the Church Of England. That being said the Act of Settlement of 1701 states that the king or queen is also the Head of the Protestant Anglican Church of England. Therefore while Harry is not in direct line to succeed the throne he and Meghan must be baptised in the Church Of England. In early May Meghan Markle was baptised into the Church Of England at the Chapel Royal.
Official Engagement Photos At Kensington Palace
Royal protocol states that a royal engagement is to be announced by Kensington Palace. This is then followed by the couples first official public photo and also a joint interview. In this case it was by Clarence House. A few hours after Clarence House had announced the engagement of Harry and Meghan they then posed for the first press photos at Kensington Palace.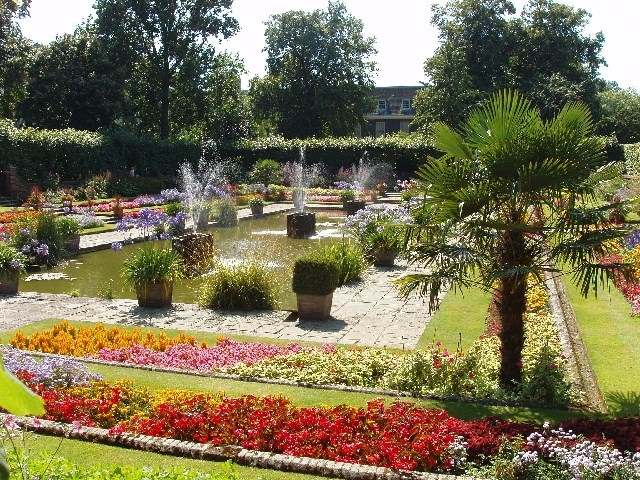 Image by David Hawgood Sunken garden, Kensington Palace / CC BY-SA 2.0
Official Wedding Location
Those in line to be next in line to be King or Queen are generally married in Westminster Abbey. As Harry does not have such a strict regiment the have opted for a more low key ceremony. They are to be wed in St. George's Chapel in Windsor Castle. This is the same place Prince Harry was christened. It is also the same place that Prince Charles wed Camilla Parker Bowels.
Royal Brides Wear a White Wedding Dress
Since 1840 when Queen Victoria wed Prince Albert in an elaborate white wedding dress almost every bride in a royal wedding has followed this tradition. In modern times while this tradition still holds a new addition to this is to include lace in the wedding dress.
Groom Will Wear A Military Uniform
Members of the royal family who have served in the military traditionally wear their Dress Uniform as their wedding outfit. Prince William had worn his and their father Prince Charles had worn his Dress Uniform as well. As Prince Harry has also served in the military it would be expected to wear his as well.
The Wedding Party – Consists Of Children
Historically speaking royal bridesmaids have traditionally been younger girls. They are usually between the ages of 10 to 12. There have been exception for example Kate Middleton's bridal party included Lady Louise Windsor, while is a younger cousin of Prince William. She also included her sister Pippa as the Maid Of Honour.
Random Fact – Kate Middleton was not the matron of Honour of her sister wedding. This is because:
"It's unbecoming for a member of the royal family to walk behind a commoner—which, as painful as that sounds and despite being directly related to Catherine, is what Pippa is," – William Hanson an expert on British etiquette
Royal Brides Wear A Tiara
While not an official rule, historically speaking the bride typically wears a tiara. There is a vast array of Tiaras available from the long line of British royals. The question is not if she will wear one but which one will she wear.
The Wedding Rings Are Made From Welsh Gold
Originating in the 1920's the wedding bands are made from a specific mint that is located in Northern Wales. It started with Elizabeth Bowes-Lyon who is the mother of Queen Elizabeth II. This gold is valued higher than any gold mined in Australia, South Africa and so on. Prince Harry proposed with a 14 karat gold engagement ring. This ring is said to be valued around the $350,000 USD.
The Bouquet Contains A Sprig Of Myrtle
In 1840 when Queen Victoria married Prince Albert, she also had a sprig of myrtle in her wedding bouquet. She then had a myrtle shrub at her home which was in Osborn. This began a new tradition where every royal wedding since has had a sprig from the very same myrtle shrub.
The Wedding Bouquet Given To The Unknown Soldier
When Lady Elizabeth Bowes-Lyon married King George VI in 1923 she started another tradition. She had placed her bouquet at the Tomb of the Unknown Soldier at Westminster Abbey. This was to commemorate her brother who has died during World War 1. Ever since then every royal bride since Queen Elizabeth II has left their bouquet in the same spot after each wedding ceremony.
What To Wear… What Not To Wear (For Wedding Guests)
The dress code is quite strict, adhering to year of history and tradition. It is traditional for women to wear hats in church. However those who wish to follow protocol will do so. No bare legs, must wear closed toed shoes and also hemlines that are to come no higher than fingertips. One is to dress modestly.
For Prince Harry and Meghan Markle their dress code is more contemporary. The official royal invitation requested for men to wear a "morning suit or lounge suit". Women have been asked to wear a "day dress with a hat.
Royal Family Seating Positions
For weddings in general depending on the relationship you have with the bride or groom will determine where you sit. This is different for royal weddings. In this case the royal family will sit on the right side of the church. If the groom is not of royal blood then the royal family will sit on the left hand side. For Harry and Meghan the royal family will sit on the right hand side of the church.
It's the thought that counts (Wedding Gifts)
As a guest of a royal wedding, as far as royal wedding traditions go you can not turn up empty handed.
Typically when people are invited to a wedding it does involve travel and airfare and expenditures, for this kind of a wedding—for any kind of a royal wedding—it is considered a great honour. In order to show or convey respect and that gracious feeling for being invited, the ante is a bit more – Lisa Gaché, manners expert and chief executive of Beverly Hills Manners
It is therefore recommended to give a gift with a personal touch. For example if you are a singer – a performance/act is recommended. This is not to say everyone should sing or preform as this will be in the public eye. Aside from that a charitable donation of $500 or more is perfectly acceptable.
Fruit Cake Is The Cake of Royals
Fruit cake has been part of royal celebrations dating back centuries. As the royal family tend to stick with tradition fruitcake is still commonplace today.
The tradition of fruit cake started back in the Middle Ages. As fruitcake is traditionally made with alcohol such as brandy or rum as a natural preservative. This keeps the cake fresher for much longer. As a result it is much easier to decorate with more elaborate designs as there is more time to work on the design.
Random Fact – Traditionally wedding guests will receive a slice of the remaining wedding cake in the mail. This is due to the longevity of fruit cake. The slice is also accompanied with a thank you note for attending the wedding.
In the case for Harry and Meghan, they have opted to have a lemon elder flower cake with buttercream frosting.
Their Wedding Menu Can't Include Shellfish
To prevent food poisoning, shellfish is not served at royal weddings. On a side note the Queen forbids the use of garlic in dishes served in the Palace. While not official, as a result there may not be any garlic in the wedding meals either.
Two Receptions Are Better Than One
The ceremony will traditionally begin around noon. This is then follow by a wedding breakfast or even a luncheon. There is then a more intimate reception in the evening.
Post Wedding Points Of Interest
Her are some interesting royal wedding traditions that happen post wedding:
After the wedding there couple, immediate family and the wedding party pose for an official portrait.
In many cases the newly married royal couple head off to Buckingham Palace to address the crowd and for a public kiss on the balcony.
Royal Wedding Traditions – That's A Wrap
As you can see there are many royal wedding traditions. Some newer than others and others dating back centuries. While Prince Harry and Meghan Markle have opted for some nontraditional elements it is still a royal wedding with many of the royal wedding traditions in tact or with a more modern twist.
Regardless the team at Pink Caviar Events wishes the newly wed couple a long and happy marriage.
What are your favourite royal wedding traditions? Are you excited for the royal wedding like we are? Join the discussion and let us know in the comments below 🙂