Photo Booths have been around for over a decade here in Australia. They have grown in popularity and this trend is not going away any time soon. As a result there are many types of photo booths that have appeared on the market. Today we are looking at the different types of photo booths that have evolved over the past few years.
The Many Types Of Photo Booths
Traditional Photo Booth
Most people think of the traditional photo booth, which consists of an enclosed photo booth that many people have seen in shopping centres. These were made popular (pre-wedding photo booth craze) by being an easy and cost-effective to take photos for passports and photo IDs.
These days traditional photo booths have been reimagined for weddings and events as they are portable and have been modified to take many photos. The images are printed on photo strips or photo cards.
Pros
Great with lighting as it is in an enclosed environment.
Easy to identify with guests as they are the most easily recognisable.
Cons
The maximum number of people you can fit into the booth at the same time is 2-3 people (4 can be a massive squeeze)
Many operators use webcams as its easier to control the lighting an conditions. While they can produce good shots they produce sub-standard photos compared to DSLR photos.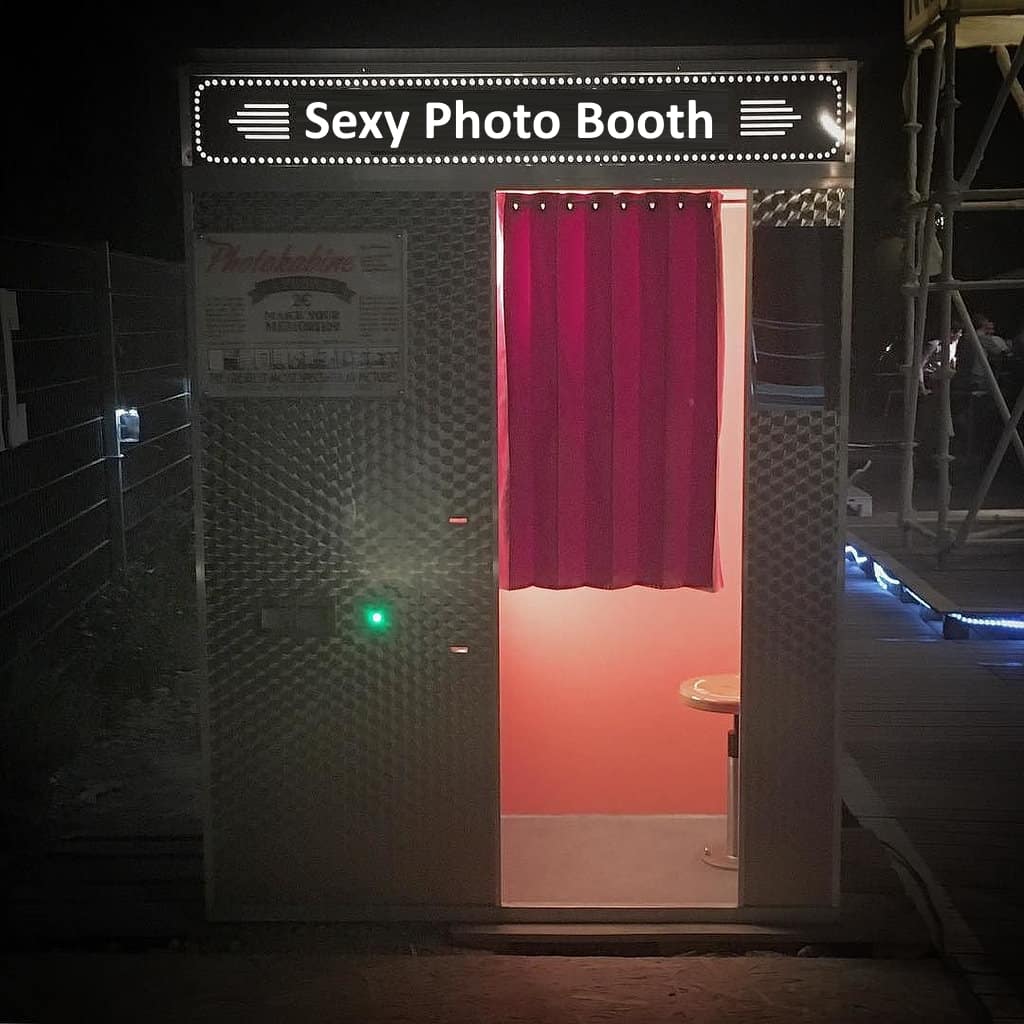 Instagram Booth
Out of all the types of photo booths, this one is the most unique. The Instagram booth works off your smartphone. The way an Instagram booths work is as implied – by using Instagram and a local printer.
You will create a hashtag, for example "#janeandjohngethitched and then share it with your guests (either on the night with the MC, in wedding invites and so on). The Instagram booth will constantly search Instagram for the specific hashtag and print out the prints during the event.
Pros
Guests do not need to line up to take a photo and can take a picture anywhere from their dinner table to out and about during bridal party photos.
Anyone with a smartphone can use it.
Cons
People who do not use Instagram (especially older people) may not have a smartphone let alone an Instagram account. As a result, they would not be able to use the booth.
These booth generally print out 120-180 photos per hour and may not be instantaneous. If there is a large queue of photos (especially towards the end of the night) some people will not have their pictures printed.
Mirror Booth
The mirror booth is a relatively new idea in the photo booth realm and came about late 2016. In simple terms, it is a reflective mirror that is designed like a mirror (think snow white and the magic mirror) that takes full-length photos.
It is generally more compact and similar to an open-air photo booth (mentioned below).
Pros
A newer and different concept.
Takes up much smaller space than any other physical booth and can be placed virtually anywhere.
Cons
They are designed to lean against a wall. While not a bad concept, in theory, it limits positioning.
The camera is generally taken mid height (roughly 1 metre). This means that slightly tall people have to crouch down quite a bit.
Open Air Photo Booth
The open air photo booth has been around for a while. The main difference between this and the traditional photo booth is that they are not using an enclosed environment. This means that they are using (as the name suggests) the open environment to their advantage.
Pros
As the photos are in an open environment, they are great for larger groups of people. For example, we have an open-air photo booth with a record of 15 people in one photo.
While some consider photo bombing a negative, they tend to be the more hilarious photos at any event. The ability for the guests to not only watch BUT jump into any photo as it happens is a great way to have more spontaneous and fun photos.
As the photos are taken in an open environment, the photos taken by an open-air photo booth use DSLR Cameras which produce vastly superior quality photos compared to a webcam.
Cons
As the photos are taken in an open environment, none of the photos are taken in seclusion (thus the potential photo bombing).
Types Of Photo Booths – Conclusion
No matter what type of photo booth you choose, there are many varieties to suit your style. At Pink Caviar Events, we can work with any type of photo booth. If you are looking for a more open and inclusive experience, then take a look at our open-air photo booth as mentioned above. If you are just looking for an open-air photo booth head on over and check ours out for a quote. No matter the types of photo booths you are looking at contact us today by filling the form on this page to see how we can help.
Check out the links below to see what other options there are for photo booths:
What type of photo booth are you going to have at your wedding/event? Are you going to have one at all? Join the discussion and comment down below 🙂