03 Nov

Types Of Wedding Cake Toppers

(Last Updated On: 07/03/2019)

Wedding cake toppers are considered by some, the last piece of the wedding to decide upon. For many its the most fun of the selection or the hardest depending on the couple. The wedding cake topper is the physical representation of the relationship as it is generally smaller versions of the couple upon the wedding cake.
Wedding Cake Toppers – Too Many To Choose
Today we are looking at the different types of cake toppers. If you have started looking, then you have come to the realisation that there are so many variations of wedding cake toppers and probably more than you ever realised.
Bride and Groom
The bride and groom wedding cake toppers are considered the traditional wedding cake toppers. Generally speaking, it is a miniaturised version of the couple on top of the cake. The traditional style is of the bride and groom. The bride is in her wedding gown and the groom in a black-tie tuxedo. There are many variations to suit most couples with various hair colours, skin types, heights, body shapes and much more.
With the recent advancement of 3D printers, there are even toppers with photo-realistic quality replication of the bride and groom. Some couples will also just scan their head and replace it with a fantasist. For example, replacing the groom's body with bulging muscles or the bride in a Hogwarts uniform from Harry Potter.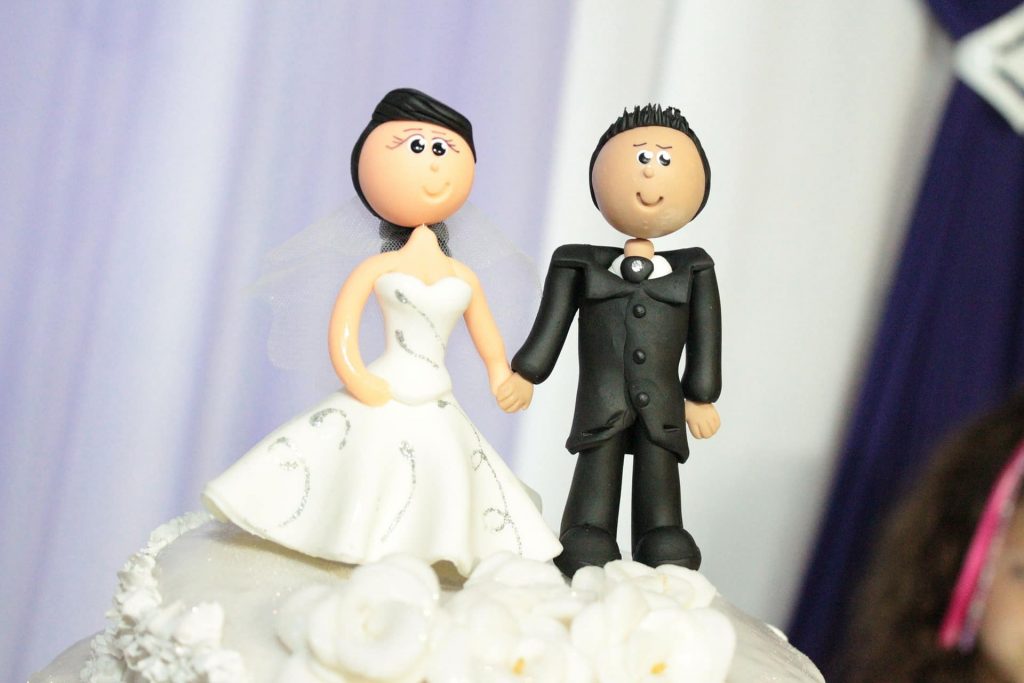 In recent years with Australia legalised same-sex marriage amongst as well as being legalised in many countries, same-sex wedding cake toppers have exploded onto the scene with just as much variety as the bride and groom version. This is great news because before this; same-sex couples had to either buy two sets and split them up or have them custom made. As this has become more mainstream same-sex couples no longer have to look hard and there are many variants included alongside the bride and groom counterparts.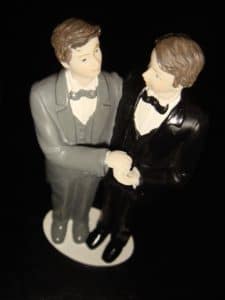 Fondant
Do you want to eat EVERYTHING on your cake? Have you considered an edible fondant cake topper? These tasty treats not only look great but are also edible as well. These edible cake topper can be bought "as is" or custom designed for that extra bit of personalisation.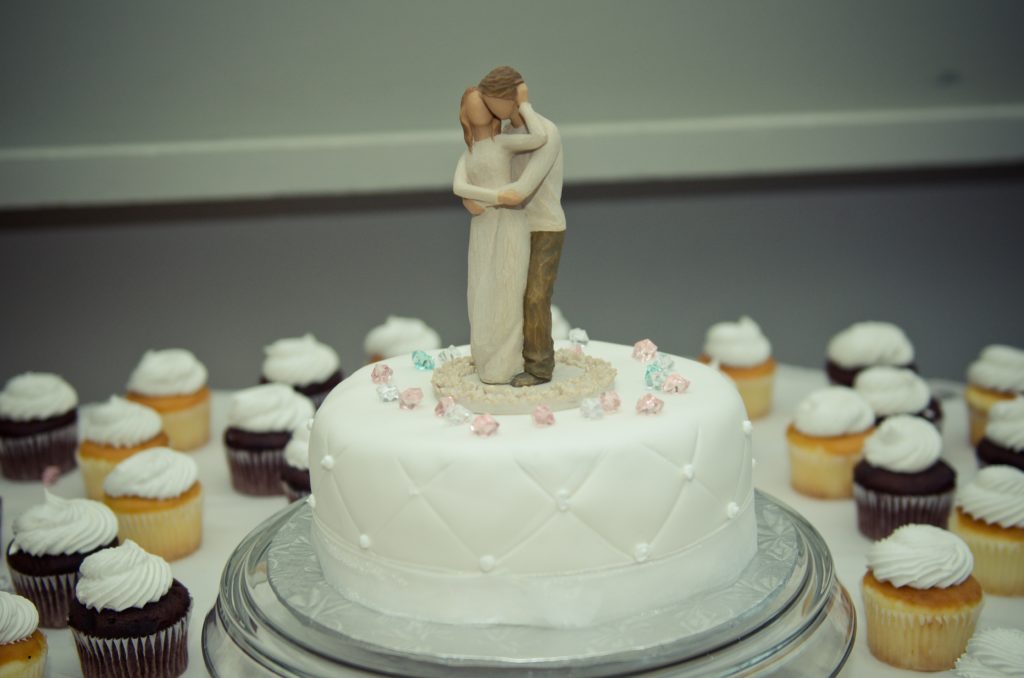 Humour
Who doesn't like to have a bit of a laugh? Adding a humorous cake topper can as that light touch to the wedding to take the serious edge and pressure. This is a great option because there are so many humorous cake toppers out there that you can find just about anything. While the vast majority are about the wife finally getting her man, there are many variations to include in-house jokes as well.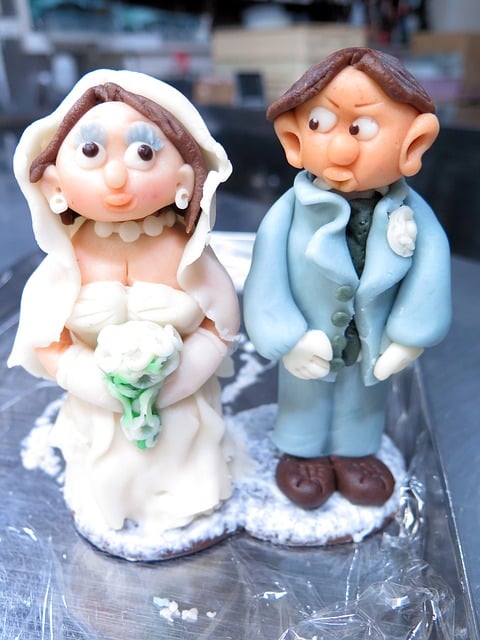 Ice Sculptures/Toppers
Ice sculpture toppers are very delicate to make. They require specific climate conditions to be made but also maintained in. These toppers as an extra touch of elegance to any wedding and add an almost magic feeling on the day. They are crafted in a cool room with expert precision.
The toppers are then transported in special coolers and transport vehicles. This is provided they are in the right cold temperature and are secured, so they do not break or melt. Mini ice sculptures are kept in the freezer at the reception venue and only placed moments before the cake is about to go out, so they do not melt.
An alternative to this is to have a clear/transparent perspex version. This is so they do not melt and can be kept afterwards (perspex is also more cost effective and easier to maintain). Another alternative is to have a catch phrase that the couple has.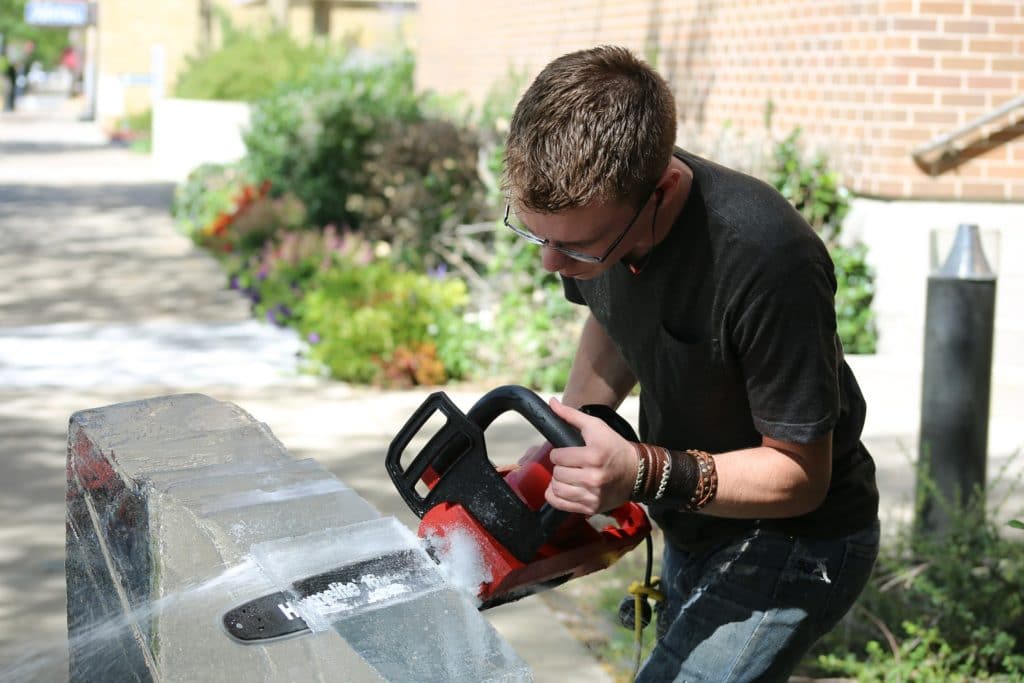 Monogramed
How about something simple and elegant just as using just your initials. This can be done with wood, plastic and anything you can use to craft the letters of your name. This can be achieved by laser engraving, tying, bending, welding and many other creative ways to craft your Monograms.
One option which is not technically a monogram but the same principle can be used for this is to spell out your names, like Michelle and James. You can also look into a lovely saying like "Love is in the Air". You can find these at cake shops or even online.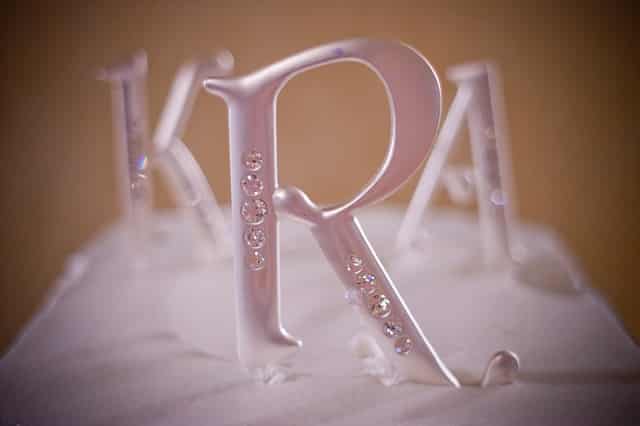 Coat Of Arms
Do you come from a proud lineage or perhaps you just like watching Game Of Thrones (that being said we do have these amazing thrones you can use for your wedding)? Does the thought of bringing together two-family houses in matrimony to create a strong alliance sound like your cup of tea? Then perhaps representing your family coat of arms atop your cake sounds like just your thing.
While the focus these days is the union of 2 people, in olden times they were seen as business transaction or alliances. Unlike other cake toppers, these can be placed on the side of the cake as well as on top.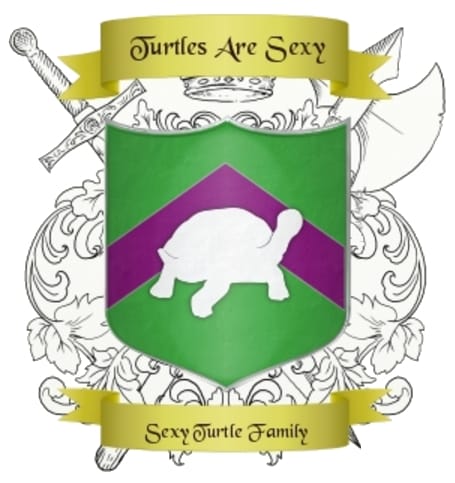 Animals
Do you and your partner have an animal that you relate to or just really like? Perhaps you are both dog or cat people? How about a cute set of little animals on top of your cake to represent who you are. You can almost any time of animal as a cake topper with penguins generally being the most popular option in recent time. If you can not find an animal you like, you can always have one custom made.
Animal cake toppers are tasty and can be created in fondant as well. Warning though as these cute little critters are sometimes too cute to eat 🙂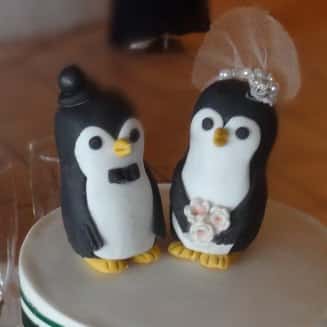 Flowers
You can have the flowers of your wedding as a cake topper. This is generally done in 2 ways. The first is to use real flowers which are placed on the day or synthetic latex to have a keepsake. The second option is to have an edible sugar flower. You will be surprised at how realistic they look and taste great. Many wedding bakeries offer sugar flowers as part of their standard package.
Generally, it will be the flower head and formed in the shape of a bunch. The branch can also be used depending on the type of flower/flowers used. They can also be the same type of flowers used in the style of the wedding.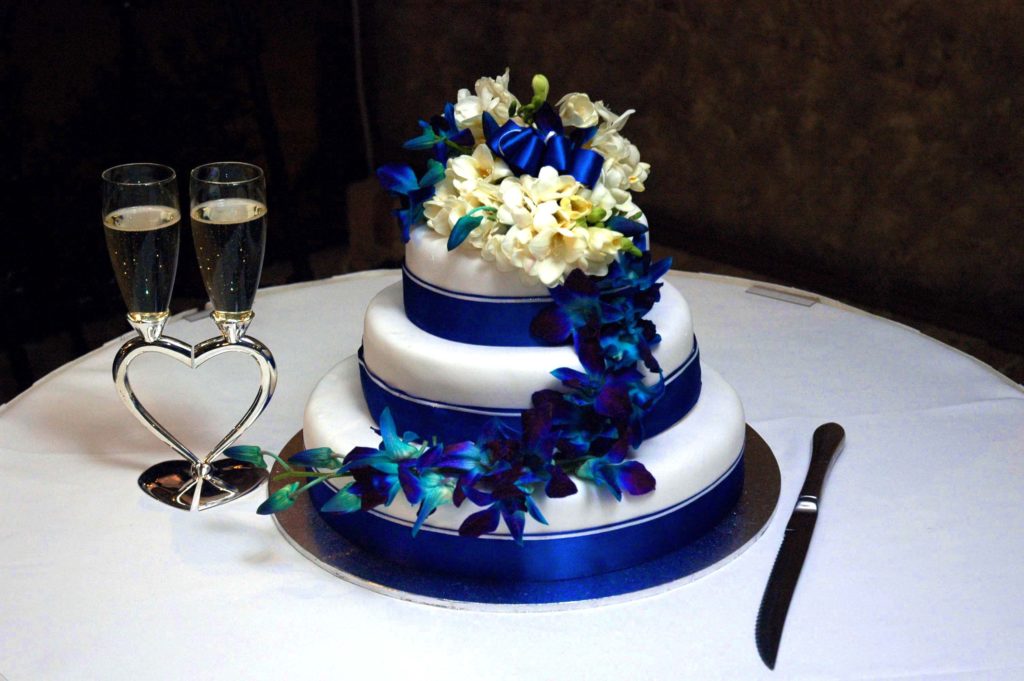 Hobbies & Personal Interest
If you are a fan of a particular TV show, movie, book, sports, hobby or anything, then this option is great for you. In recent years there have been many speciality cake topper makers dedicated to a particular niche. If you love Star Trek, Simpsons, superheroes and so on. This may be the option for you. Show the world your inner Minion, Iron Man, enthusiasm for tennis and more.
Cake toppers like this do not have to match the entire theme of the wedding. A good example is that you might be having a traditional wedding with a rustic theme yet you have a wedding cake topper showcasing your partners love of football.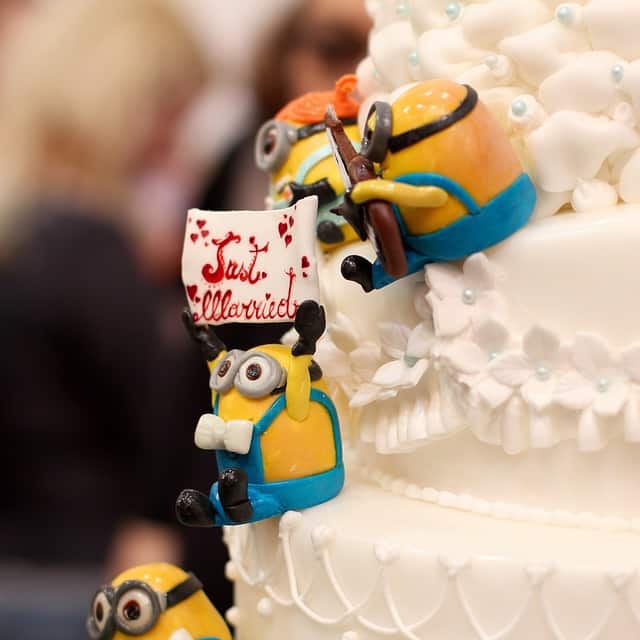 Themed Toppers
Does your wedding have a specific theme that can be reflected in the cake topper? Perhaps you are having a Star Trek wedding and want to add the final touch and show off your inner Trekkie. Perhaps even a Star Wars wedding and want to show off your inner Wookie with a Star Wars topper. What about a Gatsby themed wedding with retro style monograms or a couple from the era on top of the cake. On A Side note Check out our Star Wars Cocktails, Doctor Who Cocktails, Disney Cocktail and Star Trek Cocktails Coming Soon for your wedding.
As wedding planners, we get requests for unique wedding ideas all the time. This includes styling an entire wedding based off a Disney movie which can include the wedding cake topper for the final touch.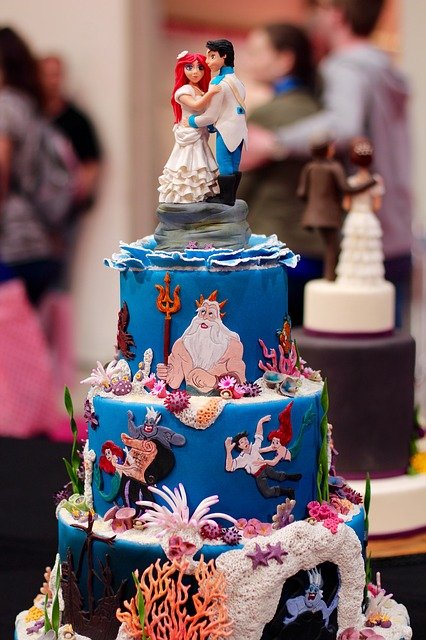 Wedding Cake Toppers Your Way
No matter what you decide for your wedding cake topper, it's all about representing you. So if you like traditional, cartoon, monograms or anything else its ultimately up to you. What we have learned here at Pink Caviar Events is that even if you can not find what you are looking for, you can definitely have wedding cake toppers custom made.
Do you have a question for Ask Emilie then email her here? Alternatively, fill out the form below and have your question answered in our wedding blog. Also, check out the other Ask Emilie Blogs here, they may also contain what you are looking for or give you ideas and inspirations for other wedding related questions.
What type of wedding cake toppers do you like or have seen? Are you looking for anything specific? Join the discussion below and let us know 🙂