Every bride is different, and every wedding should be a unique experience. Our event planners are dedicated to the love between the bride and groom, where personalities coming together to form a lifelong bond. There are so many ways the wedding itself can be a beautiful and meaningful experience for the couple and guests. This is where Pink Caviar Sydney Wedding Planners come in.
Pink Caviar Sydney Wedding Planners: Remove The Stress!
Sounds amazing, right? And yet, in the middle of planning a wedding, brides lose their minds! It's because there is so much work and pressure that goes into putting together that meaningful and beautiful event. Project management skills, event design, vendor management, budgeting and coordinating – even if you do these things every day at your work, there's something very different about performing coordination tasks at your own wedding!
Sydney Event Planner Extraordinaire!
When it comes to a wedding, there are so many people and expectations to balance, and the relationships are all very personal. That's why so many brides struggle. Executing their vision just becomes too complicated, and it takes the joy out of the day. When you work with a wedding event planner, like us, there are different approaches to how much or how little you take on yourself. We are available to brainstorm, create design looks, put together budgets, work with vendors and make sure the day of the event goes well. A wedding planner in Sydney is like your personal assistant, making sure that you have everything you need to host a unique and wonderful wedding.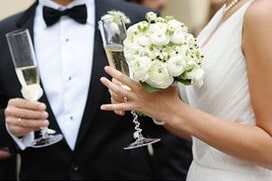 How Much Do Sydney Event Planner Services Cost?
Some wedding or event planners charge by the hour. Did you know that the average time taken to plan a wedding is 250 hours?! Pink Caviar Events are proud to offer a different way of packing services, one which our brides say works very well. Our Full Planner Package takes care of your wedding from start to finish, for a small fee. It's an amazing value when you think of the time and effort that goes into planning a wedding. The team here is able to work so well with technology and with long-established vendor relationships that we can be more efficient in serving our brides. Not only is the planning and organising taken care of, but the supplier negotiation, selection and meetings are too.
Can I Just Hire an Event Planner?
Sure! Instead of working with a wedding designer, an on the day coordinator and a tonne of other professionals, Pink Caviar Events can offer all of those services under one roof! Alternately, if you just want to have the planning support and don't need to have the other services, as Sydney's favourite event planner, we can help you with that as well. In fact, our wedding planner consultation is designed for couples who are recently engaged, and need a sounding board for their wedding thoughts! It gives the opportunity to talk through all the options in a face to face meeting with a pro which is priceless. Included is the chance to work out the style and design concepts, venues and vendors.
Do you have a question for Ask Emilie? Fill out the form below and have your question answered in our wedding blog. Also, check out the other Ask Emilie Blogs here, they may also contain what you are looking for or give you ideas and inspirations for other wedding-related questions.
Are you planning your wedding? Has it been cruisy or stressful? Let us know and join the discussion down below 🙂