When a bride and groom are working hard to put a wedding together, that says something about them. Getting the details right can be an unbelievable amount of work. Everything from the colour scheme to the flowers to the table coverings should be coordinated to support the couple's theme and wedding style. There is nothing like diving into a do it yourself wedding. That being said, having a professional wedding designer support the design and theme efforts can be a huge saving in both time and money. We can do all the event design & styling for you.
Event Design & Styling For A Wedding
Designing any event can be stressful. There are limitations of venue and potential issues with suppliers. Not to mention the effort that goes into making the theme in the first place! When a professional Sydney event design and stylist firm begins to plan a wedding, these are some of the steps they take:
Establish or assess the wedding theme/style that will be used. Working with the bride, groom and/or mother of the bride. Our professional team at Pink Caviar Events will have a visioning meeting with our clients so we can perfectly match the bride's hopes and dreams for her big day. When a bride doesn't have a theme idea initially, our team will help the bride to find a style that suits her personality and will make the wedding flow together.
Create a wedding theme plan – This is the fun part! Our event design professionals will create a look for the wedding. Pulling together different vendors and establishing the right flowers, candles, food and colours for the theme. After reviewing the design with the bride, we will make any updates and start working with vendors to make the dream day a reality!
Coordinating and delivering the planning is usually the hard part. However, ensuring that the wedding is designed well is only half the battle. Working with vendors, your dedicated wedding planning consultant will adapt to any last-minute changes to ensure items are delivered correctly to suit the day.
Different Style Options for Weddings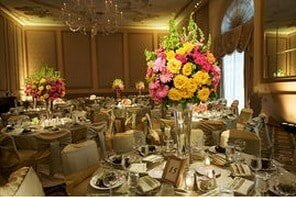 The popularity of a personalised wedding makes for amazing photos. It also creates a better experience for the wedding party and the guests. The personalisation trend has allowed brides who want a more classic look combining elements of fun and sizzle. For example, our Photo Thingy Photo Booth is one way this can be executed at a reception for even a classic and traditional wedding – a corner of fun for the guests to take photos they'll get to keep, and to create lasting memories for the bride and groom.
From beach theme to floral garden and vintage weddings, everyone loves the class and panache or a different style. Pulling it off with the right colour scheme, utilising the correct flowers, figuring out where and when candles are safe and allowed. All this whilst doing it all within budget is what Sydney event design company Pink Caviar does for a living! Let Pink Caviar be your event design & styling professional.
Event Design & Styling – Check Us Out
Be sure to check out Facebook or Pinterest pages for our styling and design galleries. Also, check out our styling and design galleries on our site as well.
What is your favourite style or design when it comes to weddings and events? Join the discussion and comment down below 🙂