Professional Conference Event Managers
Are you planning to host a conference for your business or government department? Pink Caviar Events corporate division delivers high-end conference event management. We are one of Sydney's premier event management companies. The team at Pink Caviar Events are committed to providing professional and stress-free corporate event management services. No matter the scale of your event from 10 to over 1,500 we have the team, resources, and experience to meet your needs. Our services include:
Venue/location sourcing
Delegate accommodation and transport logistics
Staging, lighting and AV
Keynote speakers and entertainment
Contractor management
Ticket sales and RSVP management
Program creation and scheduling
Event registration and on-site management

Conference Planning & Management
If you're looking for a conference and event organiser, look no further. We have a dedicated team of highly experienced conference event planners /managers. Working for years in corporate events and conferences, we assist with all aspects such as venue scouting and negotiating. We will work with you and your team to ensure your conference is run exactly how you want, and all key points are implemented. We will assist with securing the right speakers and activities needed to ensure your conference is a success. Our corporate event management will work with you to coordinate keynote speakers for your event and ensure that they suit your program and our on-site team will assist with the coordination of the program.
There's a reason why we are regarded as one of the best corporate event management in Sydney. Our team of professionals are dedicated to the smooth sailing of your corporate event. We work closely with you to reach expectations and deliver seamless conference event management. Your satisfaction is our highest priority, and we ensure to have you, your team, and your guests feeling delighted after your conference or corporate event.
Event Registration & Accommodation
The main focus of your conference will be the delegates or guests you have attending. They are the main reason why you have the conference in the first place, and these are the people we need to impress. Your delegates' experience starts from the moment they are invited to your event.
By using our registration and RSVPsystem, we are easily able to facilitate conference registrations and ticket purchases. Do you have multiple sub-events happening within your conference? No problems. We can organise sub-events / functions to your pre-defined listing as well as to ensure it does not overlap with other activities during your conference event. We will also provide recommendations and assistance with securing hotel accommodation and transportation for your delegates to ensure they are well looked after.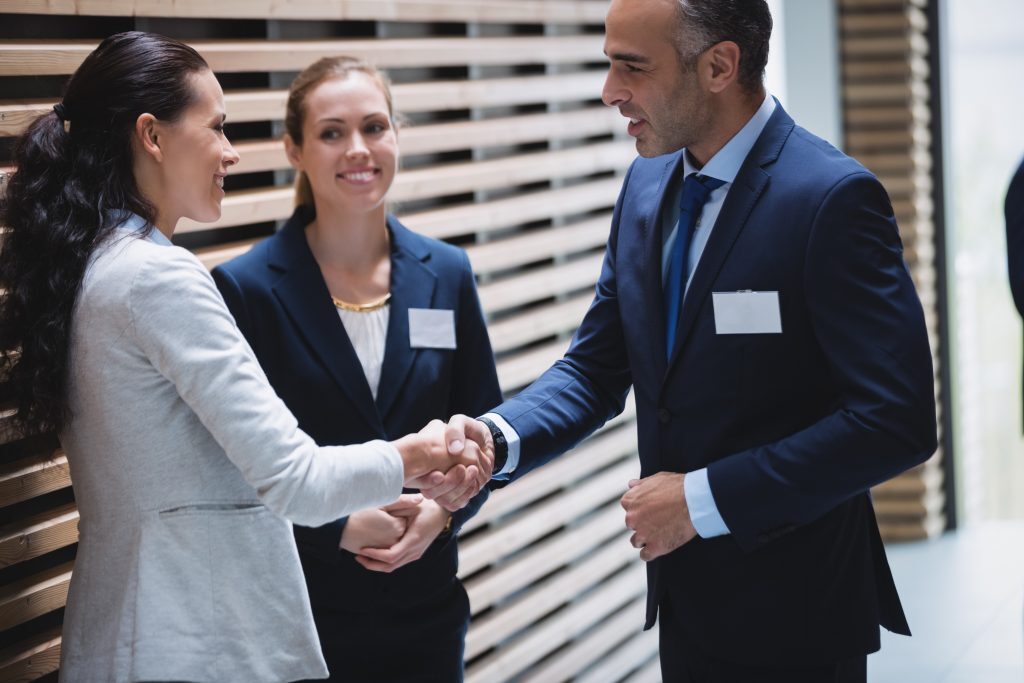 Sponsorship and Exhibition
Another key focus of any conference is sponsorship and exhibitors, which lead to the success of your event. Having the right sponsorship and exhibitors will not only impact the financial status of your event but also gives you the opportunity to upscale in regards to flexibility for your delegates. Our dedicated team will utilise our experience and focus on the elements to make your event, meeting, or conference a success.
Event Marketing and Promotion
One of the main requirements when planning for a conference is to make sure it has a high level of attendance. Our event marketing team can help to get your event in front of more people with highly targeted marketing campaigns to help sell tickets or promote awareness of your event.
What Our Clients Say
Excellent event planners, highly recommended.
Fabulous wedding event organisers.
Pink Caviar Events is amazing! if your stressed out about anything, just call her right away and she'll take care of it! anything i saw on pinterest and really wanted, she searched for it and found us the best options! Shes very organized and punctual!
Steph and the team did a great job planning and running my wedding. I felt at ease and was able to enjoy my day. Friendly team and super helpful every step of the way. Thank you
Thank you for making my special day one to remember. The table settings looked amazing especially the bridal table. Stephanie the owner was so easy to communicate with. Dealing with this company I felt like
my wedding day was in good hands.. I will defiantly recommend.. Oh and the was so much fun. A night to remember. Thanks Pink Caviar.
Stephanie and her team went above and beyond for my wedding dinner! To say it was stunning was an understatement and she nailed perfectly what I had imagined the space to be cannot recommend the team enough they took the hassle off having to worry about setting up the space and gave me peace of mind. Stephanie was reassuring, communicated regularly, was flexible and worked with me to make sure the event was exactly what I wanted!