So you have decided to have group wedding transport for your wedding. You may have read our previous group wedding transport blog here or come here looking for advice. The simple fact is that this is a very practical solution for some weddings. That being said it isn't covered as much compared to bridal party transport and their options. Today we are looking at group wedding transport tips. We will look at what to look for when choosing the right group wedding transport vehicle for your wedding. We are also going to give suggestions on how to communicate to your guests that they have this option available to them.
Group Wedding Transport Tips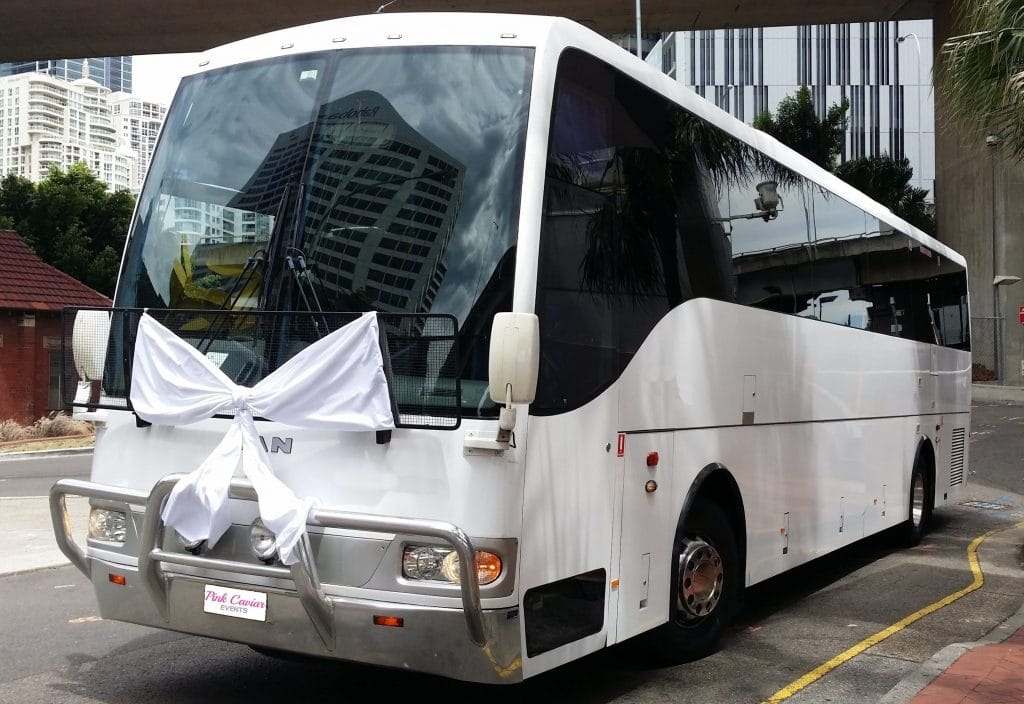 Butts In Seats
Firstly you need to work out roughly how many people will be using the bus or coach. Is it for all the wedding guests or a certain group such as international guests? While international guests are more likely to take you up on this offer local guests may not. Coaches start from as small as a 12 seater all the way up to a 57 seater. While buses can go up to combined 70 standing / seated capacity.
Bus Or Coach
The great thing about the coach is that they are generally more comfortable with air conditioning, curtains and so on. However they are generally more pricey. You are not allowed to stand in the isle while they are in transit. For busses the general rule of thumb is that they can hold 70 people. This is broken down into 43 seated and 27 standing (thus the 70 people capacity). If it is a short trip then it may be worth while having a small percentage of your wedding party standing as a cost saving exercise. This is not suggested if it is a long journey such as half an hour or longer. No one wants to stand in their suit or dress for that long in a crowded bus. Generally speaking, buses do not have air conditioning so it isn't as comfortable compared to a coach.
Never Assume The Bus / Coach Is White Or Has A Wedding Bow
You will see many transport companies with photos of a white bus / coach with a big novelty wedding bow in the front on their site. The simple truth is that this was taken from a previous clients wedding. Unless specified they do not provide a wedding bow. Also to make it clear when you book that you want a white bus / coach (if that is your preference).
Having worked in the transport industry for a few years I have seen many couples make that assumption. Many have been upset when they were given a yellow or blue bus. While transport operators generally will give white vehicle, the simple fact is that they can be booked as a general booking and oversights (unless specified) happen. In fact if you want a white wedding bow (as pictured) you will need to go to a craft / fabric store and get around 10 metres of white cotton and tie it into a giant bow. Then get some white (or silver) duct tape or cable ties and someone to help you attach it to the bus beforehand.
Planning The Route
When people book a bus or a coach people assume that its as simple as driving a car. The fact is that these are big vehicles and they can not able to travel down every street. This could be due to a physical obstruction (such as a low hanging bridge), the road surface or width affecting their speed. A general rule of thumb is to add 30% of extra time for them. So if a trip will take you normally 30 minutes by car then add 10 minutes for example. Also picking up and dropping off guests can take around 15 minutes by the time everyone gets on board and is seated. Speak to the transport company you hired for their practical advice. The last thing you want to happen is to assume that a trip with picking up everyone will take 45 minutes. But practically with everything considered will take 1 and 1/2 hours.
Mention It Clearly In The Invitation
A big group wedding transport tip is the information should be clearly mentioned with your wedding invitation. This can be done as a extra insert. It should be mentioned early so that people are aware of it well in advance and no one can say "but I had no idea about this". That being said, someone will always say they were not informed (yet you painstakingly told them on multiple occasions). Clearly state that you are hiring a vehicle / vehicles and when and where to be among other details.
We hope this practical group wedding transport tips helped. The basic rule of thumb is to make no assumptions, ask questions and to give a decent amount of time for everything considered. Speak to your transport hire company as they literally drive these vehicles on a daily basis and are the best source of information.
Check out our other blogs on wedding transport. There are a lot more options and possibilities that you can image:
Group Wedding Transport Tips When Booking (What To Look For)  – You Are Here
Are you considering group wedding transport for you wedding? Do you have any group wedding transport tips? Join the discussion down below and let us know 🙂