Couples choose their wedding venue and ceremony location on a variety of factors. One question that pops up in people minds is if to have it outdoors. Unless you have your heart set on a specific location such as a church, a place that is meaningful to you both or somewhere you have always dreamed then you may consider having it outdoors. Today we look at indoor versus outdoor weddings. We will look at the pro's, con's and what to consider when going down the outdoor wedding route.
Indoor Versus Outdoor Weddings
Indoor Weddings
The name is self-explanatory as an indoor wedding is about having your wedding indoors.  Most of the time this is the default option that couples decide upon. The obvious advantages of an indoor wedding are that you are not affected by the weather. You can host the ceremony any time of the day as most locations have lighting, facilities and so on. The other advantage is that the outside elements can be quite harsh (which we will explore in this article).
There are also purpose-built places to hold your wedding. Of course, there are places such as churches, mosques, synagogues and other locations to have your wedding ceremony depending on your religion. There are also reception centres, hotels and so on. While there are technically more options for outdoor options (the world is your oyster as they say) there are so many options for indoor facilities. You would be hard pressed to find one that doesn't fit your needs.
Limited Options
The one major downside with indoors is that you are constrained to the limited ability and options available in the space. For example, if the building is fluorescent yellow but you can not afford much else then you are locked into a giant yellow building. This is where the advantage of the great amount of variety with wedding venues comes in. Want a more rustic feel, then choose a venue that is more rustic for example.
Capacity Issues
One big issue with indoor weddings is the capacity for guests. You may have a ceremony space in mind but it can only hold 50 – 100 people but your guest list has around 250. You are limited to spaces that will hold the appropriate amount of people. The reverse of that issue is that if you have a smaller guests list of 50 but your venue holds around 400. Some beautiful locations will have a minimum spend and that alone can blow out your budget. Also, the entire place can feel empty if there are not enough people in the location.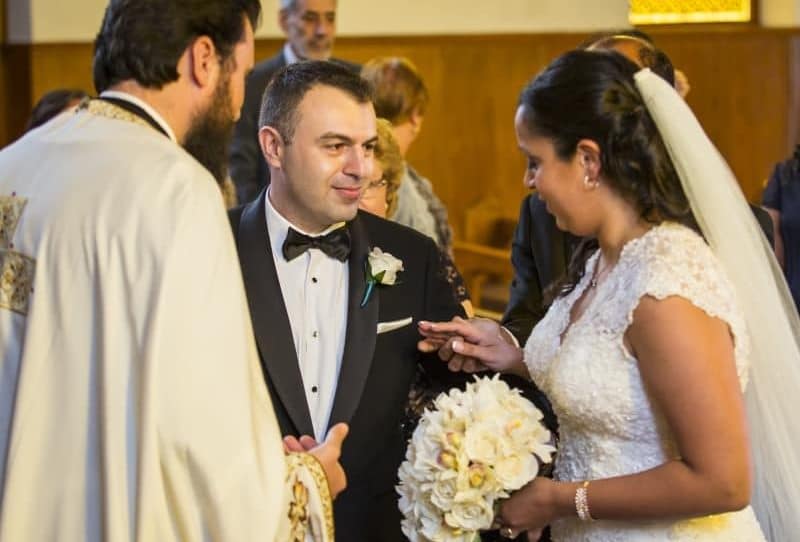 Outdoor Weddings
There isn't really much to say about outdoor weddings other than that they are outdoors. The great thing about them is that they can be in a park, beach, famous spot… anywhere really. The only limit is your imagination, availability and the weather. One thing we see a lot of couples disregarding the idea to have a backup option. Many people hold out and hope that the weather will be perfect. They rely on the weatherman for that perfect forecast. If you can appreciate, the weatherman can often get it wrong.
Also, there is this misconception that you can just rock up to any spot and its fine to get married. The vast majority of parks, beaches and so on require permits. Sometimes they are expensive and sometimes they are cheap but they have to be pre-arranged and paid for. We had a bride who once told us that she was going to 'chance it'. I highly recommend you do not do this. The last thing you want is for a council ranger to walk past, disrupt (or stop) the ceremony and then on top of that, you have to pay a fine.
The one thing I can not stress enough is to have a backup option in-case it rains or the weather turns ugly. It is much better to pay a little extra and arrange some coverage otherwise you can get wet (or have your hair/dress ruined). On the flip side, if you decide to get married in the middle of summer, you have some cover for you and your guests. You do not want to be burnt to a crisp in the sun or have any of your guests pass out from heat exhaustion.
Options For Guests
In fact, we even have practical outdoor hydration station options that can be stocked with water/juices for you and your guests. They can even be stocked with outdoor wedding practical amenities such as thongs, fans and sunscreen for outdoor weddings.
True Story
We once had a client who was getting married in a park. She had no backup plans in case of rain. The forecast said that there was a high chance of rain. We mentioned this to the bride who said: "I don't care I just want to get married there". Unfortunately, on the day it did rain, not heavily but everyone was soaked including the couple (Even with umbrellas you still get wet in some way). While they did save some money by not having a backup option, the fact is that everyone had to stand in the rain getting wet while the ceremony took place. This is not ideal or practical in any sense. Everyone was soaking wet by the end of the service. Plus when the guests were indoors at the reception, they would have felt damp throughout the entire evening.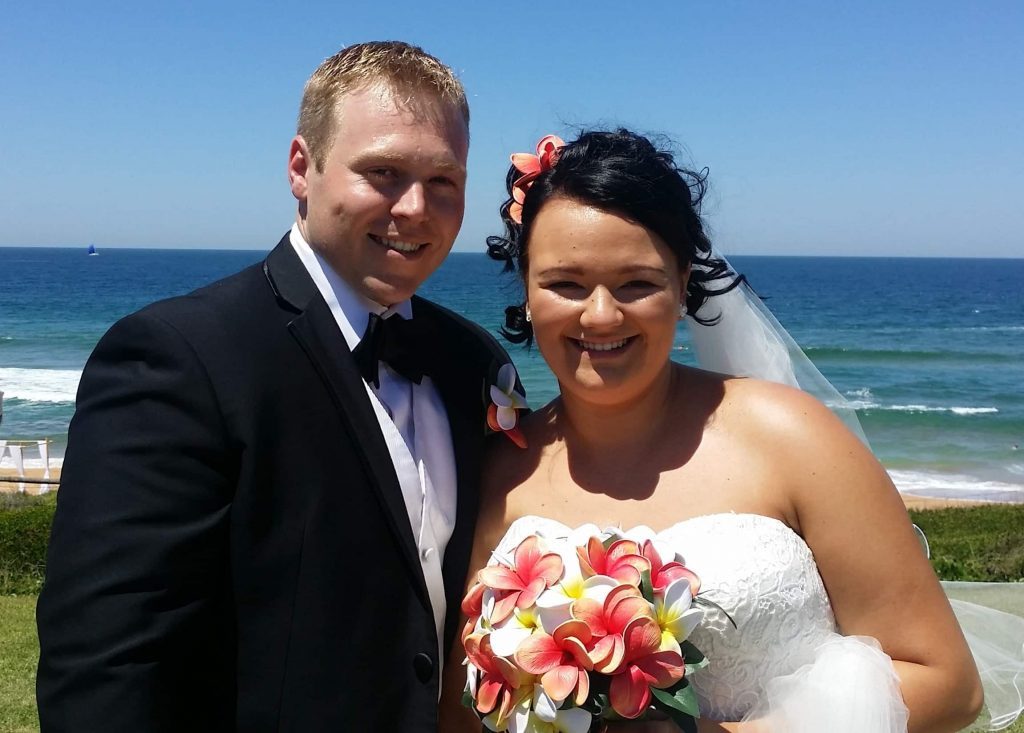 Check out Greg and Sabrina wedding day (pictured above). A beautiful day at the beach with clear blue skies.
Indoor Versus Outdoor Weddings – The Choice Is Yours
The choice is yours when it comes to indoor versus outdoor weddings. There is no right answer as it all comes down to personal choice, budget and beliefs. No matter your choice, make sure it accommodates you and your guests. If you would like some information on outdoor weddings to check out our head planner Stephanie Cassimatis vlog on Considerations For Outdoor Weddings. You can also binge-watch the entire vlog series on our YouTube Channel. Alternatively, you can check out our wedding planning services page for help to make your day run smoothly and exactly how you want it to be.
Indoor Versus Outdoor Weddings – which are/did / you consider? If you did have an outdoor wedding did you have a backup option? If you had to do it all over again would you swap? Join the discussion below and let us know 🙂