"Time to Drink Champagne & Dance on the Table"
The newest addition to our candy buffets and bars collection – the champagne bar is a fantastic addition to any party. For the classy girl who loves her bubbles and cocktails, we an provide a staffed champagne bar for your next event.
Rest assured knowing that our champagne bars come with a certified RSA attendant to ensure all runs smoothly.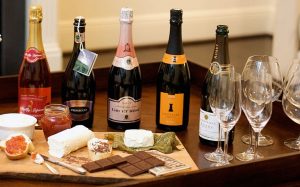 Who doesn't enjoy a glass of bubbles?
Our attendant will assist guests in selecting their champagne cocktail. Your guests will be able to choose from an array of champagne, liqueur, juices, fruits and more.
Our stylist will work with you to create a bar to suit your event and personal style. Upgrade to include a platter of cheeses, fruits or chocolates – it's guaranteed to be a hit!
When is a good time for champagne?
After your Wedding Ceremony
Why not start your champagne bar right after you're announced as husband and wife? Keep the emotion and joy of the moment going and toast your new marriage with your family and friends
Add a luxurious champagne bar to your canape hour for your guests to enjoy. A fun way to kick off the festivities.
Bridal Showers
If you're hosting a brunch or afternoon tea bridal shower, a champagne bar is a perfect fit! Created just for you, our stylist will work with you to ensure that the display matches your colour scheme and to accommodate your guests.
Very popular for engagement parties, corporate functions and even birthday celebrations. Whatever your excuse, you can rest assured that you will enjoy a champagne with a twist!
Contact Us today to book your champagne bar!