Feel like royalty with these larger than life White Thrones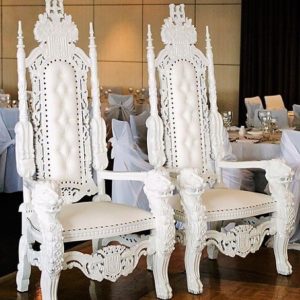 Our exclusive White Thrones are a perfect way to make a statement at your Bridal Table and draw special attention to you and your partner. Feel extra special with these Thrones which also look fantastic in photos.
Standing 1.8m high. They are a standout piece for your bridal table.
As the name suggests, you and your partner will feel like royalty on your wedding day in these 'larger than life' Bridal thrones at your reception. Our thrones are also popular for photo opportunities.
These chairs will bring elegance to any event, whether it is your wedding, engagement, kitchen tea, birthday or a corporate function such as an office party or a special treat for an awards night. They will be the talk of the town!
Also looks great at Bridal Showers so the Bride-to-be can relax and feel like a Queen!
The perfect addition to any occasion such as weddings, birthdays, corporate events/functions and even maternity parties!
Contact Us today to book these awesome white thrones for your next event.