In commemoration of today's release of today's movie release of Solo: A Star Wars Story we decided to get into the fun of it and inspire you with some Star Wars themed cocktails. No matter your love of Star Wars of the original series, the 'never existing' prequels or the new movies you probably have a connection in one way or another.
If you are looking for a Star Wars themed cocktail because you love the movies or your partner does here are some tasty wedding Star Wars cocktails for you to enjoy. Not only will we show you some great star wars themed cocktails but also the meaning behind them 🙂
Star Wars Themed Cocktails – May The Cocktail Force Be With You
Yes I know its a bad pun… its the best I could come up with at the time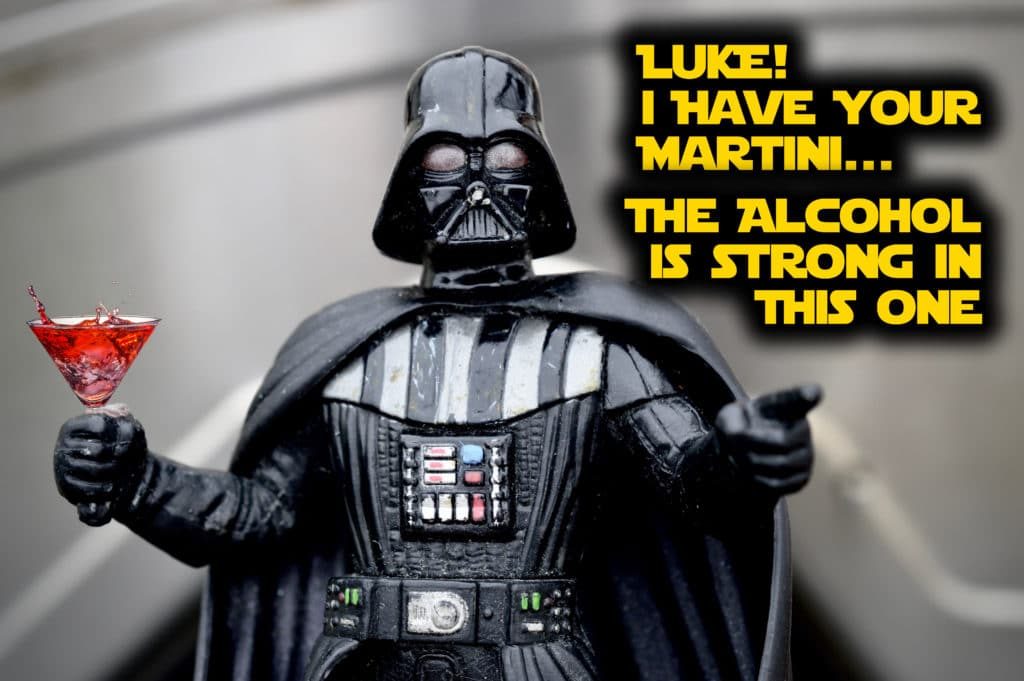 Yoda Can't Stop Giggling
Who can forget this little (yet powerful) green guy and his famous little laugh. An iconic character in the Star Wars movies, Yoda. With this concoction you will be giggling in no time.
Ingredients
• 30 ml Vodka
• 1 Can Ginger Ale
• 1/2 A Pear (Cored And Peeled)
• 5-6 Green Grapes
• 2 Tsp. Lime Juice
• 1 Sprig Of Mint
Blend all the fruit and mint in to a blender. Pour the vodka in to a martini glass. Once done, pour the blended fruit over the top. To top if off, finish with Ginger Ale and then as long as you are drinking the Giggling Yoda, one must talk in Yoda voice, they must!
https://www.youtube.com/watch?v=A_sTYCMNfEU
One Bantha Milk Please
Bantha milk in the Star Wars series was a blue coloured milk that was produced by female bantha's. It was available on outer rim planets such as the famous Tatooine.
Ingredients
• 15 ml Amaretto
• 45 ml Milk
• 15 ml Cream
• 15 ml Coconut Rum
• 30 ml Blue Curacao
Shake all the ingredients with ice and pour it in to a chilled glass ready to serve. Check out the clip below of on the the first time bantha milk made its way onto the big screen.
Levitating Yoda
If you look back in the pre-quels Yoda, does his fair share of levitating and floating around. If you have enough of these you will feel the same.
Ingredients
• 30 ml Coffee Liqueur
• 60 ml Milk
• 60 ml Vodka
• 1 Scoop Mint Choc-Chip Ice Cream
Fill a glass for drinking scotch (also known as a rocks glass) with cubed ice. Add coffee liqueur and Vodka. To finish this, top up with a layer of cream. Also add a Scoop of Chocolate Chip Mint Ice Cream to finish it off.
The BB-8 Be Rolling Bellini
The new and beloved rolling BB-8 also has a martini named after it and is a newer Star Wars Cocktail to the list. If you have enough of these martini's you to will be rolling around on the floor as well.
Ingredients
• 4 Ounces Chilled Prosecco
• 30 ml Blood Orange
• 30 ml White Peach Puree
Directions: Pour the blood orange juice and white peach puree into a chilled flute. Top it off with Prosecco.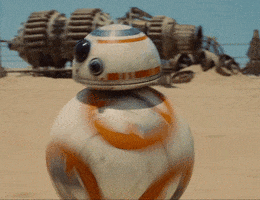 These Aren't The Martinis You Are Looking For
Do not be fooled by the dark side, this tasty treat will have you seduced however.
Ingredients
• 30 ml Coffee Liqueur
• 60 ml Dark Rum
• 30 ml Amaretto Almond Liqueur
• 30 ml Irish Cream Liqueur
• 3 Scoops Ice Cream
• 2 Cherries
Directions: Stir the wet ingredients in either a stirring glass or a Boston shaker. You must Double-strain the drink into a Martini glass. Garnish the Jedi Mind Trick with a lemon twist (personal preference).
The Darth Maul
A character from the unspoken pre-quels. The double edged Darth Maul. The
Ingredients
• 30 ml Sweet Vermouth
• 30 ml Vodka
• 60 ml Pomegranate Cherry
• 30 ml Whiskey
• 2 Lemon Wedges, Cut In Half To Make 4 Mini Wedges
Chill and combine all the ingredients in to a cocktail glass. Cut the two lemon wedges in half. This will make four mini wedges. Garnish the glass with the "horns" from Darth Maul's head. Serve, enjoy but do not get too close to the dark side.
The Furry Chewbacca Cocktail
Who can forget the lovable yet hairy Chewbacca. This drink pays homage to the lovable 2.28 m (7′ 6″) wookie. Do not worry, this Star Wars Cocktail will not give you furballs 😉
Ingredients
• 1/4 Cup Everclear Alcohol
• 1/4 Cup High Proof Rum
• 1/2 Cup Irish Cream (Bailey's)
• 1/4 Cup Herbal Liqueur (Chartreuse,Strega,Izarra…)
• 1/2 Cup Blue Curacao Liqueur
• 1 Cup Milk
• 3 Cups Ice
Combine all the ingredients in to a blender. Blend well until it is smooth and pour into a pitcher. The more you drink the hairier it gets 😉
I Only Drink Solo Cocktail
How can we have a Star Wars cocktail without mentioning the man of the hour "Han Solo". The famous pilot from the planet of Corellia who piloted the famous Millennium Falcon with his best friend Chewie.
Ingredients:
• 22.5 ml Vodka
• 22.5 ml Gin
• 30 ml Whisky (Whiskey,Bourbon…)
• 22.5 ml Orange Liqueur (Cointreau, Grand Marnier…)
• 22.5 ml Rum
• 60 ml Sweet And Sour Mix
• 30 ml Whisky (Whiskey, Bourbon…)
Serve in a highball glass with ice. Combine and mix drink together and to finish it off, top it off with the whiskey / bourbon of your choice. Feel free to add lemons for extra taste if you wish.
Star Wars Themed Cocktails – There Are Plenty More
This list above was just a handful of the Star Wars themed cocktails out there. Feel free to use this list, find others or ass your own personal twist. Remember the wedding is about the two of you and if it includes your love of Star Wars, then so be it. May the force be with you on your wedding day.
Check out our other wedding-themed/event cocktail blog guides below:
Star Wars Cocktails For Your Wedding – You Are here
Which of these was your favourite Star Wars Themed Cocktails? Are there any Star Wards Cocktails you feel we left off the list? Let us know and join the discussion down below 🙂