One question that comes to us from time to time is "Can guests speak at our wedding and how do we go about it?". In simple terms, the answer is yes you can have a wedding guest speech/speeches. After all it is your wedding and you can have it how you see fit. While not one of the traditional speech nor even one of the uncommon ones like a bridesmaid or groomsmen speech some of the guests would like to say a few words as well from time to time.
Wedding Guest Speech
Generally speaking one or a few people may wish to speak. It totally depends on the attitude of the couple and the relationship of the guests. There are a few ways to go about organising this. It also lowers the chance guests who are intoxicated from getting up doing the 'random drunk speech' specially if they know they are speaking later.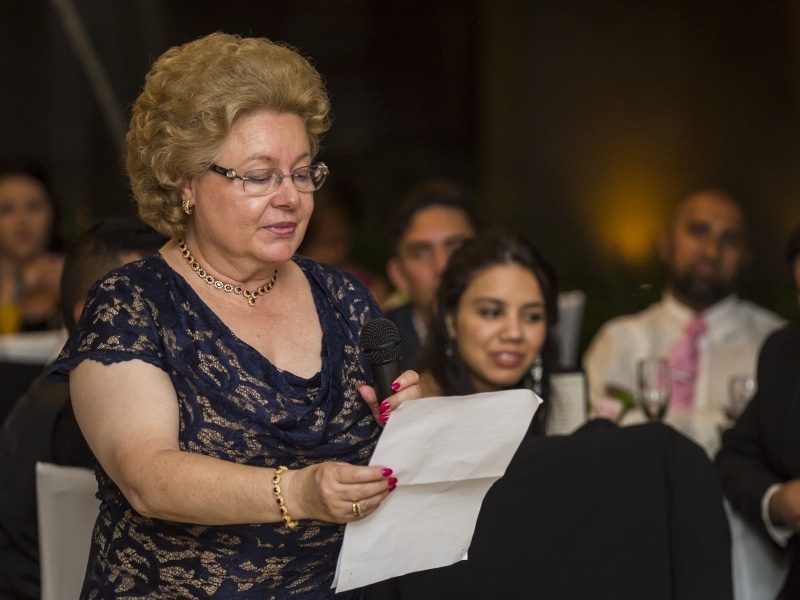 When To Have The Guests Speak
A good time to have the wedding guests speak is to have them as part of the other speeches. Depending on how it is structured (advised down below of how this can be done). There are few options regarding this. You can have it after all the speech's excluding the grooms speech as the groom is to have the final word.
Selectively Choose Beforehand
There may be guests who are either relatives or family friends who you would like to speak at the wedding. These are people who you have known through the years and you and/or they would like to make a toast or a speech for the wedding couple.
Let People Know In The Wedding Invite
If you want to open it up to your guests and select speakers beforehand then send it out in addition to the wedding invitation. Do not think that everyone will want to speak but the good thing about this method is that no one will feel left out and have something nice to say. Include guidelines such as no more than 2 minutes otherwise, the speeches could literally go on for hours. This also prevents drunk uncle Garry from getting up mid-dinner and toasting something stupid. He would have at least prepared something for the right time.
Ask On The Night
This method is more impromptu but can be more fun for a wedding guest speech. There are some who will not speak because they did not have time to prepare. Other than that the same rules of no more than 2 minutes otherwise the speeches will go on for hours. The only concern is the speeches will be 'off the cuff' and 'anything goes' as they say. There are 2 methods of asking people on the night. Firstly let them know beforehand when the reception first starts to give them some time to think of something.
Secondly have an open invitation to speak as the floor is open now. From experience it is better to at least let people know at the beginning of the reception to give them time to prepare.
Setting The Ground Rules
While we touched on it earlier the simple fact is that a wedding guest speech will me a lot harder to control than just the main bridal party crew. The reason for this is that for the bridal party they know if they are speaking or not with plenty of notice. Whether you have announced on the night or before hand set your foot down on the limitation's. Below are some basic guides to help with this.
Speeches From Across The Globe
If you have a family member who is unable to physically attend. This could be for medical reasons, they live overseas or anything else. If enough time is allowed then you can have them record a speech and play it on the night. This can be done as a video file or as a YouTube Link. Unless you know you have internet access a video file is always best to have on hand just in case. You can even live stream a speech (Even in 360 as a live steam for your wedding) but again ONLY if you have internet access and the ability to project it via a live stream. You may need to speak to the venue or person in charge of the equipment on the night.
Another option is to use someones mobile phone as a hot spot but as long as they are aware that it may incur them extra charges as they are using their own personal data. Also if you do decide to use a phone as a hot spot then make sure that you have reception.
Time Limit
A good example above is we said 2 minutes to speak as some couple speak for hours. A small buffer of 30 seconds is acceptable if they are wrapping up their point of the story but not if they are waffling non stop. Let the wedding guests know that there is a time limit. This way there is no excuse and will prevent guests making a 2 hour speech.
Obvious Time Limit Signals
Whether it be a noise like a beep, someone saying "2 minutes" or a flash of light on a projector there needs to be a clear indicator otherwise people may go over without realising. You cam also have the MC advice if the speaker is going over time in a subtle yet obvious way.
Reign In On The Topics Guests Can Speak About
This is easier to mange if not spontaneous on the night. Advise guests on limitation of topics. For example family politics is a no go zone and advise to focus on the couple. If this is done on the night then do not say "do not talk about family politics or X topic". Advise everyone that their focus should be about the couple and leave it at that. The MC can be used on the night to advice everyone beforehand on topics  if required.
In-house Jokes To A Minimum
This is something we mentioned in our Wedding Speech Handy Hints guide but there is a high chance you may not know one half of the room. If there is a family joke then if possible explain it or not say them so that one side done not feel left out OR half the room being quite while the other half laughs. Also if you are a friend of either the bride or the groom then chances are that not really anyone knows you and no one will get your jokes except for the bride or groom.
Check out the below wedding guest speech as an example to use along side the guide.
That's A Wrap For The Wedding Guest Speech
There you have it a basic guide of how to organise your wedding guest speech. We strongly recommend they check out the Wedding Speech Handy Hints guide to brush up on how to do a good speech that is well structured. Good luck and happy speaking.
Feel free to check out our other wedding speech guides down below. Here we give you guides for the perfect speech on your wedding day (or anyone else speaking).
Let us know if this guide help you with writing you speech. Have you been to a wedding and heard a great maid of honour speech? Or did you hear one that could have been better? Let us know and join the discussion below 🙂