Destination weddings are a great and unique experience for you and your guests. At Pink Caviar Events we have helped plan weddings all over the globe. Our speciality are helping Sydney based couples plan their Australian Destination wedding. We have worked in iconic locations such as the Hunter Valley, Blue Mountains, Hamilton Island and The Whitsundays. We have also planned international weddings in the UK, Mauritius, Fiji, Bali, New Zealand and Hawaii.
While having your dream destination wedding is amazing, it is more costly and time consuming than a local wedding… that is where we come in. While we are your local point of contact we can also be your guide. This is to lower the cost, reduce the time taken to plan and also lower stress levels. It allows you to enjoy your wedding instead of worrying about issues that are not a "local drive down the road" can fix.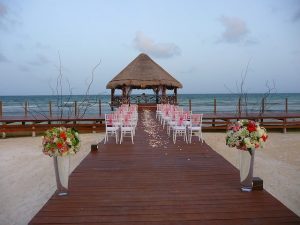 When you book a meeting with us to share your vision, we have that personal local knowledge of where you would like to get married. In fact one of our Senior Planner and Stylist, Stephanie spent years working with Tourism Australia. She has been to every venue, hotel and has amazing knowledge/ideas that are not found on-line.
We also have an extensive and reliable network of suppliers that we work with to ensure everything becomes a success. One of the hidden advantages of hiring a destination wedding planner is that we can also keep the costs down. By meeting with you in person and creating your vision locally it can save you travel time. We can source reliable and cost effective suppliers to give you that piece of mind. You do not have to worry about something half a world away. We can arrange hotels and coach operators to assist with accommodation and transport for your special day.
Feel free to check out our dedicated destination weddings pages below on ideas. Book a time with one of our destination wedding planners to bring your vision to reality.
International Destination Weddings

 Hunter Valley – Hunter Valley is one of Australia's iconic yet 'just in reach' wedding destinations for people in Sydney. Planning to have your wedding amongst the beautiful landscape and vineyards?

 Blue Mountains – When people think of the Blue Mountains they think of 3 things. They think of The 3 Sisters, Jenolan Caves, amazing beautiful vistas and wildlife. There are some beautiful historical venues that you can have your wedding.

 New Zealand – Considered Australia's cousin next door. This country boasts some of the most beautiful and unique locations in the world. Boasting beautiful iconic mountains, lush ever greens with a landscape used in many iconic movies. Not to forget their rather pleasant weather for any wedding all year round.

 Whitsundays – Fancy a Beach Wedding? Perhaps you want to get away from the city life. Turn your wedding into a weekend getaway for you and your guests. We can help source the ideal location, décor and more.

 Fiji – Bula! Why not enjoy a holiday and your wedding at the same time. A popular and fun destination for the whole family.
For those aboard looking to get married in Sydney, be sure to check out our Sydney Destination information.