New Zealand is a beautiful country located just next door to Australia. While very close to us geographically its landscapes and climate are vastly different to ours. Internationally renowned for its unique and almost mythical landscape it is no wonder that it is one of the top spots for a destination wedding for Australian's. If you are looking for a New Zealand Wedding Planner or considering having your wedding there then you have come to the right place.
Same-sex marriage became legal in New Zealand on 19 August 2013, making it the 15th country allowing same sex couples to marry. Within its first 12 months 926 same-sex marriages were registered in New Zealand. It has become a hot spot for same sex couples to have the wedding of their dreams.
New Zealand Wedding Planner
To be honest I could go on about New Zealand all day and talk about all the various locations such as Auckland, Wellington and Queenstown just to name a few. Each town has a vastly different landscape and unique qualities. It sometimes had to believe that are all in the one country.
Auckland
Auckland is the largest city with around 1.4 million people and is often described as the Sydney equivalent. This is with regards to attitude and style of the "Aucklandites".
Weddings in Auckland can be quite diverse, especially with an assortment of venues like hotels, restaurants, vineyards, museums and art galleries all within the city limits.
The Sky Tower in Auckland surpasses the Sydney tower and has some breathtaking views for a wedding. It's central location also allows for ease of guest accommodation. There are also some amazing sites for ceremonies such as Waiheke Island and Rangitoto Island nearby.
Wellington – AKA Windy Wellington
Wellington is the capital city of New Zealand and is considered their cultural capital. It is located on the bottom of the north island. There is much to see and do in this town with some amazing wedding locations to boot.
The amazing museum Te Papa for example has unique function spaces, some with overlooking the harbour. The Botanical Gardens and even their famous Mount Victoria Lookout, with 360 views over the city are also great locations for a wedding.
Wellington makes a great backdrop for your wedding photos with so many places to choose. With traditional cathedrals with beautiful stained glass windows, sweeping views over the mountains of the South Island, or a romantic rose garden. You can rest assured you will find the perfect spot!
Queenstown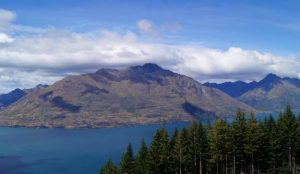 When people think of Queenstown, two thoughts come to mind. They think of Lord Of The Rings and the beautiful landscape. To start with, the backdrop of the city is that of The Remarkables. This was a focal point for the Lord Of The Rings Series.
This alpine retreat can be ideal for a winter snow wedding. During the off season, the mountain and clear lake are the perfect backdrop to your wedding vows.
If you take a gondola ride to the top you enjoy breathtaking views of the entire city and harbour, making your wedding phenomenal. Areas such as Milford Sound, Queenstown Gardens and Lake Wakatipu would make any wedding magical.
Other Places To Get Married
Areas in New Zealand such at Rotorua are famous for the natural geysers and geothermal spas. Napier, Hastings and Nelson are all winery areas (similar to our Hunter Valley) each with boutique vineyards and sites to host a wedding. Perhaps the most unique place to get married is Hobbiton where you can get married in the land of the hobbits from the Lord Of The Rings movies.
Aside from its natural beauty and fantastic climate, it is also very practical for you and your guests as any New Zealand Wedding Planner will tell you. New Zealand is very similar to Australia more than any other country. Excluding a few phrases such a Jandals is Thongs, Trim Milk is Skim Milk and bro instead of mate its the same language. They drive on the same side of the road. The electrical plugs and voltage is identical (no need for any converters). The New Zealand currency is even called the Dollar and ours is valued slightly stronger.
360 Photography
We can offer you 360 degree photography to capture all the details of your event. You can also view this on a VR headset. Check out the image below (you can click and drag to see all around) and imagine having this technology at your wedding. Speak to one of our consultants today.
If you are looking for a New Zealand wedding planner then feel free to contact us. We have worked in New Zealand for the past few years for various weddings in various locations and have an in depth knowledge with many unique insights. As the locals say "Two Island, One People" and all round an amazing place to have your wedding.
So if you are looking at having your wedding in New Zealand, contact us today.