On your wedding day, for most brides food will be the last thing on your mind. With most brides awake early, breakfast or lunch is not thought of until they reach the reception in time for dinner. Leading to a grumpy and starving crew. That's where our Bridal Party Hampers comes in.
Why not make it easy on yourself, your groom and your bridal party. Pink Caviar Events offers breakfast/ brunch hampers as well as lunch platters delivered to your hotel or home to ensure that your bridal party are well feed and kept hydrated. Another fantastic service on offer to our brides.
SPECIAL OFFER: Get 10% off your hamper when you book with our planning, styling or coordinator service!!
With a great assortment of inclusions, you can rest assured that there will be something for everyone. Cheaper than room service and without the hassle of sending someone out to find fast food/ refreshments for your team.
Check out our breakfast and lunch options below: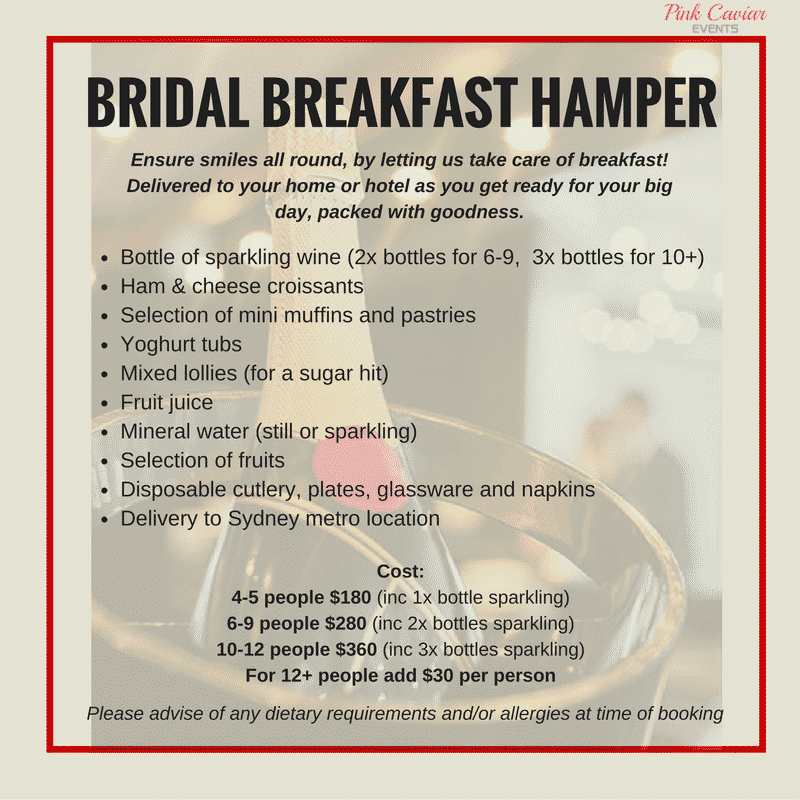 If you have any food allergies or special requirements (ie gluten free etc), please let us know at time of ordering.
So contact us today to arrange for your breakfast/ brunch and/or lunch to be taken care of.