Looking for an addition to your outdoor event? – Check out some of our suggestions for the perfect drink station. Please note our drink station packages can only be added to another one of our services like a coordinator service or a hire service. They are not available on their own. Great additions for an outdoor wedding ceremony or any other event. Combine with our on-the-day coordinator service for an all inclusive package.
We will deliver, set-up, help serve and pack up afterwards for complete peace-of-mind. Our stylist can work with you to create a drink station to suit your event theme and/or personal style. You also have the ability to add on platters like sandwiches, mini pizzas, cheeses, fruits, candy and more. With so many options and styles using our hire range, you can be as creative as you like!
Champagne Bar
A champagne bar is a fantastic addition to any party. Rest assured knowing that each of our champagne bar options come with a certified RSA attendant as well as all you need to ensure it runs smoothly. Events with 100+ guests will require a second attendant.
The perfect add-on to a wedding ceremony or canape hour. Includes table hire with linen, glassware (or plastic pending requirements) and an RSA attendant to serve. Self-serve water dispenser also included. We can supply the champagne or you can supply your favourite drink for us to serve. We are also happy to bring tubs of ice for you to chill any beers or soft drinks.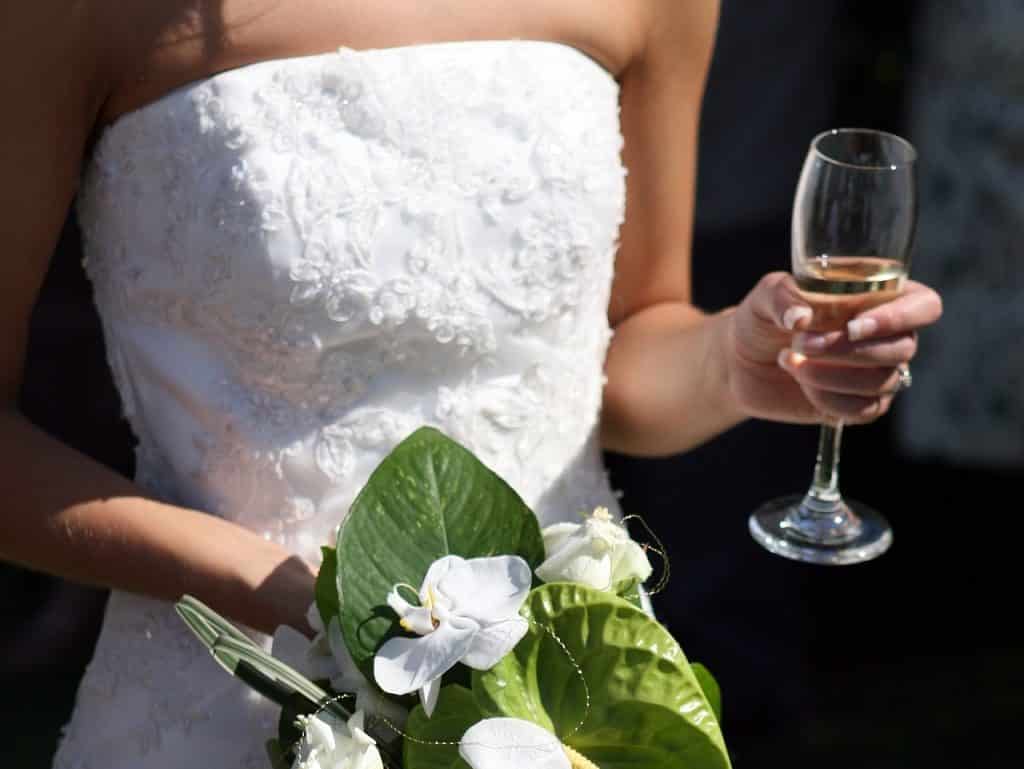 Self Serve Drink Stations:
These 3 options are a great add-on and ideal for 1 to 1.5 hours. Just enough time to get some photos or for a cocktail hour prior to the main event. Scroll down and check out some available options.
Note: Longer events and those with more than 100 guests will require the re-filling/ topping up of drinks. Our attendant will be present to do this during time service time. 
Option 1: Hydration (Water) Station
Great for outdoor wedding ceremonies, allowing guests to enjoy a bottle of iced water during or after the service. Water bottles are presented in one of our drink tubs, you can choose from our shiny large champagne buckets or our rustic timber handle buckets. We recommend allowing a minimum of 1 bottle per guest. This option will be set up on a table with a sign, allowing guests to help themselves to the bottles of water. Minimum of 24 bottles of water to be ordered.
We can also personalise the bottles with your names and event date at an additional cost. Please ask for a quote on this option.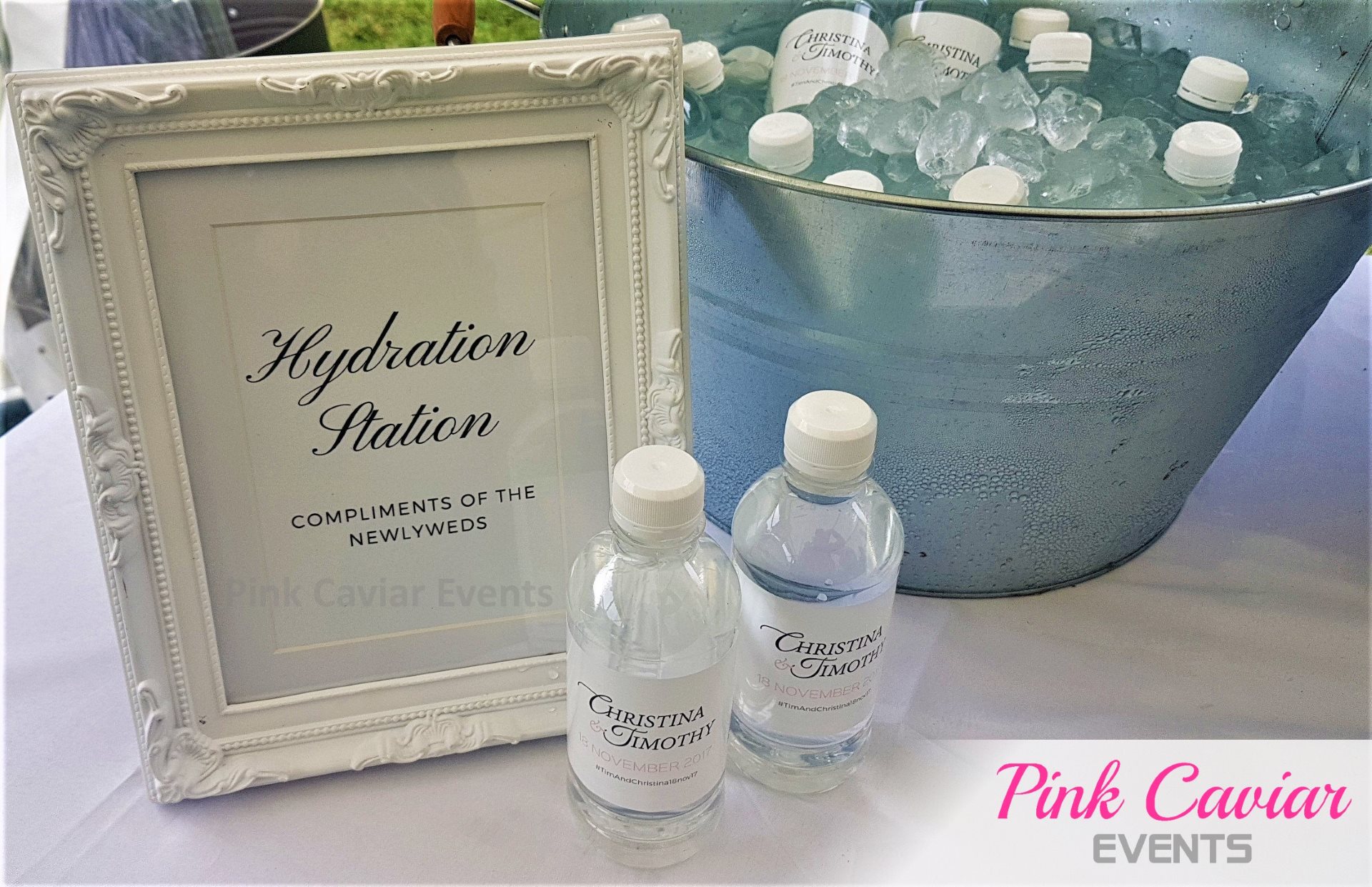 Option 2: Lemonade Stand/ Infused Water
A refreshing and great addition to any outdoor event. Set in large self serve dispensers with disposable cups and colorful paper straws (or upgrade to glass tumblers). Infused water options include lemon and lime, strawberry and mint or orange and blueberries. Happy to work with you if you have a specific flavour in mind. Min 50 guests.
Each glass holder is 3L in capacity and we use 4 of them. For events longer than 1 hour and/or with more than 100 guests, our attendant will remain on site to refill the drinks as required. It is best to set up the drink station either under shade (or we can supply an umbrella cover for additional cost). Options to use items form our rustic event hire range to create a rustic feel to match your theme.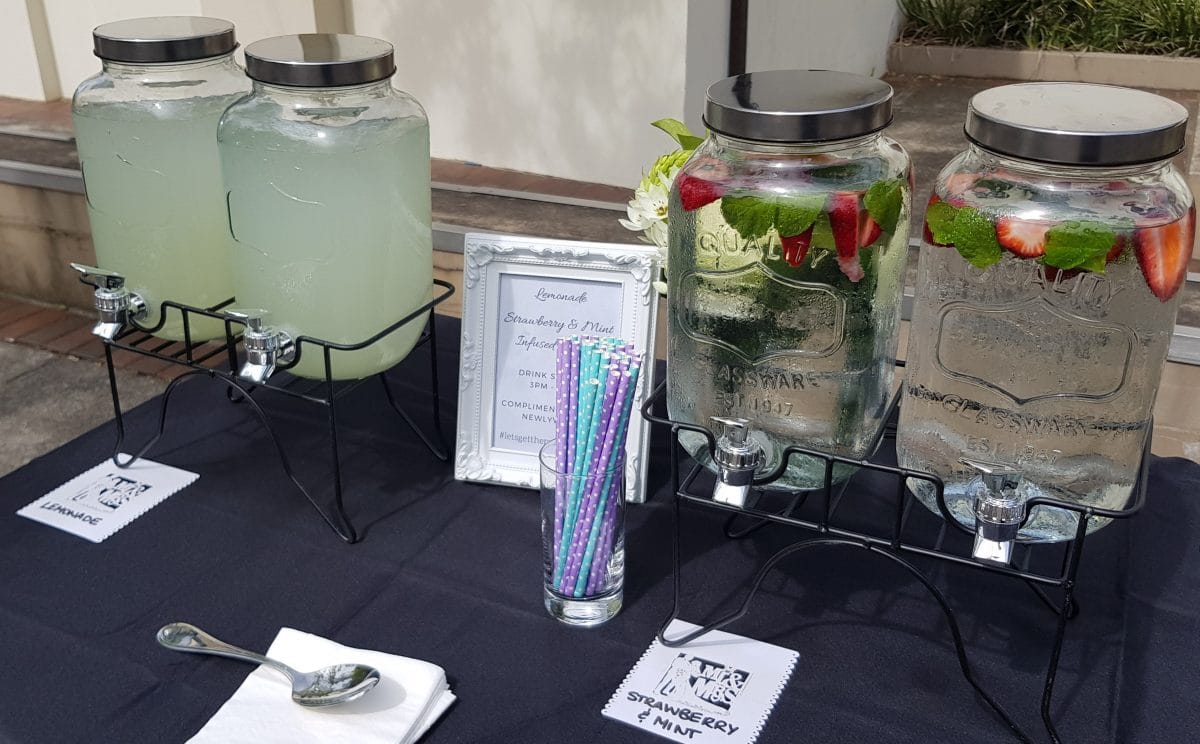 Option 3: Coffee/ Hot Chocolate Bar
Perfect for the cold weather, where your guests can get creative with at this self-serve drink station. Teas, coffee and hot chocolate mix for all to enjoy. With marshmallows, sprinkles whipped cream, your guests will enjoy a hot drink as the perfect end to a fantastic evening. Set up on a table for guests to experiment and play with different flavours, our attendant will be on hand to suggest some tasty combinations and refill this drink station.
Why not combine with your dessert table or ask us to add some cupcakes and cookies for a late night snack? Or use our event hire range to theming your coffee/ hot chocolate bar.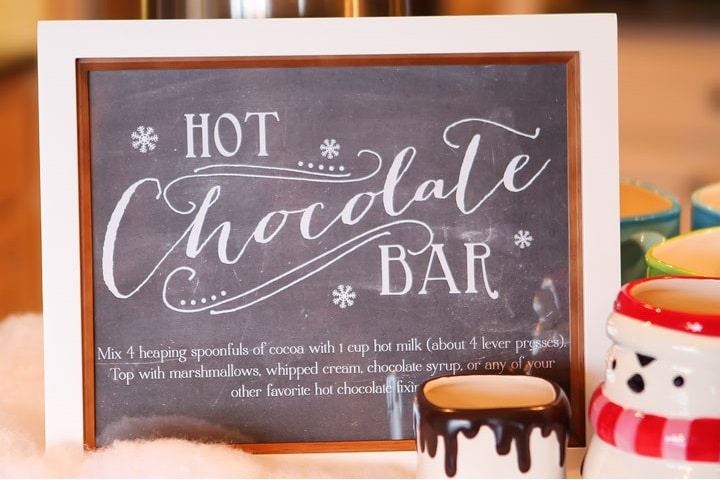 All of our drink stations can be customised to include additional food items and theming. Contact Us today with your event idea/ style for a quote.
Notes:
Our base pricing will start on a minimum 1.5 hour hire. Guest numbers will determine the number of attendants. Should you  require additional attendants to serve food/ drinks, please do not hesitate to ask for a quote. Event crew will be onsite at least 90 mins prior to the event commencement. Parking will need to be available for our vehicle. All glassware, cutlery and crockery needs to be returned clean. If possible we will ask to use a dishwasher  onsite or charge a cleaning fee for areas like a park/ beach-side. Please ensure you check you have all relevant permits for your day as well as permission to serve alcohol or use glass at your location.