What is a hucks party you may be asking? You may be thinking that your eye's are playing tricks on you and you are thinking of a buck's party but you would be wrong. A huck's is a combination between a bucks party and a hens night (hence hucks party). They have been around for a while. While the majority of couples opt to have separate bucks and hens party there are some couples who would like to celebrate together. Using advanced mathematics I will show you in simple terms what a Hucks party is:
Hen's Party + Buck's Party = Huck' Party
I can hear you think to yourself "But isn't the point of the night to go out separately with your friends as a last hurrah before you get married?". The answer to your question is yes. There are some who are just happy to go out together and have a night on the town with their closet family and friends. In fact a few years ago I was at a bucks party and the hens party was also on at the same time.
Both even were around the Kings Cross area in Sydney which is famous for its clubs and night life. By the end of the night both parties had combined into a Huck's Party. This was not originally planned but kind of happened. This happened because the bride to be wanted to see her man and he was like… yeah ok coming over.
What Is A Hucks Party
There are a few reasons why some couples opt to have a combined bucks / hens party:
You Are All Friends And Know Each Other
Many couples will have friends who have partners and know both the bride and groom. Either as friends growing up or as the friends partner for some it would be weird if certain people were not together. Some groups are just so tight knit separating them just seems wrong.
It Is Convenience
Somewhat related to the above point of being all friends. If many of your friends have partners in the respective buck's / hen's party then for logistical reasons they have everything together. Some do not see the point of (for example) driving to the city then splitting up. One of the parties might finish before the other and you have some partners stuck somewhere or waiting at the car ready to go home. By combining them together people can leave the party at the same time making things easier.
You Can Easily Organise A Designated Driver
This also falls under the partner reason again but can also apply to friends. Generally speaking couples will potentially talk beforehand (or just know through experience) who will drink less and be the designated driver. There has been no shortage of drunk driving related new reports. For example a man caused $6,000 in damages to a fence and drove drunk after a buck's party. How about the man who had almost 6 times the legal limit of alcohol in his system after a bucks party. I could go on but I believe you get the picture. This way friends and partners can look after each other more closely making sure everyone is OK afterwards.
It Can Keep The Costs Down
By combining the party into a larger group you can actually save money. Whether it is house party, group activities, eating at a restaurant and many other options you have a larger group which means bigger buying power. Many establishments will offer greater discounts the greater the head count is in the group. If it is a house party you can buy larger and more cost effective quantities of food and drink at you local bottle shop or supermarket.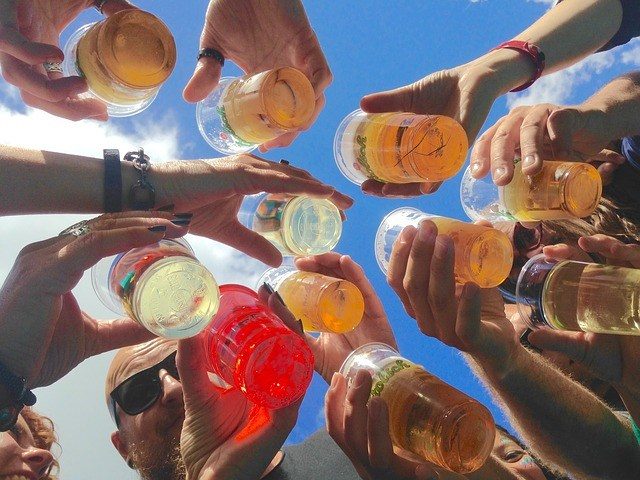 Pros & Cons Of A Hucks Party
Pros
You will have a larger group and everyone who knows each other will be together
Easier to get group rates for activities like jet boating or dinner in some instances
It can be more of a social mingle and both males and females will be together. While the majority may know each other there may be some who do not know each. It can give some the opportunity to make new friends or maybe more.
This can remove stress from the bride or groom who may fear that their partner can get too wild on the night.
Cons
It will not be a true boys or girl's night out and activities will be limited and could be more PG rated as a result.
It will be harder to coordinate as the group will be larger so you will need to factor in places that can fit your size group. You will also need to work out parking / drivers if you are going to a place in the city.
A Few Things To Note
Everyone Has To Factor In For The Hen & Buck
Under normal circumstance the guests of a bucks party would pay for the buck. In the same token the guests at the Hens party would pay for the hen. As a result the group would have to accommodate for both. As there will be more people this would not be an issue but rather something to be aware of.
The Organisers
This may be obvious but both the maid of honour and best man would both be organising the event together. This is to accommodate the tastes of both the bride and groom and to make sure everything runs smoothly.
You Do Not Have To Do Everything Together
While the party is together there could be elements of the party that are specific for the boys and the girls. While as a group you could have dinner and go out for drinks perhaps the guys could go out for a jet boat ride, golf or even a strip club before meeting up with the girls. The girls in turn could go out for pre-party drinks, manicures and other activates that the girls like to do.
Final Thoughts
While some will have a bucks, hens or hucks the choice is up to you. If you do need any assistance with planning your hucks / bucks / hens party, do not hesitate to contact us about your event.
Have you ever been to a hucks party? Would you ever consider having one? Join the discussion down below and let us know your thoughts 🙂