10 Aug

Bridal Thrones Hire: Fit For A Bride & Grooms Wedding

Have you ever thought of doing something different for your wedding? Something that is unique and special that stands out and leaves an amazing  yet awesome impact. Pink Caviar Events is proud to introduce our white bridal wedding thrones. These magnificent thrones make you stand apart from the crowd and literally make you feel like a king and queen. These white wedding bridal thrones stand tall at 1.8 metres giving an impressive site to you and your now husband / bride. Adorned with the heads of lions on each of the arm rests. The beautiful wood work and crests upon the white thrones add a touch of style, elegance, impressiveness for any event and available for hire.
White Bridal Thrones Hire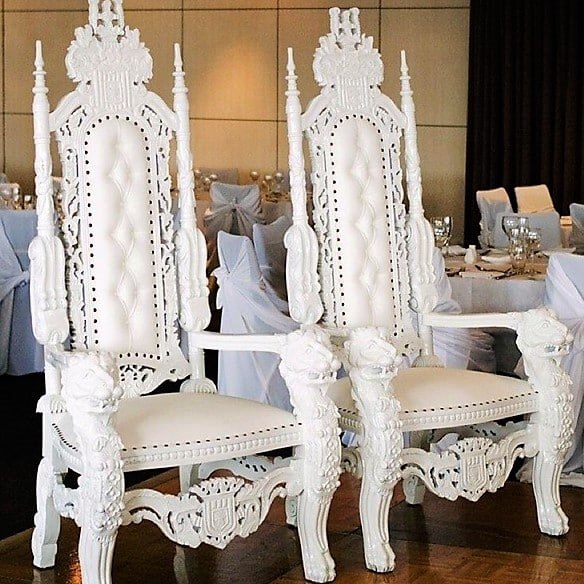 Imagine sitting down with your now husband and wife looking over your wedding guests and the amazing photos that you will have. These are a perfect addition to any bridal table, king table or even a sweetheart table. They are also suitable as backdrops for photo booths. You and / or your guests can sit down and feel like royalty during your wedding. These are available as singles or in a pair.
The white bridal thrones are also perfect for bridal showers and even hen's parties. You can feel like a queen just like Cersei from Game of Thrones. Ours is a white throne… hers is an Iron Throne… ours is much more comfortable as you will not be sitting on a throne made of swords. It would be all cold and pointy… who wants that on their wedding day! Our white thrones are plush and comfortable, fit for a king or queen!
If you are interested in having these wedding thrones for your wedding day do not hesitate to check out our white throne hire page here. They are available to be used primarily for hire in Sydney but also NSW. The white thrones are also suitable for birthdays, anniversaries, corporate events and more. Contact us today if you are ready to feel like a king or queen on your wedding day and sit on these glorious white thrones.