If you require a photo booth for your next corporate event, you can't just hire any old photo booth. Each type of photo booth is different and will have specific features that can add value to your function or promotion/brand awareness. Let's take a look at what to look for in photo booths for your corporate event/marketing activation.
What To Look For In Photo Booths For Your Corporate Function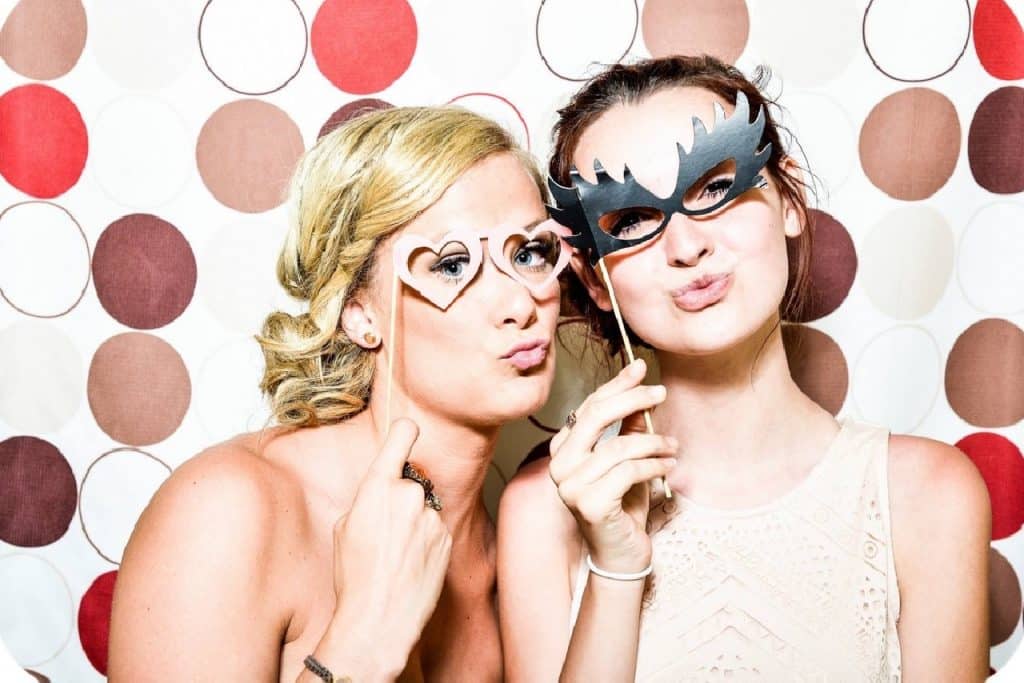 Branding Options
There is no point in using a photo booth for your function to promote your brand if you can not brand the image. There are quite a few ways to do this so let's break this down into more detail:
Watermark: It could be on the photo itself (in the corner) or someplace on the photo strip. Having your logo is important as it gives people a literal reminder of your companies brand.
Custom/Branded Props: This can be done in a variety of ways by either having custom props or signs. It could have your company logo/name, perhaps the event, official company hashtag or even the company mascot.
Green Screen: You can have a green screen and have a custom branded photo wall with your logo, sponsors, and so on. Just make sure no one is wearing green 😉 (See a below example)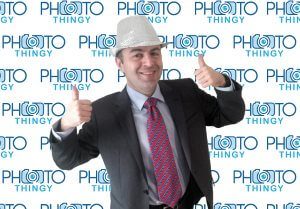 Social Media Functionality
If your event is not on social media, then it is not getting the maximum exposure it can. Whether during or after the event, make sure you have access to the images to upload on social media. Our photo booths can post and upload live during the event on multiple platforms (EG Facebook and Twitter). This will give real-time exposure of your function/corporate event on a global scale.
Copy Of The Photos Taken
It is all well and good that people have a copy of their photo strips (either physically or digitally). However, you will also want a copy of the original photos taken with the photo booth. These are great to also share on social media but also make for some great shots for blogs and other forms of online content. By having a copy of the photos taken, you will be able to reprint and reuse any of the photos later for promotional purposes if required.
Full-time Attendant During The Event
If you are looking for a photo booth for your corporate event, then having an attendant is necessary. While some photo booth companies do not offer an attendant, you will want to make sure the line is running smoothly and no issues on site. While it's great to have a fully autonomous photo booth (just like ours) in reality, things happen. Things such as people taking props and not putting them back, keeping the line flowing smoothly, creating excitement/buzz or answering questions about the event/campaign (if required). Plus make sure the attendant can wear one of your branded shirts if possible.
DSLR Camera
Interesting fact: did you know that many photo booths use web cams to take photos? In the early days of photo booths, it was quite common. While many have upgraded to DSLR cameras, quite a few still use webcams as a cost-effective solution. If you are going to book a photo booth for your corporate event, make sure they use a DSLR photo by checking our their Facebook page. The quality difference is like night and day, as explained in our blog here.
Corporate Photo Booths – Make Sure It's Right For You
When choosing a photo booth for your corporate event, make sure it fits what you are looking for. If you are looking for a corporate photo booth for your next event, check out our photo booths with an all-inclusive price and service that has all the features and benefits listed above.
Check out the links below to see what other options there are for photo booths:
Corporate Photo Booths – What To Look For – You Are Here 🙂
Are you looking to have a photo booth for your corporate event? What features are important to you when looking for a photo booth? Let us know down below and join the discussion 🙂