Cocktails are great at weddings, they add this little bit of piazza and customisation through a tasty beverage. Most of the time, your reception may offer a selection of cocktails for you to offer guests but the simple fact is… they are common. Are you looking to create your very own and one of a kind signature wedding cocktail? Then you have come to the right place.
Creating Your Own Signature Wedding Cocktail
Getting Started
There are a few things to consider when putting together your own signature wedding cocktail. Not sure where to begin, well how about starting with what you have at home. I personally use a website called Cocktail Builder to help inspire me for new cocktails or to see what I can make with what I have at home. While the cocktails are not new, its a great way to see what works well together. It is also a great way to get rid of that lychee alcohol you bought that no one drinks (I should, know I bought some… no one liked it).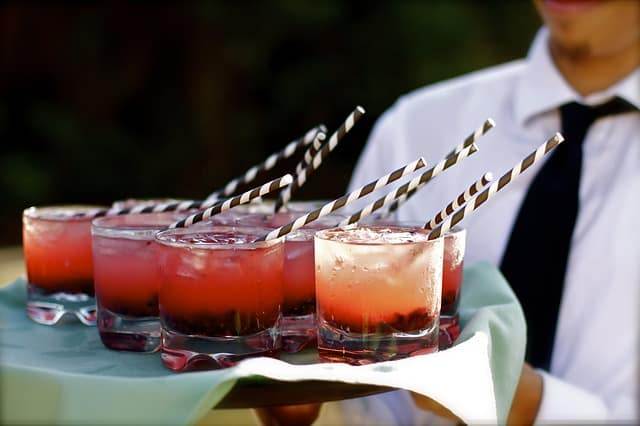 Style And Colours Of The Wedding
Firstly do you want it to be in the theme of your wedding? For example, if you have a set of wedding colours and you want it to match. The style of the cocktail should also match the wedding atmosphere. If you have a Gatsby, retro or chic style wedding then a cocktail in a traditional martini glass would suit better.
What's Your Flavour
Sit down with your partner and discuss what flavours, alcohol beverages and other elements that you like. For example, I am a vodka person who likes strong salty flavours which is why I like a Dirty Vodka Martini. My wife, on the other hand, likes rum and berries such as raspberries, black currents and so on. Once you can work out a common ground of flavour that you both like then you can move on.
If you are unable to find common ground then another idea is to have 2 cocktails instead. This way you can both express yourselves all while giving variety to your guests.
Get Mixing
Once you have a basic understanding of the types of alcohol, style, flavour and so on you are ready to begin. To help you out a basic cocktail will consist of the following:
2 – 3 Shots Of Alcohol (each shot is 30ml)
2 – 3 standard ice cubes
The remainder is soft drink, fruit juice or soda water
Please note with the above its a rough guide (believe it or not there is serious debate amongst cocktail purist of the right ratios right down the type of ice used).
Garnish
So now you have your ideal drink / drinks and you would like to top it off nicely. There are many options such as a whole berry, various leaves like in a mojito, a tiny umbrella, salty rim and so on. If it is in theme with your wedding you can get wedding themed toothpicks (my favourite are the tiny swords 🙂 ). You can even leave it plain for a classic look.
The Name
After you have created your concoction you can give your signature wedding cocktail a name. If you have a couple name you can call it after that just like 'Brangelina'. If you do not have a couples name you can simple call it by your first names EG the Jane & John Super Cocktail. At the end its all about what you and your partner are comfortable with.
Pro Tips:
Take note of the brands of alcohol you use. If you give this to a venue to make they will have their own brands of alcohol which could alter the taste of your drinks considerably. A good idea is to slowly buy the alcohol you desire leading up to your wedding when there are specials on. That way not only will you save a lot of money BUT you will guarantee that what you mix at home will be the same for the guests.
Make sure you inform your venue of the exact ratios/measurements of the ingredients for the cocktail. If you simply tell the venue "just a couple of shots of this or a partial shot of that" its anyone's guess what you exactly mean. Obviously, this will not only change the flavour of the drink, its strength but also how much the venue uses. A shot of vodka (30ml) may not sound like a lot BUT even if the average guest has 1 cocktail and there are 100 guests that is 3 litres of vodka and a big taste difference for everyone.
Have your friends and family around for a party where you can try out the drinks and test them on the general public. While it is your day, you do not want a drink no one likes.
A unique way to bring your future father-in-law and/or father is once they have tried your drink they can help "PUNtificate" you drinks. Being fathers they are experts at dad jokes and puns. Even if they don't get the vote of the final name they can help inspire you and worst case have a laugh and a drink with them.
Congratulations after all that you have your very own signature wedding cocktail that you can share with your guests and truly call it your own. If you would rather stick with the more tried and tested drinks check out our blog about 11 popular wedding cocktails. Feel free to check them out or even give them your own tasty twist.
Check out our other wedding-themed cocktail blog guide:
How To: Create Your Own Signature Wedding Cocktail – You Are Here 🙂
Please note that to truly give the best insight and knowledge for this blog. I personally made myself my favourite cocktail which I affectionately call the 'Dirty Dimitri' which is a variant of the Dirty Vodka Martini. While it was a difficult task I drank my drink in order to get into the true mindset of a cocktail.
Are you thinking of designing your own signature wedding cocktail or a trued and true recipe? Join the discussion below 🙂