There are several titles/roles within the wedding industry and they differ a lot.  Some of these include wedding facility coordinators, wedding event coordinators, wedding planners, bridal consultants and wedding consultants. There is a massive difference between Wedding Planner and On-the-day Coordinator. However many people who meet us for the first time do not know the difference.
The Difference Between A Wedding Planner And On-the-Day Coordinator
Below we will outline the differences between a wedding planner and on-the-day coordinator. While planning and coordinating have shared aspects of their roles, they are different. From time to time, there has been confusion of what the difference with these roles are. As a result, we are setting the record straight and making sense of it all.
What Does A Wedding Planner Do
A Wedding Planner is the most important person you will work with to organise your wedding. Our Pink Caviar Events wedding planners are professionals that work to give you the best on your wedding day. You can either choose to work with us or let us do all the work for you. The services we offer include:
Venue inspection
Suggesting and hiring wedding vendors
Verifying vendor agreements, negotiating deals and creating your payment schedule
Assistance with preparation of guest list, save the dates, invitations, registries and tracking of RSVP's
Organising your wedding day schedule and attending a rehearsal
Assisting with other marriage-related activities such as post-wedding brunch, rehearsal dinner, honeymoon and more.
Organising and booking accommodations for the guests and wedding party (for destination weddings)
Acquisition of wedding items such as favours and other gifts
Event layout, seating charts and floor plans.
Being present on the day and keeping tabs on all suppliers, timings and event progress
Post-event assistance service – packing up at the end of the night, thank you cards and assistance with change of name, moving house and more.
Best Time To Book A Wedding Planner
It is ideal to look for a wedding planner at the beginning of your wedding planning process. It is so you can use their wedding planning wisdom, vendor connections and wealth of knowledge throughout the process. That said there is a partial wedding planning option.
We are the perfect choice for couples that are too busy to dedicate a large amount of time to organise a wedding. Also for couples who don't know where to start. Did you know that up to 250 hours of planning, many appointments and site visits go into planning a wedding? Most couples have many other commitments like work, social and personal. They are unable to commit the amount of time needed to plan a wedding. As a result, this is where things can become stressful for the happy couple.
Our wedding planners are a perfect fit for people who are too busy and want someone to guide them through the entire wedding planning process. All this while taking care of the details on the day.
Sydney Wedding Planner prices can vary. The price depends on the duration you contract our services and the responsibilities we will be managing. As we are professionals, you can be assured that we will deliver value for money as well as peace-of-mind.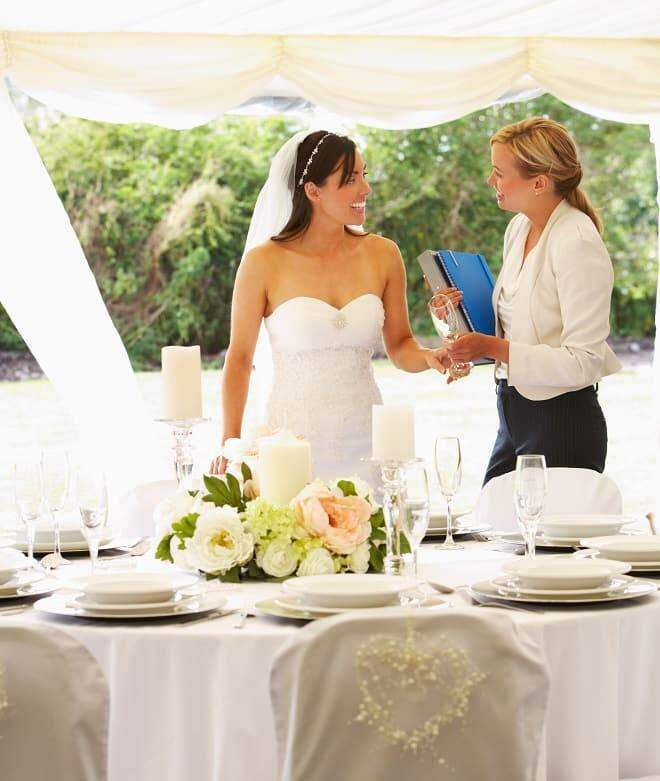 What Does An On-the-Day Coordinator Do
An On-the-Day Coordinator takes on the role as your wedding day manager. Our on-the-day wedding coordinators will work hard to ensure that your day goes on without any hitches.  The services we offer include:
Organising your wedding day timeline
Making sure all the key planning details have been booked in/ taken care of
Verifying logistics and re-confirming details with your suppliers
Ensuring vendors have all the essential details for the wedding day such as parking info, directions venue rules, and timeline
Become your main point of contact so that your phone is not constantly ringing. Easing the stress off the bride
Keeping tabs on everything that happens on the day (including set up and any movements)
In order to ensure that your wedding is perfect, be sure to contact us early. We will ensure everything is in its place and everyone knows where they need to be on your wedding day. Your on-the-day coordinator will ensure that everything goes according to plan.
The wedding planner will have already arranged your wedding to the smallest of details. The on-the-day coordinator's job is to ensure that the wedding planner's plans come to fruition. This is the primary difference between a wedding planner and on-the-Day Coordinator. When you speak to someone, you can tell them the difference between a wedding planner and an on-the-day coordinator. Also, there is an hourly wedding planner service available. This is an hourly service for couples that need a little help now and then.
If you hire us, all you have to think about is getting married and having a good time. Leave the stress of planning to us and contact us today.