Over the past few months we have been exhibiting at expos (as we always do). The one thing we noticed is that a lot of florists were advertising themselves as stylists. As we spoke to people they seemed confused what a wedding stylist was. While there are florists who are stylists this isn't always the case. A lot of people ended up asking us 'What Is A Wedding Stylist exactly' and today we intend to answer this question.
The Difference Between a Wedding Stylist & A Florist
What Is A Wedding Stylist?
A wedding stylist is a person that turns someone vision for their wedding into reality. This includes everything from the table decorations, chairs / sashes, centrepieces, ambience of the event, lighting and so on. It can also include the ceremony design and layout, arrangements and more.
A wedding stylist will work with you to work out the little details to make sure everything comes together. Stylists work work with a variety of mediums to bring everything together such as various materials, lighting, flowers and more.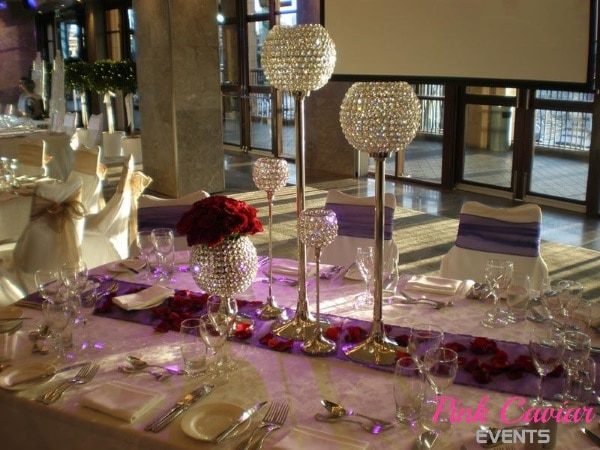 What Is A Florist?
A florist by definition is a 'person who sells and arranges cut flowers'. Many florists make amazing centrepieces, bouquets, floral pins and more. Florists are an important part of any wedding. In fact I have never seen or been to a wedding personally that did not use flowers in some capacity. A skilled florist who understands their trade can create some amazing designs.
So Whats the Difference?
The primary difference between the two is that a florists work is with flowers and a stylist will work with any medium to design the event (including flowers). A good comparison I can think of is this. A chef cooks and prepares food and a chocolate maker makes chocolates. While they both involve cooking and preparing the chef can make all types of cuisine. The chocolate maker will focus on delicious chocolate treats and only chocolate treats.
There are shared elements between a stylist and a florist in that they can both make centrepieces for a wedding. The only difference is that a florist will only focus on utilising flowers. There are some exceptions where there are florists who are genuine stylists but some florists will slap on this label to get business.
What To Ask Your Wedding Stylist
If you are engaging a stylist the few simple questions to ask are as follows:
Do you only work with flowers?
Are you able to do my chair covers and sashes?
Can you coordinate and work with the venue to arrange everything?
What if I want to change the furniture, will you source, deliver and supply everything?
Can you also help with clothes,  hair and make-up?
If they only say yes to the first question and no to the others then they are a florist. As mentioned above, stylists work with some amazing florists. That being said the next time you speak to a florist who is claiming to be a stylist, just ask a few simple questions to confirm if they really are on. This can save you from issues down the line if you are wanting a stylist to do everything and not just bouquets and centrepieces. Here at Pink Caviar Events, we can do all the above and more! The next time someone asks 'What Is A Wedding Stylist' you now know the difference.
Check Out Our Vlog On Wedding Styling
If you are interested in hearing more about wedding styles and colours check out our vlog below about it or go to the YouTube Vlog directly. Alternatively you can check out the full wedding styling vlog here.

What is your understanding of a wedding stylist? Have you hired a florist and a stylist before? Join the discussion below and let us know 🙂