We consider a Wedding Planner and/or Wedding Day Coordinator as an essential part of your event planning process. When starting out on your planning journey, the mystical world of events can be first seen as a mind-boggling place. It can make absolutely no sense to the untrained eye. We get asked the "why" question all the time. We have even had brides come back to us when they realise they need the extra help.
Why Consider a Wedding Planner or Coordinator
No matter how well things are planned and confirmed, something will go wonky on your wedding day. An experienced professional will handle any hiccups in such a way that you and your guests will never know anything unexpected happened. You only have to deal with one person, which will eliminate confusion and frustration. We do this for a living and thoroughly enjoy it!
Ask yourself the following questions if you are considering using a wedding planner:
Do you want to deal with professional suppliers for excellent service?
Would you prefer to deal with only one person for everything to minimise confusion?

Do you want someone to help you save money?

Want someone to look after the biggest day of your life and make sure it all runs smoothly so you have peace of mind and can enjoy yourself?
If you answered yes to any of the above? You should consider looking into using a Wedding Planner or even a Wedding Day coordinator.
Why have a Wedding/Events Planner?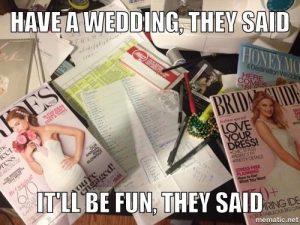 A good wedding/event planner will help you to save money that would actually pay for themselves and then some. A professional (who does this for a living) looks after all the bits and pieces for you and then pulls it all together. You are not stressed, and your future husband thinks you are super amazing!
Did you know that planning a wedding can take on average 250+ hours? Not to mention countless weekends looking for suppliers The weeks of research on what to do, when and how. You don't need that added stress to end up like this:
We understand that you too have a busy life, with family, work and social commitments. This is where we can step in and help take a load of the planning under our belt. You will not only have a dedicated planner but a true unbiased problem solver on your beck and call. Have you ever considered that Wedding planners can actually help you SAVE time and money?
Fees for wedding planners vary. In general, expect to pay somewhere between 10 and 20 per cent of your total wedding cost. 
Why have a Wedding Day Coordinator?
The Wedding Day Coordinator (also known as On-the-Day Coordinator) can be a lifesaver for couples who don't have the budget for a full-service planner. Couples who thought they could do it all alone then realise, close to the wedding, that they could use the help. Then there are couples who actually manage to plan it all with their family, but then wisely realise that they shouldn't leave the day-of nitty-gritty in the hands of their mothers or maid of honour per personal reasons.
Some couples choose to forgo an on-the-day coordinator because their reception venue includes a coordinator. Although this may sound similar, beware: it is not exactly the same. You must identify what your needs will be on the wedding day and know exactly what your venue coordinator is going to do. Remember that they are there to look after the venue, ensure food goes to the right tables and ensure no damages occur to their site.
A Wedding Day Coordinator (like us) is there for the couple. We will ensure items are set up the way you want, your suitcases are ready in the getaway car and the DJ plays your favourite song at the right time. We're there working with all the suppliers on the night to ensure that you are having the best night of your life.
We can call the limo driver who is running late, move items from your ceremony to the reception as well as work with the photographer to locate key people for photos. Our team can also assist at the end of the night. We can help to pack your items, so your family and friends don't have to worry about it.
The amount of resources budgeted toward a wedding can be substantial. With less than 5 per cent of the total cost going to coordination for the day, you can ensure that the countless hours of planning time will be made easier and that you won't have to worry on the big day. 
Why Use Pink Caviar Events as your Wedding Planner or Wedding Coordinator?
Think about this, in addition to being the centre of attention; you are also the host of this celebration. If a problem crops up, having us on board allows you to be charming, gracious hosts, rather than frazzled, last-minute problem solvers.
The most significant benefit is having peace of mind that all the details will come together as you envisioned.
Your wedding day is a special moment in time that you should truly enjoy
Are you considering having a wedding planner or coordinator? How far are you into the wedding planning process, are you? If you are partway through the process, would you consider using a wedding planner or coordinator? Join the discussion down below and let us know in the comments section 🙂