"Somethings are just MINT to be!"
Candy buffets and lolly bars are a perfect addition to your next event.  We will match your event colour theme to create a delicious display for you. With premium quality candy you can rest assured of great flavour and fresh lollies.
Our buffets are a fun addition to  weddings, engagements, birthdays, christenings, kids parties, baby showers, corporate events and much more. There is a big kid in all adults and they too enjoy our candy buffets.
Our packages are all-inclusive. With our seamless process, we take care of everything, from setting up and dismantling your candy buffet to including table linens, glassware and jars, serving tools, guest cups, signage and some decor. Additional theming, floral decor and optional add-ons (juice bars, chocolate fountains, fairy floss, popcorn, champagne and cheeses) are available on request.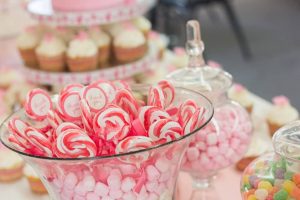 Wedding Candy Buffets – Perfect Statement!
Why not book a candy buffet for your wedding and use it as your bomboniere? Provide your guests with small jars and let them have fun filling them up with their favourite lollies.
They are also perfect as a dessert alternative, or even just as a visual showcase at your event!
You can also place your wedding cake on the table to create a stunning statement centrepiece. The best thing about our candy buffet is that they are completely customisable so we can modify it to suit your event, tastes and budgets.
---
Engagement Parties Candy Buffets – A Great Party Idea!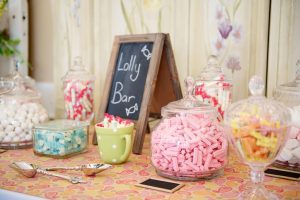 Why not use our candy buffets as a decoration for your engagement party? Our buffets are versatile and are well-suited for a sit-down meal as well as a cocktail event.
We can also tailor it to include othe food stations to make your engagement party more interactive.
Our team will work with you to design a candy buffet to suit your theme, from coloured lollies to fun signs and glittered props, let your imagination run wild! When we meet with you to discuss your buffet, we will review your colour scheme, invitations, floral choices and more just to ensure that we carefully and meticulously coordinate the candy buffet to match every element of your event.
---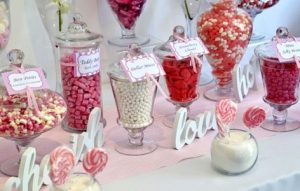 Christening/ Baby Showers Candy Buffets – Fun Bonboniere Idea!
In celebration of your young one, we can personalise the candy buffet to include colours and flavours that you love and can share with your guests.
With the supply of guest bags, we recommend waiting to open the candy buffet after the food service and any formal speeches have been taken care of. This will entice your guests to wait as they can see but not touch the buffet.
When it come time to open the buffet, your guests will have fun filling their little cups with their favourite selections. These also double as a fun bonboniere idea.
---
Corporate Candy Buffet – Product Launches or Expos
As event planners, we are forever on the lookout for fun and innovative ideas to impress potential clients, draw crowds and inject fun into any corporate functions and launches.
Nothing impresses guests and clients more than one of our candy buffets. As an all-time crowd favourite, we can incorporate your company colours, logos and more to create not only a visually pleasing presentation but a yummy one too!
With our optional add-ons, why not include a chocolate fountain, popcorn machine, fairy floss, cheese platters or even a juice/ champagne bar?
All of our packages are all-inclusive and include a seamless process with the delivery, set up and dismantling your candy buffet. We also include table linen, glassware and jars, serving tools, guest cups, signage and some decor. Additional theming, flowers, juice bars and more available on request. Click here to view pricing
Speak to one of our candy buffet designers for a quote and details on how we can personalise your buffet, please contact us on 0426 290 674, or alternatively you can send us an inquiry here.