Fairy Lights to Flowers, Mason Jars to Crystals – We Have You Covered!
No matter your decorating style, our wedding stylist has an array of ideas, decor, inspiring images and helpful advice available to help you with your wedding styling. From rustic country to traditional or modern contemporary centrepieces – we can help! 
We will work with you every step of the way to ensure that we deliver your desired look. Our stylists are extremely proud and passionate so you know you will get the best from them and feel relaxed knowing you are being looked after. Be sure to check out our gallery for examples of work as well as potential inspiration for your wedding styling. Contact Us for a quote for your wedding today.
We have a beautiful collection of decor items that can be used to style your event. Meet our head stylist and see how we can help create your vision for your wedding. All our packages include delivery, set up and pack down as we want to ensure each element is placed in the perfect spot.We also have excellent partnerships with hire companies which we can call upon for extra assistance.
White Bridal Thrones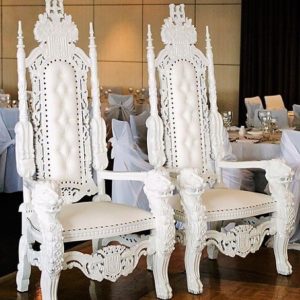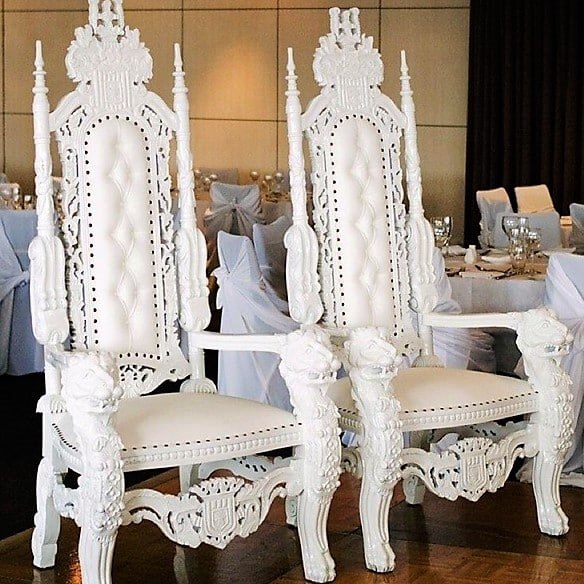 Feel like royalty on your wedding day with these amazingly stylish larger than life white bridal thrones. 
As the name suggests, you and your partner will feel like royalty on your wedding day in these 'larger than life' Bridal thrones at your reception.
Our thrones are also a popular for photo opportunities.
Standing 1.8m high. They are a stand out piece for your bridal table. We can also hep you with designing and completing the look of your bridal table with linens, floral arrangements and other fancy chairs or your bridal party.
Our thrones also looks great at Bridal Showers so the Bride-to-be can relax and feel like a Queen!
Contact Us today to book in your set of white thrones.
---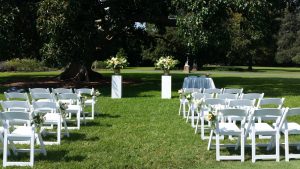 Wedding Ceremony Set Up
Need help with your wedding ceremony? Lets us help.
We can supply you with the chairs, red carpet, aisle decor and more. We also have water and champagne stations on offer as well as floral decorations and a beautiful arbour.
Our pricing is all inclusive and includes the delivery, set up and pack down of these items.
---

Centrepieces & Other Decor Items
Maybe you are looking for items to decorate your wedding reception? We have an array of centrepieces available on offer from Floral to Crystals, Candles and even rustic.
Our Stylist can help you to achieve the look you desire.
We also have wishing wells, easels, linens chair sashes, signage, back drops, drapery and lights available to help compliment your theme.
Be sure to check out our gallery for more photos and inspiration for your special day.
Contact Us today to arrange a meeting without Stylists and start designing your ideal centrepieces.
What to expect with Pink Caviar Events as your Wedding Stylist
First Meeting with our Wedding Stylist
On your initial meeting, our stylist will sit down with you to work out the details of what you would like for your wedding or event styling. We recommend that you bring along a list of what you are looking for and/or photos of things you like and were considering for your wedding. You should bring along anything you think would help us to understand your style.
Creating your Vision
Once we understand what you are looking to achieve, your stylist will give you ideas and show you images of what we can do for you. They will then return to the office and start working on a quote for your wedding. All of our quotes include GST, delivery, setup and pack away so you can rest assured that we are all-inclusive and want to ensure every element is placed in the correct and perfect spot. Once you are happy with what we have presented, we book everything in for you.
Leading up to your Day
Our team will touch base with you to ensure all is perfect and any last minute changes are made. We also make contact with your wedding venue/s to ensure that you are aware of us attending to style your wedding so you don't have to worry about booking in bump in and outs, access to loading docks/ lifts etc. Our process is smooth and worry-free. 
On the Day
Our wedding stylist will be present on your special day to ensure that all the elements are in place. Our team will ensure all is set as per your vision, ready for you and your guests.

Not sure what you want? Here is a taste of some of the things we can help you with when it comes to wedding styling.
Our storeroom shelves are jam packed with decor items that are versatile and stylish. We can help you with wedding centrepieces, white bridal thrones, ceremony items, candy buffets and dessert bars even an open-air photo booth. We can also help place items you have sourced. You don't have to worry about asking guests to help set up you wedding day.
Our team will arrange the delivery, set up and pack down of your special event. Our team can also send you a photo to make sure you are happy with everything before you even arrive… Exceptional service and you won't have to lift a finger! Be sure to check out some photos from past events in our Gallery.
Contact Us today and see how easy it is to arrange your complimentary consultation meeting.
The team at pink caviar was so helpful and made our life so much easier when planning our wedding. Thanks so much for all your help guys!
Thank you sooo much for your help with our wedding. I was so happy to see the reception space when we arrived. It was perfect!! Thank you for making our day feel so much more relaxed.
I had my wedding earlier this year and the Staff at Pink Caviar were amazing. They took the stress out and made everything soo easy. It was nice to see my now wife not getting stressed out as usual and letting the team take care of all the small details.
Thank you for delivering your service professionally on my wedding day. I am really glad to have you though out the planning stage and on the day.
Such a excellent service for the most important day of your life.