Not all parties/events are the same, and the same goes for corporate events. Therefore it goes without saying that the entertainment options/idea at a corporate event would be different from a birthday, wedding and so on.  You may suprised to find out what is avalibale and the amazing broad range of options avaliable. If you are putting togther a corporate party lets take a look at the top 6 corporate party entertainment options out there.
Top 6 Corporate Party Entertainment Options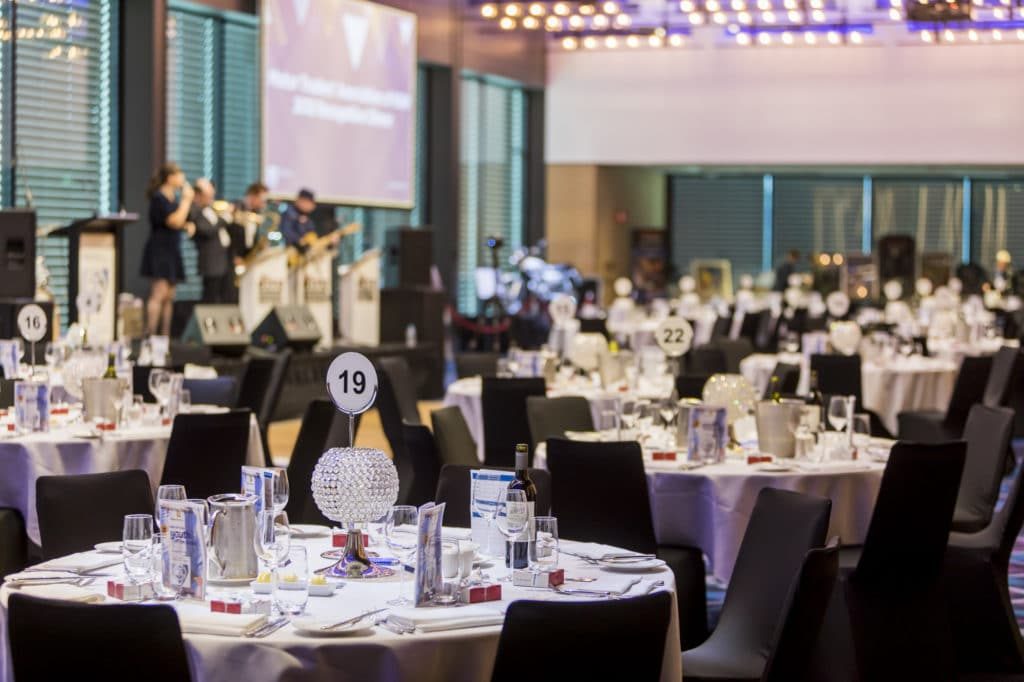 Live Music
There is nothing quite like listening to live music. When you host your event, consider finding some local talent your guests will enjoy. If your guests are of a certain age or if you have an international delegation you can find music to suit almost everyone. Musical talent ranges from solo singers right through to an entire orchestral band.
Live Entertainment
Live entertainment is different to live music in that this is more about having a live act. For example, you may want someone to entertain your guests during the evening such a comedian, magician, and so on. It can also include musicians, especially if the musicians are a brand/name in their own right; otherwise, they will generally play as background music.
Caricaturist
Having your portrait drawn is always fun and entertaining. Have you ever considered a professional caricaturist as entertainment for your event? I do not mean the one at kids parties but professional caricaturists who specialise in corporate events. Caricaturists are a great entertaining way people can have their portrait done in a comical style. They can have a laugh with their colleagues and have something to talk about and also take home with them.
Photo Booth
Photo booths have been around for over ten years now, and over time, they have become more and more sophisticated. Whether you like photo booths or not, they are here to stay. Besides taking your photo and printing it out, they can do so much more. Did you know that they have branding and green screen functionality, which is great for your company/corporate party image? The photos taken are also great for an internal newsletter and many other uses. Plus many of them can upload live onto social media for that extra boost of social media awareness. Photo booth shots are more impromptu compared to when a traditional photographer takes a photo. People tend to pose more formally with photographers. Check out our photo booth to for your event.
As far as corporate party entertainment options, photo booths are great, especially for external activations. We delved deep into corporate photo booths and what to look for, so check it out.
Activities Based on the Party Theme
Activities are fun and exciting. If your event has a particular theme, then you can play off the theme/concepts and create activities based on it. For example, if you are hosting a 'Survivor' theme, you can have activities and challenges for each table. One by one, each table is eliminated until only one remains for the main prize (smaller elimination prizes can be handed out throughout the night).
Another example is to have a casino theme, and you can have roulette tables to make your event a mini-casino. The casino theme with roulette tables will bring your party to life instead of just dressing/styling your corporate party a certain way.
Live Auctions
Live auctions are great because they can either be done upon the main stage or throughout the night. Party guests can bid for items of interest, and the money can go to charity. Not only do people get into the thrill of the auction but also they know the money they are spending is going to a good cause.
Corporate Party Entertainment Options – So Much To Choose From
No matter what entertainment options you will choose for your corporate party/event, we can all agree that there are a lot of choices available. If you need a hand bringing some unique entertainment options for your corporate party, then do not hesitate to contact us.
Are you planning a corporate party/event? What type of entertainment have you been looking at having? Let us know down below and join the discussion today 🙂