A short time ago we were exhibiting at an expo and a couple of interesting things happened. Firstly people were not sure of the difference between a florist and a wedding stylist. Secondly and perhaps the most prominent were potential clients who were not sure what the difference was between a wedding stylist versus hire company. The main issue we heard was "But you both have items I want to use for my event. While this is technically correct, there is a big difference between how things are handled.
Differences Between a Stylist, Florist & Hire Company
What A Wedding Stylist Does
A wedding stylist shapes the various elements of the wedding to give the look and feel of the event. This includes everything from decorations, lighting, music and much more. Not only will they supply the items but also deliver, coordinate with all other suppliers, set up and pack away – no hassles from your side.
A good stylist can combine all these elements that will turn a simple room with tables and chairs to an atmosphere of excitement and fun. Some elements such as furniture hire or lighting may come from a hire company. But they are an element of the bigger picture.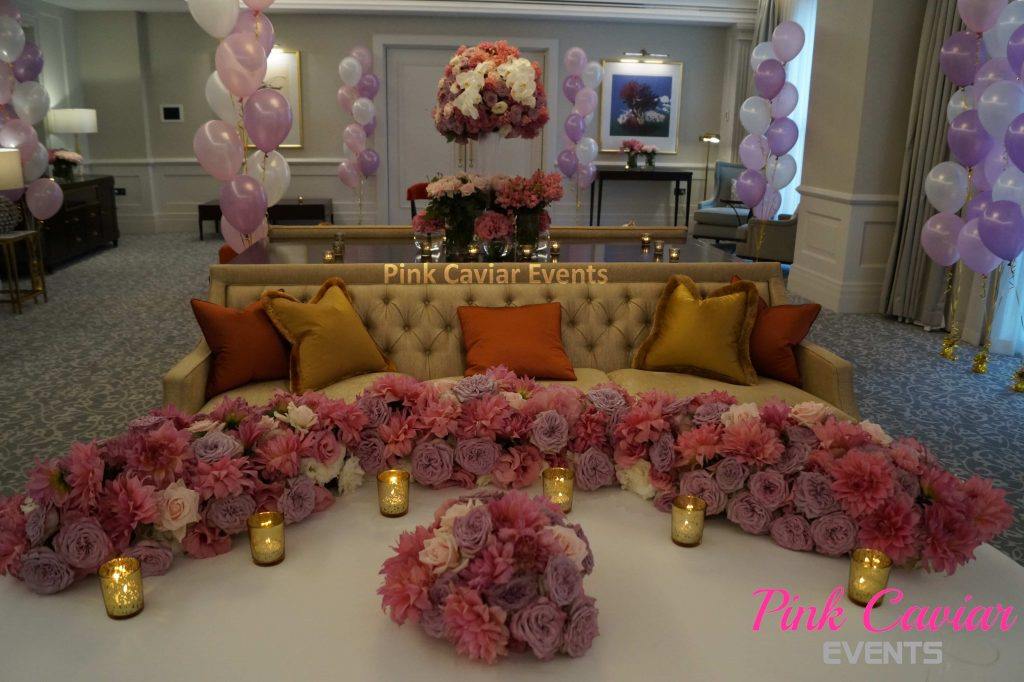 What A Florist Does
Its in their name, florist. They will supply you with the florals required for your event. The difference between them and a wedding stylist is that they will only supply you with their stock. As in flowers from them and any vases from their shop. They will not supply you with other items to complete your decor like signage, frames, linens, drapes, lights, candles etc. To access all these items you need a wedding stylist.
What A Hire Company Does
A hire company is a company that literally hires out items for your event. This is mostly decorations, lighting, draping and furniture. However the fundamental difference is that they do not style or place anything and leave that to you. There are times where you can pay extra for them to set up the lighting and draping but generally that's more to do with safety issues like certain licences to work above certain heights and so on.
Wedding Stylist Versus Hire Company
Now that you know the difference between a wedding stylist versus hire company we can clarify the differences. Generally speaking hire companies will have a warehouse of various items ranging from decorations to furniture. While a hire company can sometimes be a cheaper are you are just hiring the item they can at times be more expensive if not used properly.
A good examples is that you might like a certain couch and a hire company can either say 'pick it up from our warehouse so you do not have to pay for transport'. This means you need to call in favors with family and friend or take time out of your day to hire a truck or van which can cost you more. Then you will have to drop it off back to them afterwards. Most companies will request that their items are cleaned (which can involve extra work on your side). Sometimes you will arrange delivery from the hire company but they only drop it off at street level and you will have to get in early before the event to bring upstairs and set it up costing you valuable time when you could be doing something else.
A stylist will arrange everything from drop off and have staff available to position everything to your liking. At the end of the event they will arrange to have everything taken away. One is a complete solution and one is a part of the process. Pending your circumstance and whatever you decide, make you have thought out the logistics of it all. The last thing you want is to assume certain aspects are included and then find out they are not. This includes checking everything from inclusions, pricing, time and availability. If you need a hand we are happy to help, contact us today 🙂
Check Out Our Vlog About Wedding Styling & Colours below or check out the full wedding styling vlog.

Have you ever used a hire company or wedding stylist for your wedding or event? What were your thoughts with them? Join the discussion down below 🙂