The wedding day can be a bundle of nerves, especially for the bride. There are many things that you may have to pay attention to. If you are not careful, these will get in the way of you being happy on your wedding day. The wedding day is an important day, and a bride has to ensure that she is comfortable and free of worry on this day. We give ideas from breakfast, packing up the right way all through to utilising a wedding day coordinator.
Because of the frenzy, the bride may forget to do many things that will eventually impact on her day. There are several things that you, as a bride, may need to be reminded to do on your wedding day.
This where the on-the-day coordinator/wedding day coordinator comes in. He helps you remember important things that you would otherwise have forgotten. We have compiled a list of the top 5 things we encounter at most client weddings:
Things You Need To Remember To Do on your wedding day
Eat Breakfast
On the wedding day, you may get too excited and forget to eat breakfast or drink water. We don't want you to pass out or be uncomfortable on your wedding day. We recommend that you eat something healthy and light. You should also ask your bridesmaids to have a snack handy for when you get hungry. We have a bridal party catering package that can help you out and can be delivered before the sun comes up.
Have Fun & Enjoy the Moment
Your wedding day will only happen once, and it will happen fast. Avoid taking everything too seriously. It is easy to forget having fun when you are focused on what went wrong or didn't go according to plan. Laugh with your friends and family and take time to appreciate the day. In the years to come, you want to look back at photos of you smiling and remember the awesome time you had. Why not play some soothing music on your wedding morning to calm your nerves.
Have an Emergency Kit
You never know what could happen. You may need a make-up touch up, or a tissue. Whatever it is, make sure that one of your bridesmaids has an emergency bag filled with essentials you may need. Our wedding day coordinator also carries an emergency kit filled with the essentials.
Guest Book / Pens, Cake Knife, Toasting Flutes, etc..
These are small things and can easily be forgotten. Some brides usually forget to include a guest book in which guest can leave their well-wishes at the reception. These are fun ways to collect more memories, as well as photographs. We can also help you with these. It could be nerve-wracking if you had to start looking for a knife when it's time to cut the cake. Some brides receive these as engagement gifts, and it would be a beautiful touch to incorporate these. Our photo booth comes with the option of a guest book so your guests can write you a message alongside a photo taken on the night.
Packing Up
Most brides will think about everything they have to do in the lead up to their wedding day and not give much thought to the end of the night. Our coordinators work with you and ensure all items are collected and packed away at the end of the night. We can also help family members with filling cars with gifts. We ensure that the contents of your wishing well is sealed and given to the correct person. Our coordinators will also ensure all suppliers are aware of when to collect their items from the reception space.
Wedding Day Coordinator
A professional on-the-day wedding coordinator is an excellent addition to making sure that your day flows smoothly. Pink Caviar Events will provide a coordinator that will make sure everything goes according to plan. The wedding day coordinator will take care of the smallest details so that you can relax and have fun on your big day.
The biggest benefit of our service is peace-of-mind. We do this all the time and understand the stresses placed upon a bride. Since you are not used to planning weddings, you may find the wedding day organisation tedious and time-consuming. You can trust your wedding day coordinator to do the best job for you.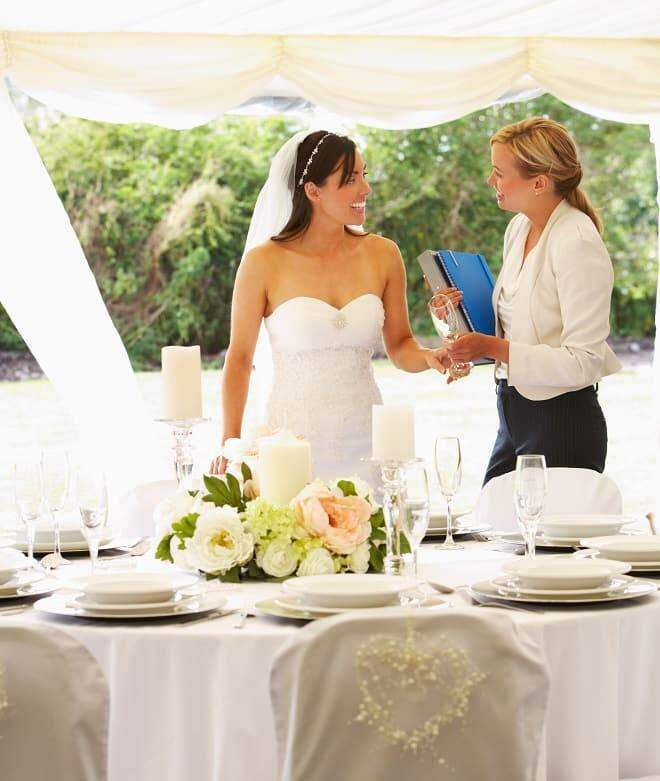 Also, making a to-do list for the wedding day is of great importance. On the wedding day, it may be difficult to remember everything that needs to be addressed. Our Pink Caviar Events wedding day coordinator can help you come up with a comprehensive list. We can also create a wedding day run sheet that will be useful to you and your family. For further reading, check out our blog about why to consider a wedding coordinator or wedding planner. Also, check out our Facebook page for additional ideas.
Did you find anything in this list helpful? Do you think there is something else we should add? Let us know down below in the comments section 🙂