You have everything set for the wedding of your dreams BUT there is one thing you are afraid of.. CHILDREN. Yes I know you're not actually afraid of children. For one reason or another you do not want them at your wedding and would rather have an adult only wedding.
What Is An Adult Only Wedding?
An adult only wedding is a wedding that has adults only present. It is for various reasons (which are listed below). Some people find it ironic in having an adult only wedding because the point of a wedding is to start a family (which implies to have children). Others are genuinely upset that they would not be allowed to bring their child to the wedding. For the most part the majority of couples are understanding of this and are generally fine with it.
With an adult only wedding, this opens up other advantages such as cost savings amongst others (which are covered below). There is much to weigh up if you would like to have an adults only wedding. The other reasons for not having children at your wedding which can include: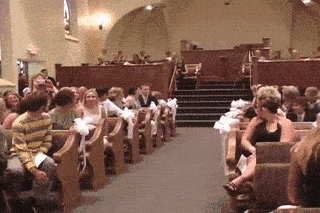 Limited Space At Venue
If you have booked your wedding into your dream venue and once you create your guest realise that it will be a tight squeeze then having adults only allows you to invite all your adult family and friends with priority.
The Venue Said No
Believe it or not some venues do not allow children for some evening functions for one reason or another. That being said this is very rare and other arrangements could be made.
Limited Budget
While children do not take up much space the simple fact is that they can add extra expense to the budget. Children can take space and place's at tables or having to create a children's table. They may cost extra due to expenses like a wedding nanny or having to create a separate children's menu.
Peace Of Mind
Whether you like it or not children are statistically going to interrupt the wedding in one way or another. This could be crying during the ceremony or speeches. It could be tantrums during the reception from being tired or not wanting to eat or maybe they found a friend and want to run around all night etc.
Whatever the reasoning, some couples have memories of being at other weddings or of themselves as children. They remember that they were little trouble makers. Their thinking process is "if I was like this as a child, other children must be as well… I don't want that at my wedding… A MINI ME!".
Children can be rather unpredictable, even the most well behaved ones can cause unexpected events. While most children are well behaved either because they are well mannered or because Mama and Papa are are near by, other just like to party or draw attention to themselves.
Some of the more interesting things children can do at a wedding are demonstrated with the animated images on this page.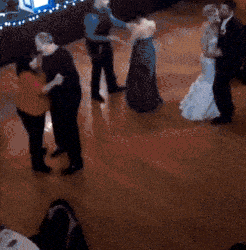 Expect Push Back
No matter what there will be a percentage of parents who will be upset or annoyed and demand their child come to your wedding. While many parents will be understanding and some welcome the break from the kids with a babysitter, some will not. Their reasoning is that they don't want to leave their child with a babysitter, their child SHOULD be attending or they just don't want to leave their child out of their sight.
With these parents you need to stand your ground. If you let one child into the wedding and not the rest the other parents will see this and be angry they had to leave theirs at home. Some parents who may not have complained at first, see this and think WTF why couldn't I bring my child?
People Don't Have To Leave Early
There are some positive upsides. Parents will be relaxed not having to look after their child for an evening. They will not have to leave too early because their child is sleeping or causing a problem. Just make sure you communicate the ending time of the wedding clearly. This is so parents can maximise their babysitter time instead of leaving early.
Check Out Our Vlog On Adult Only Weddings
Head wedding planner Stephanie did a vlog about adult only weddings. Check the vlog out here or watch it down below.
Whatever the reason you choose to have an adult only wedding, just remember that its your wedding. The vast majority of guests will be fine with it but if you sell the positives of a relaxing child-free evening for parents the vast majority will easily swing your way 🙂
Have you ever been to an adult only wedding, or are planning to have one? What are your thoughts this? Comment down below.