So you have chosen your bridesmaid colours and you are all set to go. Sure it's the colour of your choice but are you feeling something is lacking or want to be different? Well you are in luck because today we discuss the various options of bridesmaid colours and coordinating.
Traditional
Considered the starting point for most brides, it all begins with just one colour. Nothing is wrong with traditional theming. It's the easiest to work with as generally speaking the colour you have chosen is the colour of your wedding theme. We will be looking at choosing the right colour for your wedding (including bridesmaids) in a future blog post.
Toning
An effortless yet visually impressive style where you have chosen your bridesmaid colours (let us say green because that's the stock image colour I found 😛 ). If you line up your bridesmaids from left to right, you could start with the darker colour and the more bridesmaids you have, the lighter each tone of the dress will become. Toning not only looks stunning, but it shows off your coordinating skills (assuming they all stand in the right spot >_< ).
The same principle can be applied with the men as well with colour accents of their bow tie, handkerchief, lapels, and if daring enough their entire suit.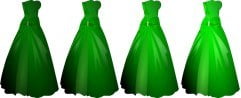 Alternating
So your favourite colour is red, no wait, it's blue, hang on wasn't it pink? Ok so you just are not happy with one colour, or you have a couple of colours that make up your theme. What some couples decide to do is have the bridesmaids in one colour and the men in the other. However, have you considered alternating the colour of the dresses of each bridesmaid? For example, just like in the picture shown, you can alternate the colours (in this case red and blue).
It's a great way to showcase and share the colours around. Plus if some of your bridesmaids look better in one colour than another, it will make your bridal party look even more fabulous.
Another idea for alternating is to have the maid of honour in one colour and the rest of the bridesmaids in another colour. For example, the Maid of honour in red and the rest in blue. This way, you differentiate who is the head bridesmaid, incorporating your colours all while giving a unique twist. Alternating can also be applied to the best man where he wears a different colour bow tie, handkerchief or lapel to that of the other groomsmen.
Colour Pallet
This one is a little different, and a little can look amazing if done correctly (or a mess if not). Colour pallets showcase a range of colours in the same spectrum. A good example is pastels where each bridesmaid wears different colours from a pastel colour pallet EG pink, violet, peach and yellow. This can work across a range of different pallets such as bluey greens, warm tones, and so on.
Rainbow
Is your wedding full of colour and there is no one colour better than the other? Then perhaps (assuming you have enough bridesmaids) the have each one wearing a different colour of the rainbow. This only works in weddings which are colour in rich and do not have the traditional 1 or 2 colour theme.
What is great with this option (similar to some options above) is that there are cool and warm colours. Finding the right colour for each bridesmaid will be a lot easier. You will want each bridesmaid to stand in the right spot; otherwise, it will turn from a rainbow to a colour explosion.
Eclectic
This option only works if you do not have a strict image in mind and want to throw a bit of 'random' into the mix. You can let each bridesmaid choose there own colour of choice. What is great with this option is that you can be completely surprised on your wedding day and each bridesmaid will choose a colour (and/or style that suits them best). Be forewarned, that while your bridesmaids think it looks fantastic, others can disagree.
Still looking for help with styling, wedding planning, a wedding coordinator or even help with choosing bridesmaid colours? Contact Us today for a quote on how we can help plan your wedding
Do you have a question for Ask Emilie then email her here? Alternatively, fill out the form below and have your question answered in our wedding blog. Also, check out the other Ask Emilie Blogs here, they may contain what you are looking for or give you ideas and inspirations for other wedding-related questions.
What colours or styles are you using for your bridesmaid dresses? Have you been a bridesmaid and been in a very creative colour palette? Join the discussion down below and let us know 🙂