Welcome to Ask Emilie, here you can ask any question to our wedding planner Emilie. Emilie will answer your question no matter the topic. It can be about anything from styling, general wedding questions, cultural customs, planning, wedding budget and more. This week we are talking with a bride who has a 'Getaway Car Disagreement'.
Today's question is from Kayla N who asks:
Hi Emilie, my future husband wants the getaway cars to be an old Ford Mustangs because he loves these old school beefed up muscle cars. I don't care if he likes them, I just don't want them at our wedding. He keeps telling me that he is constantly compromising for what I want for the wedding and its true, but these cars are something I just do not like at all, and we are having a massive getaway car disagreement. Can you help us find a balance? K
Hi Kayla,
Before I delve into solutions, I am going to make one obvious statement which is quoted from head planner Stephanie here at Pink Caviar Events "The wedding day is about both of you" in her Wedding Planning Advice Series. It sounds like he is giving up a lot to make you happy and the only thing he wants are the cars at the wedding. People famously say the wedding is about the bride, but in all honesty, the wedding day is about both of you. That said, let's take a look and see if we can find a solution to this.
Getaway Car Disagreement
Compromise
One form of compromise is to choose a getaway car you are both happy with. You may not like the Ford Mustangs but could you be happy with something that suit your taste? Sit down one evening with your fiance and look at what types of cars you both like and perhaps there is something you both can work with.
Another compromise could be that he could choose the car and you choose the colour that may match the wedding theme. This way, he gets his car, and it still matches the wedding theme.
Let Him Have This One
What if you just let him have the cars at the wedding. I understand that these cars are not your favourite, but if there is no other solution, then it may be your best bet. If he has given up a lot and asked for nothing else then to stop the arguments and be fair to each, then this may be a good solution.
Think of it this way, wedding cars are a small part of the wedding day. Sure, you arrive/leave the ceremony and reception in them, but you only see them for a brief moment. The majority of your photos are going to be of the ceremony and reception.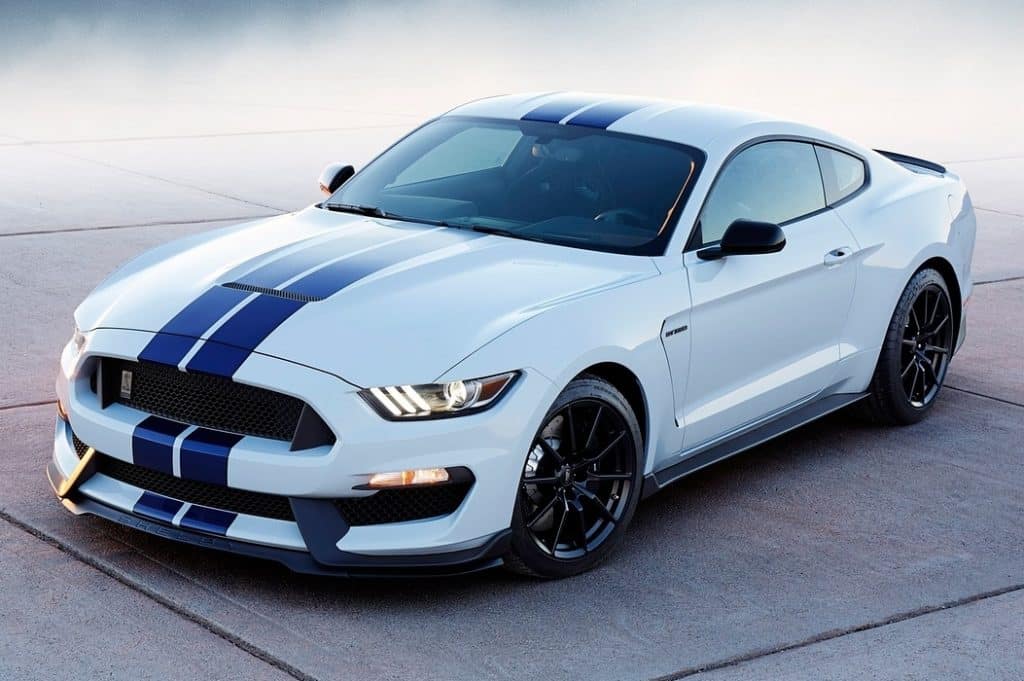 Let Him Have Something Else
While it sounds like your future husband has given up a lot to make you happy for the wedding, would you be comfortable with letting him have his way in other areas of the wedding? For example, you may have your heart set on a certain band, but perhaps you could let him have his choice of cake? So while you are having a 'getaway car disagreement' you can give a hard no about this but let him have another win in something else.
Use The Car In The Wedding Photos
One different idea is the use the car in the wedding photos. Perhaps use it a muscle car to pick him and the boys up and let them have some photos with it on their way to the ceremony.  You and your girls can have a larger car (like a limo), and after the ceremony, you can all use the limo to get to the reception. This will allow you to pick the getaway car. He gets to have photos with the car he likes, and you get the getaway car you want – you can both be happy.
Anyway, Kayla, I hope these suggestions will help you out with your getaway car issue. Good luck in finding a balance that works for both of you.
You may also be interested in our blog about using a different getaway car to your wedding car.
Emilie
Would you have a muscle car as your wedding getaway car? Are you and your future husband/wife having a getaway car disagreement or about the wedding cars in general? Get involved,  join the discussion and leave a comment below 🙂
Do you have a question for Ask Emilie then email her here? Alternatively, fill out the form below and have your question answered in our wedding blog. Check out the other Ask Emilie Blogs, they may also contain what you are looking for or give you ideas and inspirations for other wedding-related questions.