Welcome to Ask Emilie, here you can ask any question to our wedding planner Emilie. Emilie will answer your question no matter the topic. It can be about anything from styling, general wedding questions, cultural customs, planning, wedding budget and more. This week is discussing what is a 'typical bride' and if there is even such a thing.
Today's question is from Trish L who asks:
Hey Emilie, I just wanted to hear someone else's opinion. My future husband and I got engaged last June. Our wedding is set for November 18th but I just don't care to plan it! I was never that little girl who dreamed of her wedding day. I just want to elope and have a private wedding on a beach. But my future husband wants a wedding with all his family and friends. We compromised for a small wedding and inviting 50 of our closest family and friends. It's not that I don't want to be married, I just don't get excited like other women. I have friends who had their dream wedding since they were little girls but that isn't me. I know I am not a 'typical bride' who gets super excited. That being said how do I react around people who are when I am not? Thanks, Trish
Hi Trish,
While most women who come to us are excited to be getting married, there are some who are like you. This is neither good nor bad, its just how you feel about the topic. As you said that there are women who have been planning their wedding since they were a little girl. They bring binders and mood boards brimming with ideas. There are others who are happy to be getting married and have things they would like to incorporate. Then there are those like yourself who are happy to be married but are not into planning it.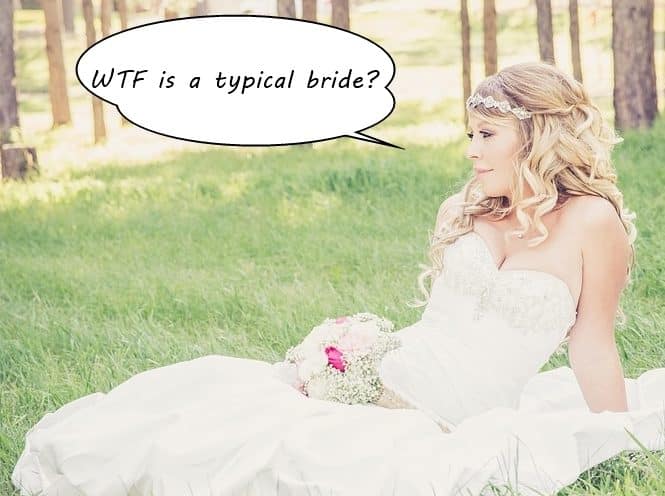 What is a Typical Bride?
The media has portrayed that a woman is generally 'super OMG kabam pow' excited about getting married. However it is different for everyone. No one can tell you how you should feel. The simplest answer is that you should feel how you want to feel and just 'be yourself'.
With regards to your friends who are excited they are excited because they just are. You do not have to be fake around them but they are genuinely excited. Just be supportive and happy for them. If you act dismissive about their wedding plans it may seem as though you do not care about them. I know its about their wedding but they may take it personally. If they are your friends then they know you are not into 'wedding stuff'. I am sure you can all reach a happy common ground.
Every bride is different with different experiences, faiths, customs, personalities and so on. Yes there are brides who are more than others but so what? You are marrying someone who is into you ('typical' or not) and you are going to celebrate it together.
You Are You – Simple As That
At the end of the day this wedding is about you and your future husband. There is no such thing as a typical bride as everyone is different. Have the wedding you want, be who you want and enjoy it however you see fit. That being said if you really do not like planning then you can always look at our wedding planning packages or destination wedding page 😉
Emilie
Do you consider yourself a typical bride in that you love planning your wedding and getting involved? Or do you find yourself on the other side? Are happy to get married but don't really care about the tiniest details? Join the discussion and let us know in the comments below 🙂
Do you have a question for Ask Emilie then email her here? Alternatively, fill out the form below and have your question answered in our wedding blog. Also, check out the other Ask Emilie Blogs here, they may also contain what you are looking for or give you ideas and inspirations for other wedding-related questions.