We are excited to announce that we are one of the finalists for the Australian Small Business Champion Awards 2017 – Wedding Services. We are proud to be a part of the Small Business Champion Awards.
Congratulations to the team here at Pink Caviar Events for all their hard work and dedication. We are looking forward to an awesome awards night!
Small Business Champion Awards 2017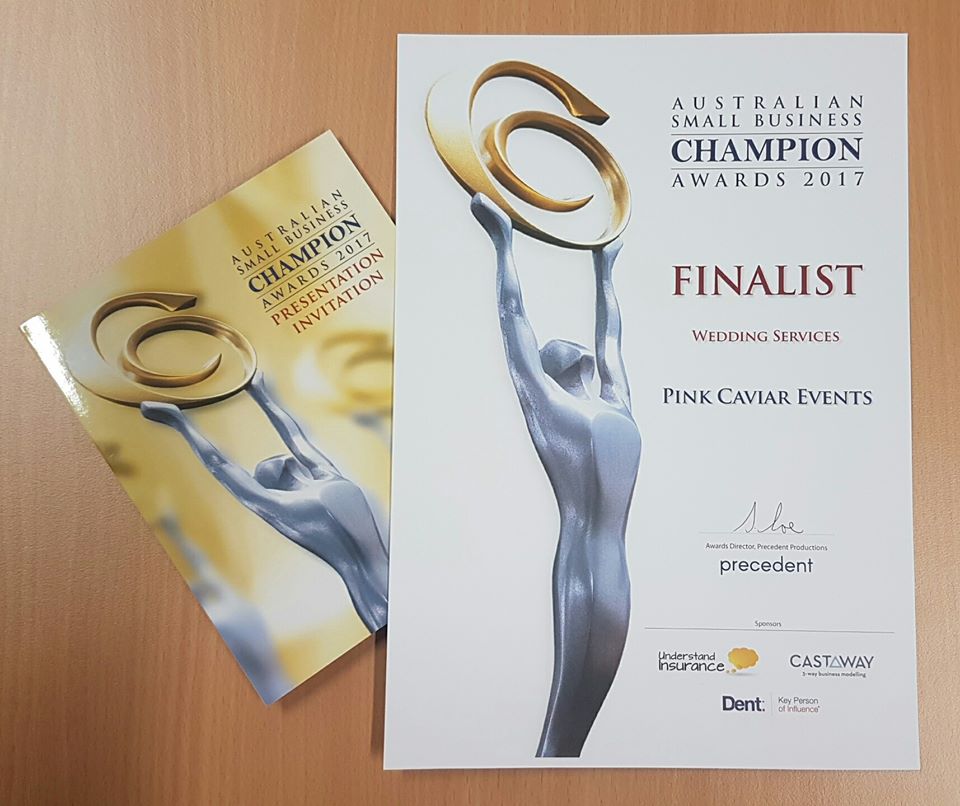 About The Awards
From their creation in 1999, the Australian Small Business Champion Awards (AKA ASBC) has become the most prestigious and comprehensive program that recognises small businesses throughout the nation.
The Awards seek to acknowledge the hard work that business owners contribute to the local community. Local businesses generate employment for millions of Australians, as well as their contribution to the Australian economy. The areas that we focus in are Greater Sydney, The Hills District, Hunter Valley and all of NSW. We do travel anywhere throughout Australia and internationally.
The Australian Small Business Champion Awards is the pinnacle of business success. The awards recognise the values associated with successful small businesses. These values include service, commitment, leadership, endurance, courage, innovation, performance, persuasion and generosity.
The team at Pink Caviar Events are very excited to be associated and recognised for having these values. Being recognised by our peers for this achievement is an honour. These are the attributes that our team put through in all their work. Whether it be in our wedding planning, wedding and event styling, wedding coordinating, corporate events/corporate planning, event hire and more.
We are looking forward to working in the industry. Growing our business as alongside the community as the community grows as well. The last point is to thank you again.
We look forward to the next year and for many years to come. For any information regarding planning your next event, do not hesitate to contact us by filling out the form on this page.