13 Apr

DIY Photo Booth: What It Really Takes To Make One

(Last Updated On: 15/06/2019)

Over the past few years photo booths have taken off in popularity. They have become a fixture in the wedding scene. They range in shape, size, functionality and much more. As a result there have been many wedding blogs on how to make your own DIY photo booth. Today let's look at what it actually takes to make your own DIY Photo booth. We show the hidden truths these DIY blogs sometimes leave out.
DIY Photo Booth
A DIY Photo Booth is cost-effective (this is the whole reason for them). Instead of paying a professional, you can build it from items in your own home. This depends on what's in your home as blogs use the term quite a lot. Many of the items required, such as a computer, camera (DSLR or webcam) are available at home. There are even some apps that you can use your existing tripod with an iPad for a 'selfie' booth.
There are many DIY photo booth guides on how to build one. They range depending on the style, your skill set, space for storage and patience to build it. Many of these setups will use a mobile phone, tablet /iPad or webcam. Many wedding blogs promote using a webcam because they are cheap. Unless the area is well lit, they don't do too well with dark shots. Webcam shots are generally (quality wise) well below smartphones, generally grainy and blurry. Mobile apps are also available for you to download and use, but again you are limited by the fact its a phone.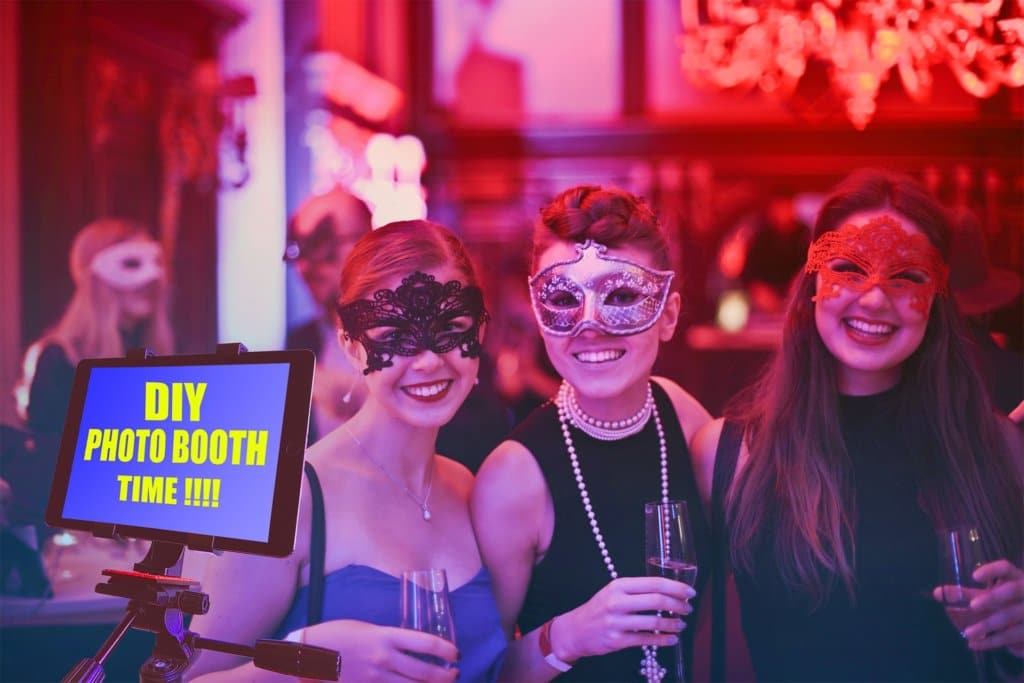 When it comes to printing some guides, say to use your bubble jet and to use photo paper. The downside is that they can be quite slow to print, especially if you have a queue of people waiting to use it. Combine that with a webcam, and you will have slow printing substandard photos. The other route is to use one of the many photo booth apps for iPad and Android tablets. These only cost a few dollars, but the downside is your guests do not get a printout.
You may need to go to a hardware store to buy material to build a frame for the booth. A trip to a party store is a must to buy various props. Make sure you have plenty for your guests to have fun with 🙂
Transportation is required to get it to your wedding venue, set it up and pack it away at the end of the night. Depending on your design, you may need someone to man the booth, check for paper jams, system crashes, re-arrange props, and so on.
That's A Wrap
A DIY booth can save you money, but it will take 1 to 2 weekends of your time. It's a great way to build something with some friends, family or your partner. I suggest if you do one thing, use a decent camera as it will make a big difference (borrow one if you need to). If you have the time, skill and logistical help it's a great solution. But if you don't have the time, skills or have butterfingers, then get a professional. If you have your heart set to build your own DIY photo booth, then good luck!
If you do not think it is for you, then you can always contact us and inquire about our open air photo booth. It comes with an attendant for every booking, and everything's taken care of from start to finish. Check out some of the fun photo booth shots taken from past events. We also use a DSLR camera and have plenty of props 🙂
Check out the links below to see what other options there are for photo booths:
DIY Photo Booth: What It Really Takes To Make One – You Are Here
Corporate Photo Booths – What To Look For (Coming Soon)
What are your thoughts on making your DIY photo booth? Would you rather hire one from a professional or make your own? Comment down below 🙂