21 Dec

How To Include People Who Can't Attend Your Wedding

(Last Updated On: 09/05/2018)

When you get married, you want everyone you know and care about to attend. Unfortunately for whatever reason not everyone can attend. This can be due to many reasons. Some reasons include you deciding to have a small intimate wedding, destination wedding, the reception or ceremony space can not physically handle all the people you know, illness, or having an overseas wedding amongst other reasons. That being said there are plenty of ways to include everyone in one way or another. Today we will look at all the options available for you to include people that are unable to attend the wedding itself but include them in some way.
How To Include People Who can't attend your wedding
Bucks & Hens Party
Most people these days will have a hens and bucks party. Most people who go to these events will generally attend the wedding. There are some instance where they can not. For example due to a pre-booked holiday/arrangement, medical issues, work commitments and so on. Besides the obvious of having an option to have a fun night with family and friends it is also a great way to catch up with others who are unable to attend on the day of your wedding.
Another option is to have your hens or bucks party in a different part of Australia. A good example is to have it in the Hunter Valley as you can make it into a short weekend away. People can come and visit. People from other parts of Australia such as Melbourne, Perth or even New Zealand can also come over. They can have a small get away and catch up when they normally can not.
Another option is to have your hens or bucks overseas. This could be back in the family home land, some place you have always wanted to go or a central meeting country for everyone who would have attended. For example Australia for some is expensive and a long trip compare to other countries. Having it in Europe or Asia can bring relative and friends who you have not seen in ages together.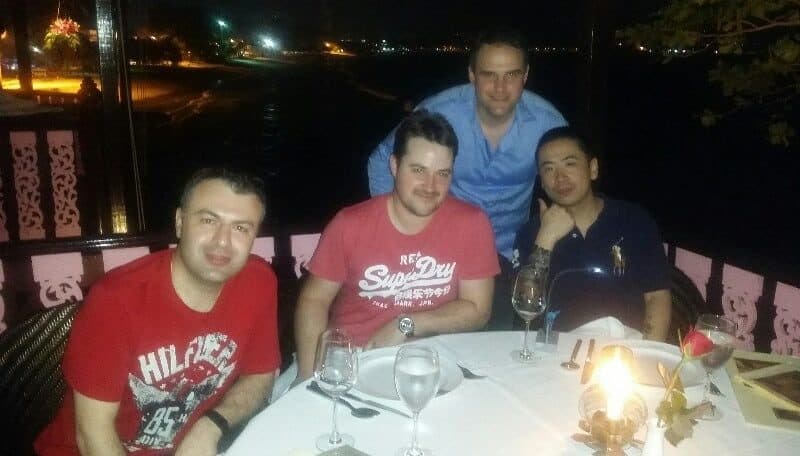 Big Reception
Depending on a few factors you may not be able to have a lot of people at your wedding ceremony such as spacing issues, religious beliefs and more. That being said it doesn't mean you can't have a large reception. This will allow all your family and friends to attend and celebrate with you on your wedding day. This is the most physically practical way to include people who are unable to attend. While traditionally speaking most people who attend the wedding ceremony will generally go to the reception, there are some cases it is not possible. Do not leave them out of your wedding and bring them to the reception instead.
Live Stream Your Wedding
With the advancements in technology it is now possible to connect everyone globally instantly. By simply using your smart phone or tablet you can live stream your wedding to everyone globally. Obviously be aware of any associated data costs. Live streaming over a long period of time can go over some peoples data caps. One suggestion is to ask the ceremony or reception venue if they have free Wi-Fi available. Make sure the internet connect is stable and also big enough to stream video.
If live streaming is not an option EG the wedding is in a remote location with no / or unstable phone coverage you can always simply record it and upload it on site such as YouTube for later on. The advantage of recording it for later is that the video quality can be much better. This is because you are recording it and it can be in much higher quality when uploaded.
Live Stream Your Wedding In High End 360 VR
Another option is a newer can literally give your wedding guests who are unable to attend a front row experience as though they are actually at your wedding. With 360 VR technology you can literally record your wedding and because you are recording every angle it is though you are really at the wedding. Pink Caviar Events has partnered with Simply 360 to give you the latest in 8k 360 Photography and video (yes 8K so you are getting the latest in cutting edge technology). They also have an option for live streaming in 8K as well. If your guests can not attend, they can put on a head set (even a Google Cardboard) and it will literally feel the are at you wedding live at it happens. This is the best 'virtual' option to include people as it feels they are really at your wedding.
Check out  this 360 photo of Jennifer and Joffrey's wedding
Smaller Intimate Gathering (For people who are not feeling 100%)
There are some family and friends who are not feeling 100% due to age or conditions. They are unable to attend evening events or go out for a long period of time. Aside from visiting them individually, you could hold a smaller (or a few) smaller gatherings to celebrate your big day. You can see them before you have your wedding. As this is a smaller gathering and you are making sure you seem them prior to your wedding it will be very meaningful to those who are unable to attend for this reason.
Social Media Sharing
Social media gives everyone this ability to tag, post, share, stream, location share amongst other options. There is so much to do with social media to enhance your wedding and share it with everyone. Even if you can not attend you can always see what's happening photo / video / posting wish at the wedding in real time. You can create your own hashtag such as #johnjane11May2020. This will give you and your guests the ability to find all the social media content from your wedding day.
What is cool is that entertainment options such as photo booths can link into your social media and do a few things. They can obviously print the photo during the night for you and your guests to keep a souvenir. They can also post the photo to social media. Photos booths such as Photo Thingy Open Air Photo Booths can upload live onto places such as FaceBook and Twitter and also integrate your custom hashtag into the post so guests can tag and share a copy of their photo during the wedding. Its a great fun way to include people who are either at your wedding but also ones unable to attend.
As you can see while you may be unable to have everyone at your wedding, there are plenty of options to include everyone! If you need help with finding a solution contact us today.
What options are you doing to include people who can not attend at your wedding? have you seen something at an event that is not on this list? Join the conversation and let us know with the comments below 🙂