Some families have traditions which are easy to uphold when it comes to choosing your bridal party. If you're an only child, with few or no cousins, you're probably going to be able to select whomever you'd like. This can be to decide who is your maid of honour, or your best man. Larger families though who have tensions within their ranks can create a lot of stress involved. Especially with selecting who gets what role in the bridal party. There are a hundred different ways to arrange the attendants for a wedding. When dealing with the individual family expectations, the desires of the couple and the needs of the wedding itself can be a nightmare that starts things on a downward spiral. This is where the bridal party wedding planner at Pink Caviar can help.
Bridal Party Wedding Planner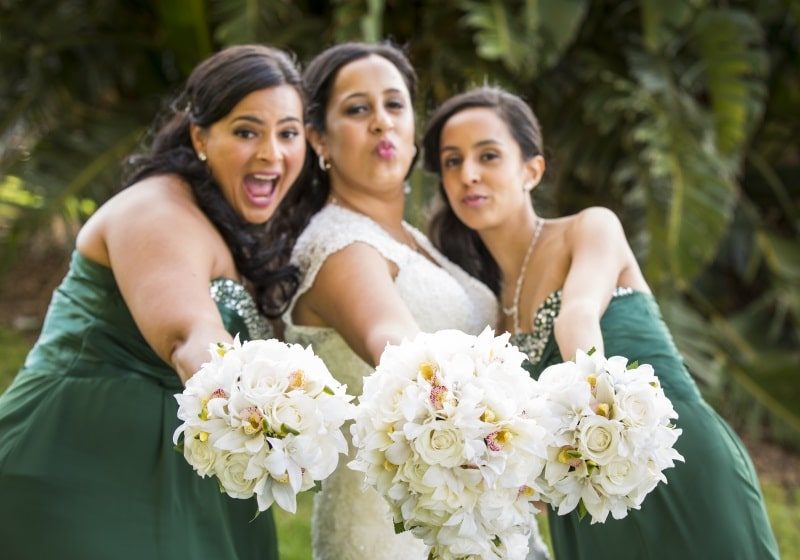 There's nothing like having a professional wedding planner when you begin to consider your attendants for your wedding. Not only will the planner know what is typically done, but will also have the experience and background to understand ways to circumvent the normal and make sure that everyone's needs are met. Pink Caviar Events, a professional wedding planner, has experience making sure that the wedding party is what it should be. Keeping the peace is something that's part of the job for a professional wedding planner, and easily done.
When it comes to family versus friends, the easiest choice is to blend the two. Fortunately, most brides and grooms are able to do this with today's modern and more flexible wedding designs. A best friend from school and a cousin are both able to stand up with the bride. Naming one a maid of honour isn't strictly necessary. Professional wedding planners will be able to help make sure everyone is included in the wedding. This is done without taking anything away from the couple's vision for the wedding itself.
Who will be standing up there with you?
For couples who have a lopsided attendant list, it can be a nightmare to re-balance things. A groom who has ten attendants and a bride who has one might feel pressure to even up the lists. This can include inviting people they don't know well or don't feel comfortable with. To include them on a very important part in a very important day.
Pink Caviar Events has experience making these arrangements. We would rather a bride and groom stand with the people who matter most to them. The arrangement of the attendants is something that can be handled. This is done with grace or without a lopsided approach when a professional wedding planner is involved. The bridal party wedding planner, Pink Caviar, can help. Also, our wedding coordinators can assist if you are not looking for a full wedding planner package.
Feel free to check out our Wedding Advice Vlog to help get you started or check out the wedding vlog playlist:[/vc_column_text][vc_video link="https://www.youtube.com/watch?v=DGvJJfAoxLY&list=PL8XfejrsP9cCTtkl1ZnGdHrNfq43GYUGu" align="center"][vc_column_text]
Do you have a question for Ask Emilie then email her here? Alternatively, fill out the form below and have your question answered in our wedding blog. Also, check out the other Ask Emilie Blogs here, they may also contain what you are looking for or give you ideas an inspirations for other wedding-related questions.
Are you going through choosing your bridesmaids at the moment? Was/is it easy or hard for you? Let us know and comment down below 🙂