When people hear the phrase "Man Of Honour" for the first time, they often have to think for a moment. Traditionally most people have a maid / matron of honour. There are some instances when a man will step into the roll. There has never been anything wrong with having a man in place of a maid / maid of honour but rather that it is not so common.
If you are here, then chances are you are looking for the male equivalent of the maid / matron of honour. Unfortunately the first thing you will find when you search online is the movie Man Of Honor (The popular movie starring Robert De Niro and Cuba Gooding Jr). Today we will take a look at the Man Of Honour and where he came from.
The Man Of Honour
History
Before discussing the Man Of Honour we first need to have a quick look at the history and origin. The reason why women were associated with the roles of being a maid / matron of honour is due to the good old UK as they were originally maids for Queens. As time went on this trend took on and became a more commonly adopted practice. People stopped having maids but brides still needed assistance with various wedding duties. As a result the position of maid / matron of honour stuck.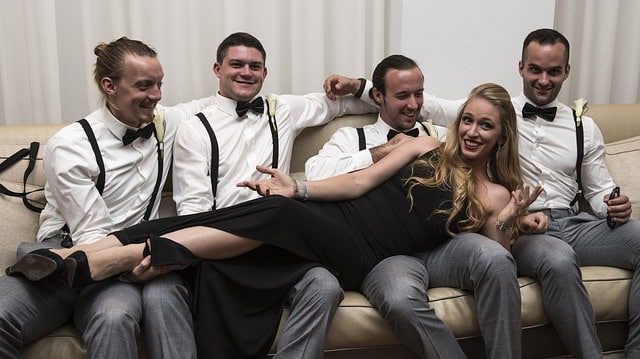 Why A Man Of Honour Instead Of A Maid Of Honour
There are actually quite a few reason why one would have a man instead of a woman. The reason is personal to each bride but here are a few of the most popular reasons:
Best Friend
Generally speaking males will generally gravitate to other men for friends. The same is for women that women stereotypically have female friends. Sometimes you will have a male and female friendship that is totally platonic. These days when people think of the maid / matron of honour it is often the best friend that is chosen. It would stand to reason that if your best friend is of the opposite sex to have them involved on your wedding day.
Family
The saying that blood is thicker than water can hold very true here. You may have a brother, cousin or even family friend (yes I know they are not technically family but are sometimes considered so) that you would want as your man of honour. RANDOM FACT: Did you know that TV presenter Ryan Seacrest was the man of honour for his sisters wedding?
The Right Fit
Sometimes you can still have a best friend, close family and so on but they just do not fit the position. Sometimes a specific person feels like they are the right person for the job. For example lets says your best friend is amazing but comes from a very different background. She will be there to support you but does not know / understand many of the intricacy of your culture. While you may have them in the bridal party you may consider someone who who is a better cultural fit and knows all the ins and outs but also happens to be a man.
Is The Man Of Honour For You
This is totally up to you, as mentioned beforehand that it is a personal choice. The main thing to consider is that the person has your back and will be there before, during and after your wedding day. If you are considering having a man of honour and need advice from a wedding profession, you can always Ask Emilie. Our monthly blog from wedding planner Emilie who is always on hand to offer professional wedding advice / assistance.
Would you consider having a man of honour at your wedding? Have you been to a wedding where there is a man of honour? Let us know and join the discussion below 🙂