When most people think of a photo booth they think of the traditional photo booth. This is the one that is the box shaped one you enter which can fit 2 or 3 people. Did you know that there are 5 types of photo booths? It was covered in this article here. Today we are going to be talking about  the Open Air Photo Booth. We will discuss the differences of them for you to consider for your next event.
What Is An Open Air Photo Booth?
As the name suggests, it is a photo booth that uses open-air and not limited by enclosing people in a traditional photo booth. The fundamental difference between the open air photo booth and a traditional photo booth is that you are not inside a box to take photos. They have many unique features that can make any party great.
Open-air photo booths look like a free-standing unit and can fit into almost any situation. Open-air photo booths are generally the shape and sizer of a fridge (or smaller). They typically use a curtain backdrop or a natural backdrop/landscape.
Large Group Photos
The most obvious advantage of an open-air photo booth is that they are perfect for group photos. Because the photo is in an open environment, many people can be in the photo. Generally, approx 2 meters from the backdrop can fit 15 people in a group or 2 close up quickly and easily.
You can fit more if you pull the booth back and can fit even more. We have our open-air photo booth, and the record we currently have is 15 people in one photo (as seen in the photo). If you break that record, you become our FaceBook cover shot.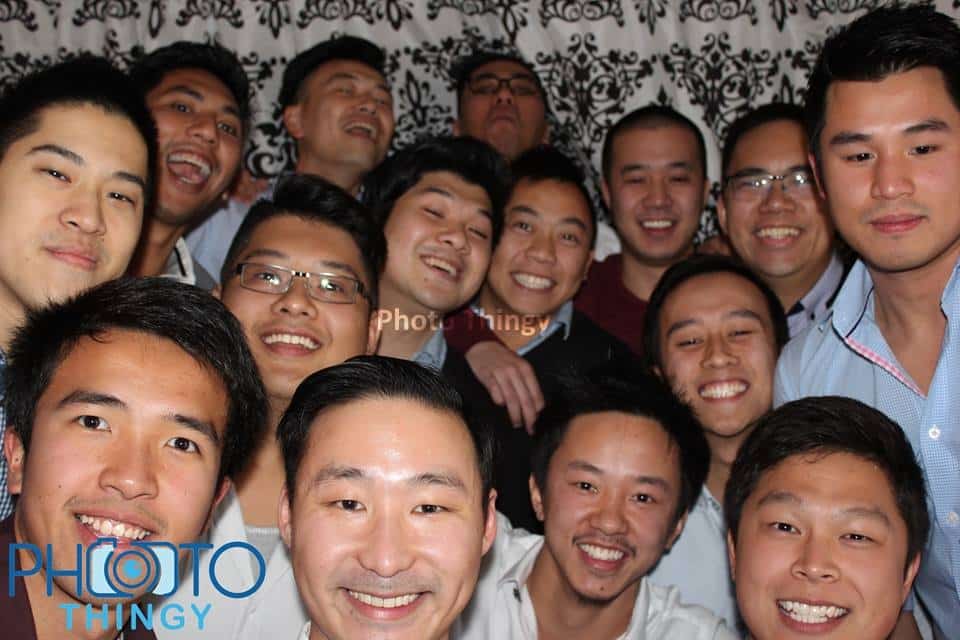 Easy To Work With In Tight Spaces
As mentioned above, the open-air photo booths can fit into tighter areas because they are the shape of a fridge and generally not bigger than one. Unlike a traditional photo booth which is a set shape and takes time to build. Traditional photo booths are also generally larger and require more space.
Takes Advantage Of Natural Backdrops
While it is fine to use a curtain backdrop, you may already have a picturesque backdrop which you are most welcome to take advantage of this. For example, you could be in a beautiful heritage building or a vineyard in the Hunter Valley and want it in your photos.
Compared to a traditional photo booth, you are not in a small enclosed area. As a result, you take advantage of any space you are in. Don't want a backdrop then you don't have to have one and opt for more natural scenery like the amazing photo below 🙂
Green Screen Functionality
With the advantage of a large open background, you can utilise a green screen. Green screens are perfect for corporate branding or even an extra special backdrop for your next event. Other types of photo booths cannot do this or as effectively. Traditional photo booths only have a tiny space and the green screen would be mostly covered up and not worth using as it would not be seen. This is not an issue for open-air photo booths.
Pro Tip: Although a green screen is fun and easy to use, just don't wear green (advise your guests) 😉
Check out the sexy video above showcasing the green screen
Photo Bombing Fun
Last but not least, the open-air photo booth has one last unique advantage… the joy of photobombing. As the traditional booth is enclosed, it does not allow for photobombing. Other guests can randomly join in on lythe fun and take a photo with you. It allows us to make more fun photos and get the whole party involved instead of being blocked off.
We have our very own open-air photo booth at Pink Caviar Events. We call it Photo Thingy, and it is a lot of fun. You can incorporate it with our other packages such as styling or candy buffets. You can even book our open-air photo booth directly.
Check out the links below to see what other options there are for photo booths:
Open Air Photo Booth: What Is It? – You Are Here
Have you seen or used any open-air booths? What do you think of them compared to other types of photo booths? Let us know and join the discussion down below 🙂